There's been a lot of research thrown at citrus greening over the years. The disease has proven to be a tough nut to crack, but science is working toward solutions. Periodically, Florida Grower® magazine will highlight promising research being conducted in the fight against greening as part of its ongoing "We Believe in Florida Citrus" initiative.
This month, we will look at a high-tech approach to take on greening's vector — the Asian citrus psyllid. And a much lower tech, but equally interesting, way to boost tree health.
Rewiring the Psyllid
Citrus greening is, and has been, a huge challenge for citrus growers worldwide. It's almost ironic that the tiniest of insects — the Asian citrus psyllid — is responsible for spreading the wide-reaching plague. But scientists are focusing in on the pest like never before. And a newly reported biotech breakthrough might ultimately change the game when it comes to citrus psyllid control.
Kirsten Pelz-Stelinski, an Associate Professor of Entomology and Nematology at the UF/IFAS Citrus Research and Education Center, discovered that 2'-deoxy-2'-flouro-d-arabinonucleic acid antisense oligonucleotides (FANA ASO — small-sized single-stranded nucleic acids) can be used to silence essential genes within Asian citrus psyllids and in the bacterial pathogen that causes citrus greening disease.
In the study, which was recently published in Nature Scientific Reports, Pelz-Stelinski and her team were able to reduce the citrus greening disease pathogen in the psyllid and in citrus, leading to less transmission and a potential reduction in disease severity.
"The intent of this research was to find alternative, environmentally-friendly tools for psyllid management as current pest management strategies have led to the development of resistance among Asian citrus psyllid populations," Pelz-Stelinski says. "Understanding the relationships of essential bacteria needed for insect survival provides potentially important targets for control strategies
that use bactericides. By disrupting how the psyllid acquires and processes the pathogen, while impacting the nutrition and fitness of the psyllid, may provide an alternative management tool in controlling transmission of the HLB pathogen."
Oak Mulch Health Boost?
Lukas Hallman believes oak trees may hold a compound that boosts citrus trees' ability to tolerate citrus greening. Hallman is a graduate student at the UF/IFAS Indian River Research and Education Center (IRREC) in Fort Pierce.
"Anecdotal reports from Florida growers claim that citrus trees growing within the drip line of large oak trees have minimal HLB symptoms, while trees nearby, but not under the oak drip line, show severe symptoms," Hallman says.
In his literature review of scientific journal articles, Hallman found that compounds from white oak tree bark were used as antimicrobials during the American Civil War. Marco Pitino, a former UF postdoctoral researcher, published the first research study for oak tree extract used in the greenhouse against the greening bacterium. The work took place at IRREC. Pitino found oak extract would improve citrus trees' ability to tolerate HLB in the greenhouse.
"The literature review and Pitino's greenhouse study were enough to form a viable hypothesis for a field study with oak mulch beds under citrus trees," Hallman says. "Pitino's work took place in a greenhouse."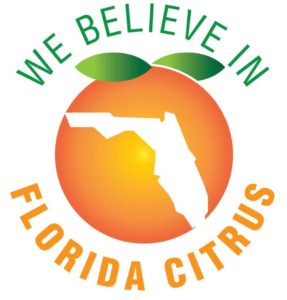 Lorenzo Rossi, Assistant Professor of Plant Root Biology at IRREC, is Hallman's graduate research advisor. Rossi persuaded Hallman to apply for a Southern Sustainable Agriculture Research and Education (SSARE) graduate student grant to fund research of his hypothesis.
The grant application was successful, and in the fall of 2020, Hallman began work to fulfill the project's objectives. The SSARE grant provides more than $12,000 for the two-year study to determine if oak mulch will suppress citrus greening in the open field.
The project, "Deploying oak mulch to contain and suppress HLB disease in citrus," has three objectives: 1) to determine the capability of oak mulch to contain and suppress citrus greening; 2) to measure the effect of oak mulch on HLB-affected citrus physiology, root growth, and development; and 3) to study the effect of oak mulch on microbial life biodiversity within the rhizosphere. Hallman carries out daily data collection for the project. Those tasks include soil samples, soil respiration, photosynthesis measurement, and nutrition studies.
One year into the project, Hallman said he found more nutrients in the root rhizosphere. Also, preliminary findings show that as the mulch breaks down, soil biodiversity increases.
"More nutrients are available to the trees as a result of the mulch breaking down into the soil," Hallman says. "The nutrients are potassium and phosphorus. We have also found that mulch improves soil texture. Improved soil holds more moisture and requires less irrigation."
Soil that holds more moisture enhances plant root health and the trees' nutrient uptake, resulting in more fruit and a longer life for the trees.
3
3
5
2 Novel Approaches To Take On Citrus Greening