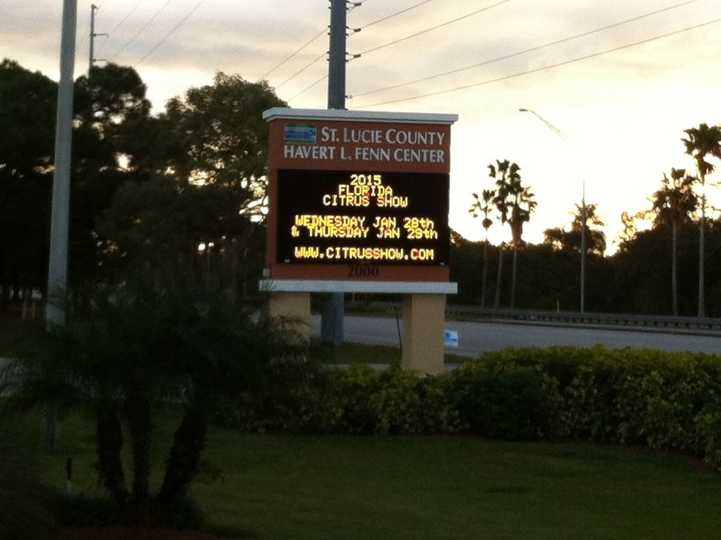 With a $10 billion a year industry at stake, last week's Florida Citrus Show couldn't have come at a better time. Last month's USDA crop forecast is predicting a historically low output for oranges, and the next forecast (likely to drop the crop even further) is coming down the pike fast. The alarm has been sounded, and the sense of urgency among attendees couldn't be missed.
Nearly 800 participants were provided the chance to circle the wagons and come away with new strategies as well as a refreshed sense of optimism over the course of the two-day gathering presented by Florida Grower, UF/IFAS, and the Indian River Citrus League at the Havert L. Fenn Center in Ft. Pierce.
While the tradeshow area (which boasted its own record number of exhibitors) was bustling, the educational session room remained packed from start to finish, showing the importance of topics being discussed. Covering a range of information that included management strategies, insect control, living with HLB, and promising treatments to reduce or eliminate HLB symptoms, a few sessions stood out as highlights.
A GMO Citrus Tree?
Ed Stover, USDA-ARS, gave an interesting presentation about the ongoing research regarding genetically engineering citrus with HLB resistance. GMOs are a touchy subject for many. However, in order to save citrus, this method might be the ultimate answer.
Loading ...
Stover gave it straight to the eager audience in his own words (not USDA's) about the prospect of a GMO citrus tree and how that might play out:
"It likely won't be available until at least 3 to 8 years;
Initial adoption will be controversial and may limit some markets. There will be a need to have very substantial benefits and/or specific markets targeted;
As with all disease control, there will be an ongoing evolution of improved HLB-resistant citrus cultivars;
As methods are refined, transgenes will precisely target priority traits, with routine multiple trait stacking;
Ultimately, almost all crops will be transgenic, and their use will reduce unwanted environmental impacts, increase yields, and enhance health benefits."
Keeping Psyllids In Check
CREC's Michael Rogers' presentation about new research and the latest recommendations for psyllid control included analysis of Bayer's new insecticide, Sivanto. Rogers pointed out that the product has an advantage due to its ability to be applied during bloom.
Studies, so far, have not revealed any evidence of cross-resistance, according to Rogers.
The product, which does have EPA registration, still needs to work through the Florida system.
"The goal is to have this registered for use by bloom this year," Rogers concluded.
Can't Forget About Canker
Though HLB rules the roost when it comes to citrus diseases, canker is still a force to be reckoned with, especially in the Indian River citrus production area. In a presentation covering citrus canker and phytophthora control strategies, Jim Graham, UF/IFAS, brought up the development of a new product called "Zinkicide."
Invented by University of Central Florida assistant professor Swadeshmukul Santra, Graham said the antimicrobial product containing oxide of zinc could be an alternative to copper treatments. "It's very bioactive," he said.
Early studies on canker revealed some "very exciting results," Graham added.
More to come on this as information becomes available.
♦ Click here to see all the tweets using the #FloridaCitrusShow hash tag ♦
Growers Tell It Like It Is
During the second day, the grower panel drew a standing-room-only crowd to the session room. Moderated by Florida Grower's Frank Giles, the participants included Tom Stopyra, Packers Of Indian River; Tom Jerkins, Premier Citrus; Lee Jones, Gardinier Florida Citrus; Daniel Scott, Scott Citrus Management; and Courtney Forget of Cassens Grove Service.
While the conversation focused on what the growers themselves were doing to maintain production in their HLB-infected groves, Jerkins helped put a positive exclamation point to the end of the grower panel by giving a plug to all the men and women who have been working hard to find a cure for HLB.
"The scientific community (USDA and UF/IFAS) is doing a lot," he said. "If not for these mitigation strategies, we might be out of business. It is all we have. I wanted to make sure the scientists don't discouraged. Yes, we are discouraged, but I want to keep them pumped up. They really have the back-end covered. It is just this little piece in the middle that we need. It is coming. There are therapies that are going to be available to us in 2016, maybe 2015. They will come in waves and will be improving. Once we fill that gap, I think we are going to be in good shape."