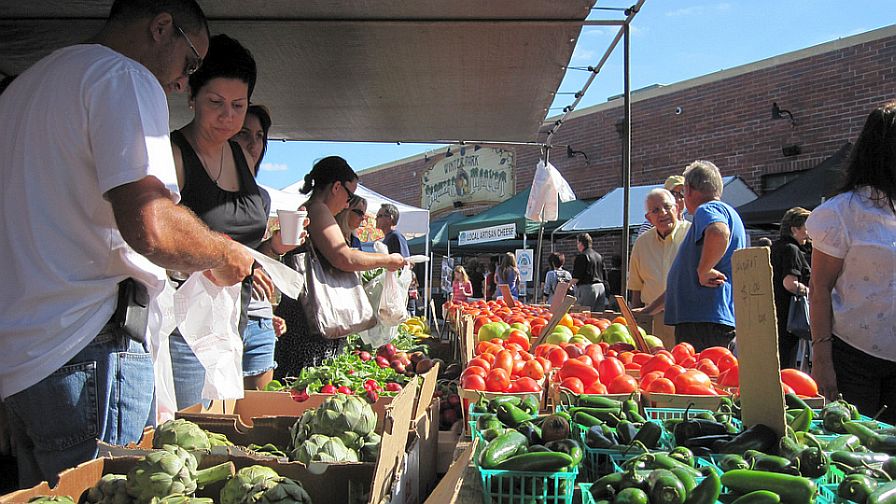 Each year, American Farmland Trust ranks the top farmers' markets from around the country. This year, Winter Garden Farmers Market in Winter Garden, FL, took the top slot in all five categories the association ranks:
People's Choice
Focus On Farmers
Healthy Food For All
Pillar Of The Community
Champion For The Environment
There are 50 farmers' markets on each of these lists.
The American Farmland Trust is a national non-profit that promotes local farms to consumers in an effort to "saving America's farm and ranch land, promoting sound farming practices and keeping farmers on the land." as it website states.
The Top Markets That Focus On Farmers
With the high level of controversy around non-farmers posing as local growers at farmers' markets, the top markets for Focus On Farmers caught our attention. Here's the ranking:
How American Farmland Selects The Markets
We reached out to Ameican Farmland Trust's Robert Connelly to ask him about the rankings system.
Q. How are the winning markets selected?
A. American Farmland Trust's Farmers Market Celebration encourages market customers, family farmers, community activists — anyone who believes they've got the best farmers' market in the country — to endorse their market in four special areas: Focus on Farmers, Healthy Food for All, Pillar of the Community, and Champion for the Environment. Participants visit LoveMyFarmersMarket.org to recommend and endorse their farmers' market as one of the best in class. Markets that place in any of the above categories will receive a special online logo honoring their achievement that they may include on their website for ultimate bragging rights, No Farms No Food gear, and recognition on the Celebration's national website.
Q. How did the five categories come about?
A. For the first six years of the Farmers Market Celebration, American Farmland Trust asked family farmer supporters to vote for their favorite farmers' market. Through the years, we would receive an overflow of messages from individuals wanting to tell us why their farmers' market was special. We loved hearing about how each market was unique and wanted to honor these markets for their great work, so we identified five key aspects found at exceptional farmers markets that help family farmers thrive.
Q. In light of the investigative articles that have been written this past year about fake farmers at the markets, I'm especially interested in the Focus on Farmers category. What are the criteria for this group? And how are the farms judged?
A. We encourage the farmers' market supporters to weigh a few critical questions when identifying if their market focuses on farmers. We ask: Farmers' markets play a critical role in helping family farmers stay on their land. Does your farmers' market primarily serve family farmers, and educate your community about the issues they face? Each market is unique and can be a huge help at assisting next generation farmers at getting and staying on the land.