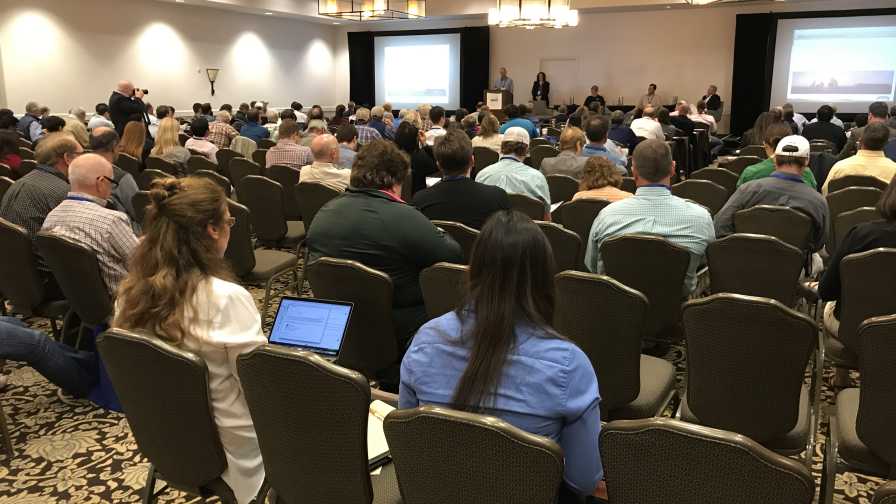 Biological control has moved into the mainstream. After years of experimentation and new and improved technologies, biocontrol is becoming a more regular part of many growers' integrated pest management (IPM) programs. And the timing couldn't be better, as consumer demands for more sustainable production methods for the produce and ornamentals they buy are moving back upstream. Retailers have taken notice and many are beginning to set expectations for what they want to see from the growers they choose to buy from.
Biocontrol, of course, is a good fit for growers looking to add more sustainable tools in their production. Those that aren't becoming familiar with these options risk being left behind as the market moves forward without them.
This was one of the most prominent themes of the recent Biocontrols USA West Conference & Expo, held March 7-9, 2018 in Carlsbad, CA, just north of San Diego. Nearly 400 growers, crop consultants, researchers, crop protection retailers, and industry suppliers took part in the event, taking a look at all aspects of biological control, from new products, to production and application techniques, to marketing promotions and supply chain considerations. Attendees also had access to one-on-one discussions with 45 of the biocontrol industry's leading suppliers on their latest products and crop protection techniques.
The conference's kickoff session, Biocontrol: The Retailer and Consumer Perspective, dug into some of the expectations from the ultimate customers for U.S. growers. Certis USA Executive Vice President Tim Damico shared data from the International Food Information Council Foundation's 2017 Food and Health Survey, citing sustainability as an important factor for more than half of consumers. And underlining the importance of biocontrol, Damico said, of those people, the most important aspect of sustainability is "Reducing the amount of pesticides used to produce food."
Attendees at the conference heard from a wide range of presenters, including leading growers who are successfully orienting biocontrol into their day-to-day production strategies. An Organics and Biocontrol  panel discussion included presentations on strategies from some of the largest organic producers in the nation including Alan Boyce from Materra Farming, Arnott Duncan from Duncan Family Farms, Gerald Davis from Grimmway Farms, and Anthony Duttle from Tanimura & Antle. Grimmway Farms' Kim Horton also shared her procedures for field trialing biocontrol materials.
The conference concluded with a panel discussion on the ins and outs of an intriguing new class of biological products, biostimulants. Panelists including a consultant (David Holden, Holden Research & Consulting), a researcher (The Ohio State University's Matt Kleinhenz), a grower (J&D Produce's Carlos Lazcano), and a supplier (Michael Austin from Agrinos), each offered their takes on where these products fit for growers and how they can make the best and most profitable use of them in their production.
A pre-conference Biocontrols field tour visited greenhouse, fruit production groves and vineyards, and research facilities in the San Diego area. More than 50 tour attendees rode the bus to four stops where they learned about the latest biocontrol strategies for managing the Asian Citrus Psyllid, the vector for citrus greening, a tremendous potential threat to California's fresh citrus industry; proper sanitation techniques for biocontrol programs; and the latest control strategies for key fruit pests including vine mealybug, red scale, purple scale, and citrus mealybug.
The next event in the Biocontrols Conference & Expo Series was also announced. The Biocontrols USA East Conference & Expo will be held Oct. 11-12, 2018 in Rochester, NY. Further details about the program and exhibitors will be announced in the coming weeks.