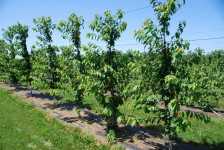 As every fruit grower knows, there are two ways to increase profits: either increase returns, or cut costs. With the three cherry training systems Robert Arceo is testing as the California part of a North Central 140 Regional Rootstock Research project (NC-140), he is attempting to find a way to do both.
A grower and consultant in Courtland, which is located near the state capital of Sacramento, Arceo is growing Benton variety cherries on various Gisela rootstocks utilizing three training systems: Upright Fruiting Offshoot (UFO), Tall Spindle Axe (TSA), and Kym Green Bush (KGB). The trees are grown on Gisela 3, 5, 6, and 12. So far, Arceo says the best matchups appear to be UFO trees growing on Gisela 12, the most vigorous of the three rootstocks; the TSA on 3, the least vigorous; and the KGB on 5. The trees were planted just two years ago by Arceo and University of California Cooperative Extension farm advisors Joe Grant and Chuck Ingels, but Arceo is pleased by what he's seen so far.
"I'm really liking this; I think it's got a lot of potential," he says, and he thinks other growers will agree.
Cost Savings
Arceo is convinced each of the new systems will represent a cost savings over older, traditional cherry training systems because the trees will require fewer man-hours. "We're trying to create a pedestrian-type orchard where there's not a lot of ladder work," he says. "An inexperienced picker can pick at least as much fruit, but more often much more, than an experienced picker in a normal orchard."
Ingels says that not only does labor represent a grower's biggest cost, but with the issue of immigration reform up in the air, no one knows if cherry growers will even be certain of having enough employees in the future. "It boils down to labor availability," he says. "That's what's driving this project."
Climbing up and down ladders is not only a huge waste of time, it represents a potential safety problem that can affect workers' compensation insurance costs. "We have the dwarfing rootstocks for cherries," Ingels notes. "Shorter trees just make sense because they're easier for workers and they're more efficient in terms of time."
Besides being easier to pick, the trees in this trial are easier to train, notes Arceo. "With a conventional orchard, you get 10 guys out there and they prune it 10 different ways," he says. "This is pretty simple, because you always do (the given training system) the same."
Potential Yield Increase
Arceo feels that he will see yield increases with the new systems, in addition to the cost savings. However, not only is it too early in the trial, he has been hit recently with horrible weather. In fact, he hasn't picked any cherries in the past two years. "A 100% wipeout," he says, shaking his head. However, Ingels notes that if Arceo didn't believe in the newer systems, he wouldn't be training some of his own trees with the new systems. Also, even without yield increases, Ingels says that there are potentially more savings on pest management because the growers will have smaller trees to spray and will use less material.
Ingels believes the training systems might be more precocious, especially the TSA. "For early production, it might be a winner, but we just don't know yet," he says. "With higher earlier production you may get more overall tonnage in the long run."
Watch A Video Of These Systems!
The conventional training system used for cherries has been open center, or open vase, notes Chuck Ingels. Open center training produces a large tree, requiring workers to move ladders around and within each tree to prune and harvest, with a relatively wide spacing between trees of approximately 12 to 15 feet.
With the high cost of labor and increasingly unavailable labor supply, newer training systems are being used in other parts of the country and the world that require less labor and therefore lower costs. To watch a video of each of these systems,.
To learn more from the perspective of Dr. Greg Lang, a lead researcher involved in the NC-140 trials, go to the next page.
A Lead Researcher's Perspective
Greg Lang, a horticulture professor at Michigan State University, is one of several researchers who got together in 2008 and decided that it was time to take the North Central cooperative regional research project (NC-140), which evaluates tree fruit rootstocks and training systems, to another level. In the 20 years prior to this, the focus of two previous cherry trials had been on studying more than two dozen new rootstocks (the popular line of Giselas were among the most dramatic new materials to come out of this). The next step, they realized, was to integrate the best of these radically precocious (and variably dwarfing) rootstocks into new modern training systems (UFO, tall spindle axe, KGB, and super slender axe) that had been developing at the same time.
A key question was, how would site variability affect these evaluations? "We started with 13 different locations, ranging from Chihuahua, Mexico to Nova Scotia, Canada," says Lang. "We wanted to see how they performed in different environments with different training systems."
Lang also realized that while they could follow some of the examples learned from apple training system trials, they also needed to make some adjustments. "The basis of those apple systems was to start with a well-feathered tree, but we don't have that in cherry," Lang says. "We had to change something to match the starting nursery stock we have. That's why we call it a tall spindle axe. You can't call it a tall spindle like an apple because you don't start with the same nursery tree. We gave it that name for ease of something to relate to, but knew this would evolve for cherries."
Lessons (To Be) Learned
The first two years of these trials are critical for the ultimate success of the systems, says Lang. For example, he notes the importance of getting the right amount of lateral branches in the spindle systems, and upright shoots in the UFO and KGB. In fact, he likes to refer to them not as branches or shoots, but as "future fruiting units." As Lang notes, "Whatever we develop in the first year from buds turning into shoots, these are going to be the fruiting units in years 3, 4, 5, etc. We started distilling these systems into a way to understand the permanent and temporary parts of the tree, which are the fruiting units that we want to renew on some basis to keep the focus on growing fruit on young fruiting sites."
Due to variations among trial sites in first-year growth, Lang says they've opted to cut back all laterals and upright shoots the first year to promote more extensive, balanced fruiting unit formation during the second year. This helps develop a strong initial root system and strong permanent wood. From there, all "temporary" laterals and shoots should grow uniformly. "That's a key point that we've learned in the first two years," says Lang. "It is critical that by the end of the second year you have nearly all future fruiting units, so it was worthwhile to start the tree over going into the second year. It will respond very strongly." From there, a fraction of those laterals and shoots are removed every year, helping to maintain balanced fruit production and fruiting unit renewal.
When it comes to matching the rootstock with the system, Lang says when you have a more vigorous rootstock (such as Gisela 6 and 12), it's best to pair it with a training system with multiple upright growing points (the same holds true for dwarfing rootstocks and spindle systems, where vigor can be channeled to the single central leader).
One thing Lang emphasizes is that there will not be a one-size-fits-all approach in any region. "Each year we learn something and react to it," he says. But the basis of building the tree architecture, and the philosophy of rapidly developing fruiting units, remains constant.
Variety Selection And Benefits
One of the biggest challenges of the NC-140 cherry systems trials (and this has held true for other NC-140 tree fruit trials as well) is deciding which varieties to include. Lang says a third of the sites are using Benton, because it is a self-fertile variety that also ripens around the same time as the popular Bing. Elsewhere, at Cornell University (where pomologists Terence Robinson and Steve Hoying are leading the research) they are using Regina because of its low susceptibility to cracking; growers in British Columbia, Nova Scotia, Colorado, and Mexico are using the self-fertile Skeena; and Oregon State University researcher Todd Einhorn planted Bing.
Like Chuck Ingels, Lang says most of the benefits of these trials will come in the form of improved labor efficiency, thanks to the smaller, uniform trees that can be easily pruned, trained, sprayed, and harvested. He also says the UFO and super slender axe, because they produce fruiting walls, lend themselves well to the potential for mechanized harvesting.
Even better, Lang says the research may open the door to increased production in areas not known for cherries. "We've been doing high tunnels for years, and we can create fruiting walls in those tunnels, which is a better use of the tunnel space," says Lang. "It creates opportunities for growers in new climates, particularly those with farm markets."