By Al Green, Research Manager, AgroFresh Solutions
For many people this is a time of year to look forward to, with temperatures rising, longer days, and the climate for outdoor activities increasing. However, for seedlings, higher temperatures increase the potential for more stress during their transition from the nearly optimum greenhouse to the field. No matter how healthy and vigorous seedlings are in the greenhouse, they are vulnerable to high temperature stresses during handling, transportation, transplanting and surviving in the field.
For instance, high temperature stress begins as low as 80°F for brassica species and 92°F for tomatoes. While the air temperature may not exceed these thresholds, high temperatures commonly occur in shipping boxes, with the sun beating on trailers waiting to be transplanted, or above the plastic mulch where temperatures can be as much as 25°F higher than air temperatures. When temperatures exceed each species' heat stress threshold photosynthesis decreases, respiration can increase, and in general they "feel the stress".

Seedlings may respond to stress via hormonal signaling which can interfere with the growth processes (i.e., reduce photosynthesis and increase respiration) or change resource allocation (i.e., increase root growth under drought stress and decrease shoot growth). Any time lost when the crop is not growing optimally may reduce yield or result in increased disease.
Stress stimulates biosynthesis of ethylene gas, the effects of which can adversely affect not just the stressed plant, but other plants in close proximity4. A stressed plant emits some of its ethylene gas to the atmosphere where surrounding plants absorb it and respond to it. The "second-hand" effect is amplified in closed surroundings, such as when seedlings are shipped in sealed containers. Depending on severity and duration ethylene can result in2, 3:
Net reduction in growth due to reduced photosynthesis and increased respiration
Epinasty (leaf drooping or downward bending)
Leaf yellowing, browning or abscission
Reduced shoot and root growth
Early tissue or plant death
More susceptibility to diseases
Enhanced attractiveness to feeding insects
All of these damage plants, compromise crop health, and potentially reduce marketable yields.
Methods of Addressing Transplant Stress
There are 2 strategies for avoiding high temperature stress: 1) ethylene reduction and 2) ethylene mitigation. All of the current methods work to reduce the production of ethylene by producing stronger, tougher seedlings. Better genetics, fertilization and agronomic management produce more vigorous plants or plants that are less sensitive to stresses. Other growth regulator products change the plant's resource partitioning or biochemistry to reduce the stress. The problem is that none of these "prevent" ethylene production and even small amounts of ethylene can adversely affect seedlings.
LandSpring™ is the only product that prevents ethylene from affecting plants. LandSpring makes seedlings "blind" to even small amounts of this stress hormone. When LandSpring is applied to seedlings prior to their exposure to stress it helps the plants withstand the predictable stress they encounter during their transition to field conditions. Research has shown that plants are most protected from transplant stress when LandSpring is used with other best stress mitigation practices.
Treating seedlings with LandSpring produces numerous crop improvements for growers, including:
Higher seedling survival rates
Better and faster seedling establishment and with greater biomass to support yield
Healthier plants with reduced disease incidence
Improved yields of >5% and as high as 20% or more. Note: around 70% of the time seedlings are stressed enough that LandSpring significantly increases yield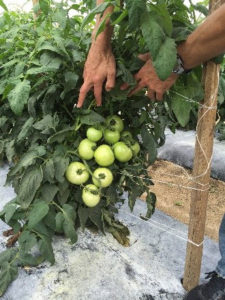 LandSpring is EPA approved for 14 seedling crops:
| | |
| --- | --- |
| Tomatoes | Cantaloupe |
| Bell Peppers | Cucumber |
| Broccoli | Watermelons |
| Brussel Sprouts | Gherkin |
| Cabbage | Muskmelon |
| Eggplant | Cauliflower |
| Summer Squash | Non-Bell Peppers |
To learn more about plant stress and protecting your seedlings with LandSpring, visit landspring.info.
About the author
Al Green is the Global Agricultural Research Manager for AgroFresh Solutions. He holds an MS in plant breeding and genetics from the University of Minnesota and a BS in agronomy from Iowa State University. [email protected]
1 https://www.ncbi.nlm.nih.gov/pmc/articles/PMC3166629/
2 Ethylene and the Regulation of Physiological and Morphological Responses to Nutrient Deficiencies
Article in Plant physiology · July 2015
DOI: 10.1104/pp.15.00708
3 Ethylene Effects
Mikal E. Saltveit is with Mann Laboratory, Department of Vegetable Crops, University of California, Davis, CA.
4 NC State Horticulture Information Leaflet 530
Ethylene: Sources, Symptoms, and
Prevention for Greenhouse Crops
James L. Gibson1, Brian E. Whipker2, Sylvia Blankenship3,
Mike Boyette4, Tom Creswell5, Janet Miles6, and Mary Peet7