By James Weatherly
Investment in research and development is consistently bringing more innovations to market that benefit both the grower and the consumer. However, with that investment, the grower is also seeing more patents, Plant Variety Protection Certificates (PVPs) and contracts associated with innovations, especially in the vegetable industry.
As Executive Director of the Seed Innovation and Protection Alliance (SIPA), I am often asked questions on intellectual property (IP) related to seed. Some of the questions I receive on a regular basis are, "What is a patent?", "What is PVP protection?" and, "How do I know if this variety is protected?" The answer is; it's complicated. However, this article will discuss patents, PVPs and how to go about figuring out if something is protected by intellectual property (IP) rights.
In the U.S., there are a number of legal systems that are also used to protect seed, including patents, PVPs, and contracts.
Patents
In the U.S., specific seed varieties, characteristics, and improvements may be protected by one or more U.S. patents. A U.S. patent is administered by the U.S. Patent and Trademark Office (USPTO).  In general, a U.S. patent holder can prevent others from making, using, offering for sale, and selling or importing the claimed invention in the United States. To be specific, for patented seed, there is no exemption under patent law that allows a grower to save seed. Those who do save patented seed potentially risk: lost profits, seizure or destruction of crops, as well as liability for damages to the patent holder.
It is important to remember that under U.S. patent law, the patent owner is not required to label their product with a patent number, and some companies may direct people to their website to see if a seed is protected by a patent.
Plant Variety Protection
PVP is another option for protection of new seed varieties. PVP protection is administered through the USDA and is used by breeders of new varieties to restrict the use, marketing, and sales of varieties.
However, as opposed to the rights associated with a patent, a PVP allows a grower to save enough seed to replant one year's crop on their own acreage. "Brown bagging," or selling the saved seed for replanting, is a violation of U.S. PVP law. Please note that a seed variety in the U.S. may have both PVP and patent protection. Where a patent also covers a seed protected by PVP, saving seed is not allowed.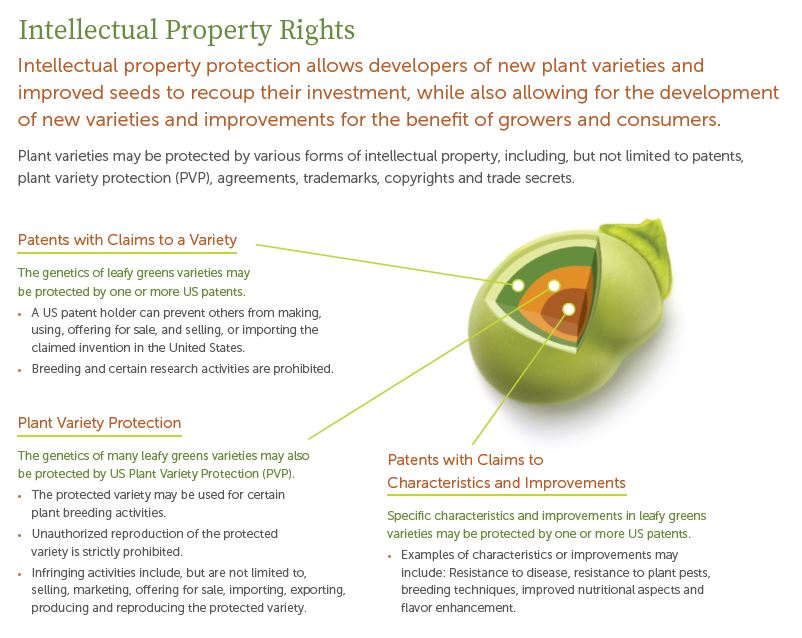 Limited Use License
In addition to patent and/or PVP protection, many seed varieties are also protected by contract. Two of the more common forms of contracts for seed varieties are bag/tag agreements and/or limited use agreements. Bag/tag agreements are contracts often placed on seed containers and/or invoices that typically restrict the use of the seed within the container once opened by the grower. Limited Use agreements are between the grower and breeder and often require that seed from the variety can only be used to produce one (1) commercial crop and cannot be used for planting, transferred or provided to any party for crop breeding, research, or seed production.
No PVP, Patent, or License?
If there is no PVP, patent, or license protection associated with a seed, then there may not be any restrictions to a grower's use of the seed in question. However, it is very important to do your due diligence to ensure there are no restrictions. It is important to remember that under U.S. patent law, the patent owner is not required to label their product with a patent number.
So how does grower know if the seed they are purchasing is protected by a PVP, patent or license?
Talk to your seed dealer or seed company representative
Check the bag and tag labeling
Consult the seed company website
In the U.S., trade secrets, trademarks, and copyrights are additional forms of intellectual property protection associated with seed-related innovations.
Trade Secrets
Trade secrets are often used in the development of new seed-related innovations. A trade secret is information a company keeps secret to give an advantage over competitors. In order to be considered a trade secret, it must have these elements:
Has potential or actual economic value
Not generally known to public
Reasonably protected
Examples of trade secrets in the seed industry may include proprietary breeding materials, breeding methods, transformation techniques, marketing or business plans, and client lists.
Trademarks
Trademarks or brands are critical in helping growers have confidence in the quality of the seed products they are buying. A trademark is a word, symbol, sound or device, which serves to indicate the source of seed, plants, fruit, or other products or services. This is in direct contrast to a patent or Plant Variety Rights, which are often forms of protection on the product or seed itself.
There are two forms of trademark rights in the US: common law and federal rights. Common law rights are based upon actual use of a mark in commerce and extend to the locations where a mark has actually been used. An organization who wants to provide notice of their common law rights may use the ™ symbol with the mark.
Federal trademark rights are provided through the registration of your trademark with the USPTO. Federal trademark rights provide the trademark owner with rights across the entire U.S., and once a mark is registered, gives the trademark owner the right to use the ® symbol.
Unauthorized use of a trademark can lead to monetary damages, injunctive relief, and confiscation of the infringing product, as well as other damages
Copyrights
Finally, many companies and dealers use copyrighted photos and graphics in the advertising of seed products. A copyright is a work of art, such as writings, books, photos, songs, paintings, sculptures, and software, that are fixed in a tangible medium of expression. Simply put, if you create an original work that is sufficiently permanent or stable of being perceived, reproduced, or communicated for more than just a passing moment, you have a copyright. An original work has copyright protection the moment it is created and fixed in a tangible form.
It is important to remember that you can't just grab a photo off a website or out of a catalog.  Unauthorized use of copyrighted material can lead to monetary damages, injunctive relief, as well as other damages.
For more information on the intellectual property protection associated with seed, contact the SIPA program by visiting the SIPA website at www.seedipalliance.com or contacting James Weatherly at [email protected].
Sources:
USDA-NASS. Farm Production Expenditures-2015 Summary. Aug. 2016.
CropLife International, Getting a Biotech Crop to Market. 2011.
Phillips McDougal. "Cost to develop new crop protection products."  CropLife International, CropLife America, European Crop Protection Assn. 2016.