Despite pressures from many sources: diseases and insects, labor shortages, weeds and sustainability challenges, just to name a few – the yields and profits of leafy greens crops continue to increase. Production of leaf and romaine lettuce alone increased by 209% from 1992 to 20071. In large part, it is due to the research and development efforts of breeding companies to create seed innovations that meet these challenges. By breeding pest and disease-resistant varieties, longer shelf life, ease of harvest and shipping, drought resistance, and enhanced nutrition and flavor, breeding companies provide growers with the tools they need to meet the constant, yet always-evolving pressures they face.
"We look at seed innovations as any type of new improvement or technology that brings benefit to the entire industry to improve our yields and maximize the resources we have," says James Weatherly, Executive Director of the Seed Innovation & Protection Alliance (SIPA). "It could be new traits, new seed technology, new seed treatments or enhancements, or new growing technologies."
The need for constant innovations to improve crops and avoid losses comes from two places, and fortunately the solutions are of mutual benefit. Today, growers need to produce a healthy, pest-free crop at cost and yield levels that are profitable. The more altruistic and equally urgent need is that by 2050 (not so far off anymore), the world population will have increased to 9 billion people, and we need to feed and clothe that population with fewer resources than we have right now.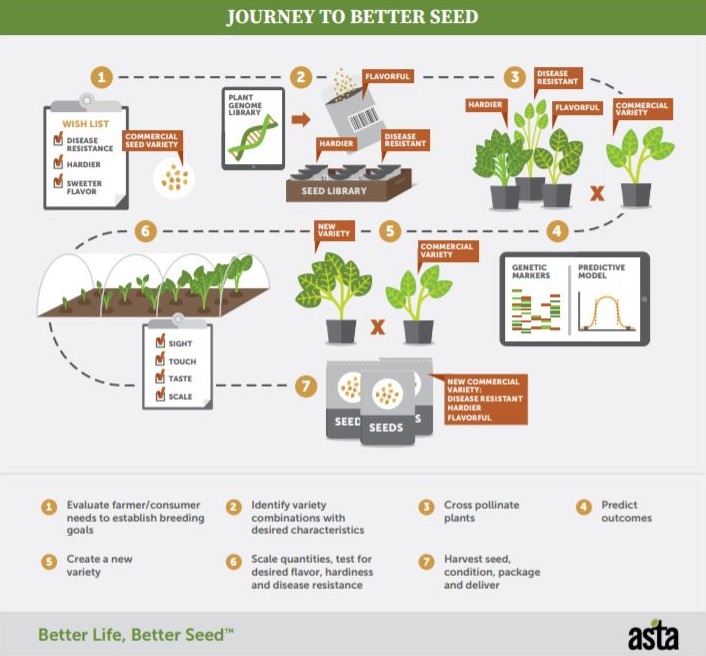 Many steps are required to develop, evaluate and release a new seed innovation to the market. But the results are worth it."There's a massive amount of innovation from all throughout the industry and up and down the channels of commerce," Weatherly says. "We need all these innovations for the same purpose – to help meet the needs of our society. If growers are successful, that means more food for the population as a whole. It's a win-win."
Weatherly easily lists examples of how seed innovations have made big differences for leafy greens producers. Diseases and pests are constantly evolving and developing new strains; breeders need to stay ahead of the game, creating new varieties that have resistance to those new diseases and pests, he says.
"Without those innovations, we wouldn't be able to produce a crop in certain areas," Weatherly says.
On the consumer end, products with longer shelf life, better nutritional value, and increased flavor create more demand and repeat customers.
"In another example, companies are developing varieties that work around low-oxygen packaging; the result eliminates the negative smell that is characteristic of opening packaged lettuce," Weatherly says. "Consumers are more aware of [all of] these issues than ever before."
The Price of Seed Innovations
Innovations do come at a cost, however, and it's significant. The years of breeding, selecting seed, trials, storage, and the land, labs, employees and other facilities required for that can cost upwards of $1 million per year2. The average time to produce a successful new variety is 7 to 10 years, and there's no guarantee that any of the hundreds of thousands of new plants that are evaluated during the process will have commercial value. Breeding companies, like producers, need to remain profitable in order to remain in business.
"When it comes to buying seed, the return on investment is worth it in terms of reduced inputs, increased yield, varietal purity and freedom from weeds." Weatherly says. "And 95% of producers recognize that, too. Plenty of studies show that the cost benefits of saving seed through multiple generations just doesn't add up. The storage, cleaning, additional inputs in regard to weed contamination, the reduced yield from genetic drift and genetic lag — it just doesn't have the cost benefit you originally thought."
There's a cost to growers who use seed inappropriately, too. If they are using seed with technology protected by intellectual property laws, but didn't buy it in a legal manner, there are significant risks if they are caught. Weatherly says those risks may include lost profits, liability for any damages as well as statutory damages.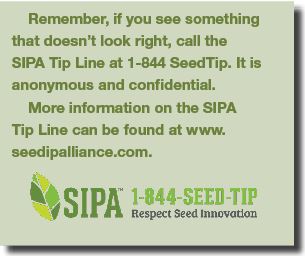 The industry also loses when seed innovations are acquired or saved illegally.
"We estimate the lettuce industry alone loses between 1.8 and 3.6 million dollars each year to inappropriate use in the U.S.," Weatherly says. "Breeders invest an average of 23% of revenue back into R & D to develop new innovations. When you do the math, that's $400,000 to nearly a million dollars that could have been invested into new varieties and technologies."
How do you avoid getting caught up — even accidentally — in an infraction?
Make sure you are buying from a reputable dealer who gets seeds from a reputable source, Weatherly says. Look on the bag and make sure the seed is from a company you know and recognize.
"In the end, it's about supporting the entire industry," Weatherly says. "These innovations provide benefits that make it possible for growers to be profitable and to feed an increasing population. We want to make sure that research continues."
1 Vegetables 2014 Summary (January 2015) USDA, National Agricultural Statistics Service
2 Source, Seed Innovation and Protection Alliance Members