MEET GOLDEN CRUSH™: a non-gmo, non-ethylene producing cantaloupe. Through conventional breeding and new digital agriculture products, we developed this branded program for both consumers and growers around the world.
While traditional cantaloupes have a white exterior, Golden Crush™ is different. Only a few days before the melon is ripe, the exterior of the melon will begin to transform into a deep golden color. This is called a harvest indicator. Much like you check for ripeness of other products in the store, growers and harvesters pay close attention to when their crops are ready.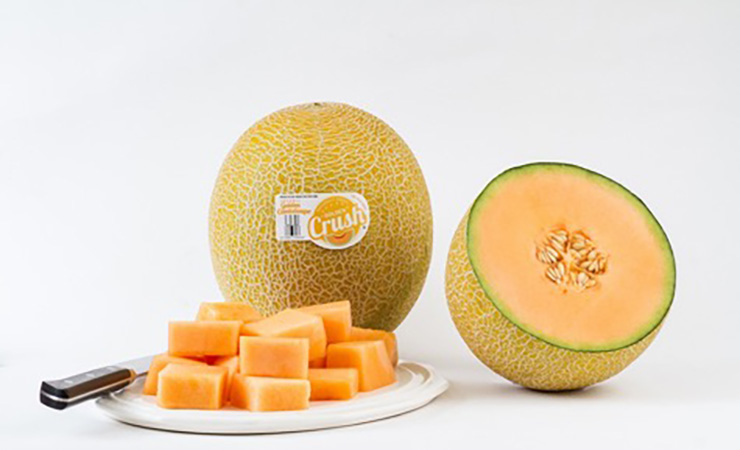 Right now, across the globe, labor shortages make harvesting one of the most important factors of a commercial grower having a profitable season. By providing a clear indicator of ripeness to harvesters in the field, Golden Crush™ is designed to optimize the growers time and efforts while satisfying consumer need at retail.
FLAVOR MATTERS. Along with non-gmo disease resistance, Golden Crush™ is a non-ethylene producer. The melon is going to ripen a lot slower once harvested…keeping it extra sweet and ripe when it gets to the store.
Because Golden Crush™ has a firmer flesh than traditional cantaloupes, it can also be harvested and packed in bins, further helping the grower save time and money getting the product fresh to the store.
The reason growers produce Golden Crush™ is the same reason why consumers should enjoy it: it's just better. Visit the branded program website at www.crushmelon.com today and contact us if you have any interest in learning more about producing for the Crush Melon program. In 2019 roughly 1,000 acres of Golden Crush is set to be harvested. Get on board!
GOLDEN CRUSH™ is commercially available to consumers through Crescent Fruit & Vegetable, LLC. You can learn more about adding this program to your store by contacting Ted Brasch via [email protected] or +1-(956)-381-5701.
About Sostena Company:
Sostena provides hybrid fruit and vegetable seed to world class growers around the globe.
Sostena recognizes that creating more value in the agricultural supply chain is vitally important due to limitations in arable acres and other natural resources. As the global population continues its growth trajectory, supporting healthy business practices and finding ways to do more with less are absolute imperatives within the agricultural community.
Reach out today and learn more. We are non-GMO.
For more information, visit www.sostena.com
Media: [email protected] , +1-877-450-0047