"Last year we saw less downy mildew than expected thanks to weather and inoculum levels," said Marty Wiglesworth, Agronomy Services Manager for Syngenta. "I'm not sure we will be that lucky again this year."
The development of downy mildew is favored by cool/wet conditions, high humidity, and nighttime temperatures of 55 to 75° F. In cucurbits, the pathogen that causes the disease is Pseudoperonospora cubensis. The disease gets its name from the sporulation areas typically found on the underside of infected leaves that appear fluffy and white. This namesake symptom is a sign of the pathogen completing its life cycle, but the symptoms that first appear following infection are the chlorotic lesions, which later become brown and necrotic.
"There are certainly cultural management practices that cucurbit growers should implement to reduce the likelihood of downy mildew," Wiglesworth explained, "But when conditions favor development of downy mildew, growers need to be prepared with a good fungicide program. Orondis® Opti fungicide combines our latest active ingredient, oxathiapiprolin, with chlorothalonil, for excellent residual control of downy mildew."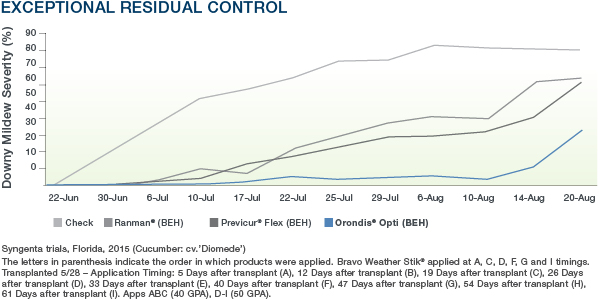 In addition to providing excellent control under heavy disease pressure, Orondis Opti also offers cucurbit growers built-in resistance management when included in a season-long Oomycete disease control program. Oxathiapiprolin has a novel mode of action and is not cross-resistant to any other fungicides. By combining oxathiapiprolin with chlorothalonil, the second active ingredient in Orondis Opti, the product acts as a multisite inhibitor with low resistance risk. Growers should follow the resistance management guidelines on the label to maintain the efficacy of Orondis Opti.
---
Performance assessments are based upon results or analysis of public information, field observations and/or internal Syngenta evaluations.
©2018 Syngenta. Important: Always read and follow label instructions. Some products may not be registered for sale or use in all states or counties. Please check with your local extension service to ensure registration status. Orondis®, the Alliance Frame, the Purpose Icon and the Syngenta logo are registered trademarks of a Syngenta Group Company. Bravo Weather Stik® is a registered trademark of Adama Corporation. Ranman® is a registered trademark of Ishihara Sangyo Kaisha, Ltd. Previcur® is a registered trademark of Bayer CropSciences.