Season after season, vegetable and fruit growers are faced with concerning issues such as blossom end rot, tip burn and internal rust. These, among many other issues that ultimately affect crop yield and quality, can often be traced back to one simple issue: calcium deficiency. Calcium plays an integral role in plant health, and actually makes up for 14% of total macronutrients removal in lettuce.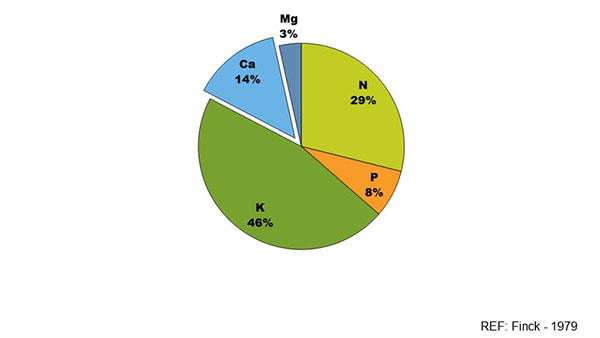 Fortunately, there's a reliable and simple solution. By including calcium nitrate fertilizer, such as YaraLiva, in a balanced crop nutrition program, growers can prevent these issues while also producing longer lasting fruit and vegetables with improved inner heath and outer beauty.
In combination, calcium and nitrate fuel prolonged growth. Calcium helps strengthen cell walls, and the nitrate nitrogen is the source preferred by fruits and vegetables, and is readily available to plants. Calcium makes strong cell walls through the formation of calcium pectate, and also has the role in maintaining cell wall integrity. Most of the benefits relating to the adequate supply of calcium are associated with these two key roles. If calcium is deficient the cell wall membrane collapses and plant and fruit disorders appear.
Calcium is key to good soil physical conditions
Calcium flocculates clay particles so soil has improved physical conditions leading to better water infiltration, increased water use efficiency and less erosion. Also, calcium applications, along with good irrigation management, can help leach excessive sodium from the soil. Calcium should occupy 65-80% of the exchange sites to help assure good soil physical and chemical conditions.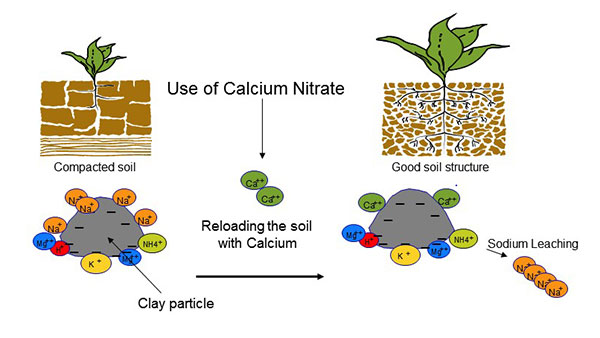 Calcium is the key to good plant health
Blossom end rot in tomatoes, tip burn in lettuce and internal rust spot in potatoes are some of the most commonly seen symptoms of calcium deficiency. Calcium uptake takes place passively through the transpiration stream and eenvironmental factors that reduce transpiration such as temperature, humidity, salinity and lack of water affect the susceptibility of a plant to experience calcium deficiency.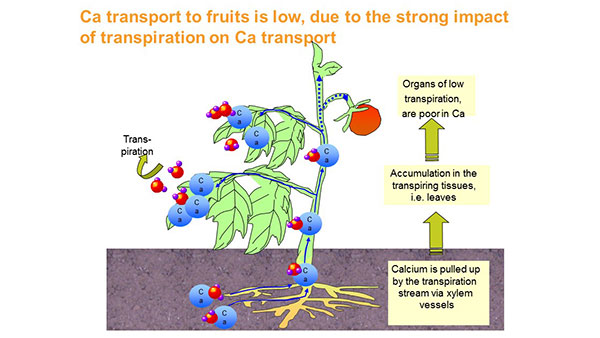 Inner leaves lettuce transpire less than outer leaves and are more likely to develop tipburn. Tipburn is the marginal collapse and necrosis, at or near the leaf margins, of rapidly expanding leaves. This disorder usually occurs near harvest, when it can result in complete crop loss. Tip burn in vegetables has also been linked to ammonium toxicity. Toxic concentrations of ammonium ions can damage plant roots which in turn cause reduced calcium levels in the plant. During faster growth, root damage will have a greater effect because uptake demand is high (Daly and Tomkins, 1995). The incidence of tip burn increases with the concentration of ammonium (Tao et al. 1986).
Blossom-end rot (BER) of tomato is commonly misdiagnosed as a fruit disease, but it is rather a physiological disorder caused by a calcium imbalance within the plant. A water-soaked spot at the blossom end of tomato fruits is the classic symptom of this disorder. It can occur in pepper, squash, cucumber, and melon fruits as well.Any factors reducing the calcium flow to the fruit will tend to increase BER incidence.
Blossom –end rot demonstrated on tomatoes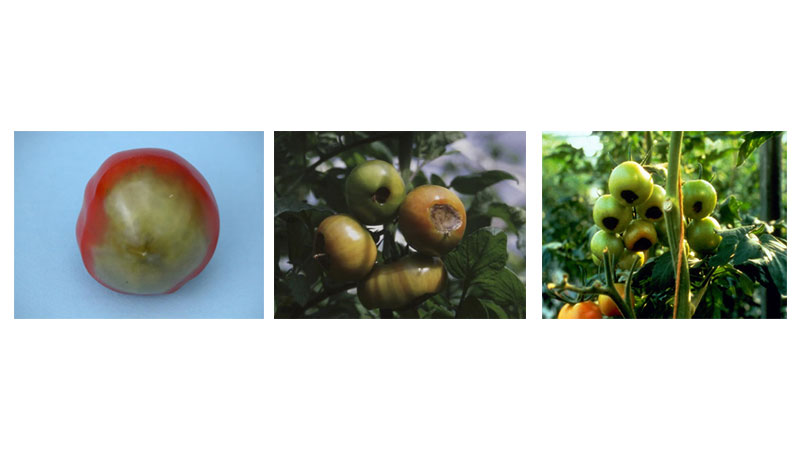 In summary, calcium deficiency disorders are not easy to correct since the fundamentals behind calcium deficiency are related to calcium transport and distribution. However, one essential practice that will reduce the incidence of this problem is to make sure that a fully water soluble supply of calcium is available in the root zone when plants need it the most.
Calcium is key to preserve fresh fruits and vegetables in order to extend the shelf life and enhance the nutritional value
Good calcium status also reduces the water losses during storage. When calcium nitrate is included in the fertilizer program for fruit and vegetables, farmers will quickly notice that their produce keeps its weight and quality for a longer time period before starting to break down. Which means that the produce stays fresher looking in the market. This is a big advantage for the supermarket or fruit and vegetable seller.
In a field trial with three lettuce types, the impact of calcium nitrate (CN), potassium nitrate (KN) and ammonium nitrate (AN) applied via fertigation as top dressing on crunchiness was investigated. CN significantly increased the crunchiness of three lettuce types (butterhead, romaine and loose leaf) as compared to KN and AN. As CN was superior to KN it indicates a positive calcium effect on quality.
The Importance of using water soluble calcium
Plants require soluble calcium for uptake and calcium nitrate is highly water soluble which is key to increasing plant calcium. Agricultural lime (calcium carbonate) or free lime found in calcareous soil is almost completely insoluble. Gypsum is more soluble than lime, but still relatively insoluble.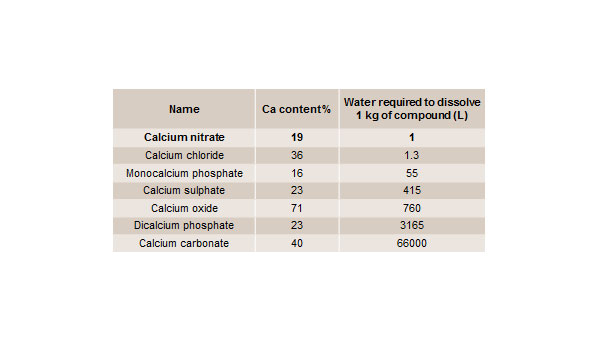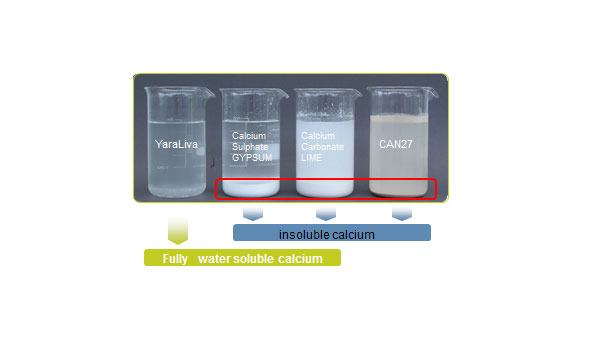 YaraLiva Calcium Nitrate Products for Vegetables
YaraLiva CN-9® – The premium calcium source
YaraLiva CN-9 liquid calcium nitrate is the most efficient way to fertigate calcium to vegeta¬bles. This all-nitrate N formulation is rapidly taken up by plants, even under very cool or very high temperatures. When crops are small, temperatures are low and growth is slow, when firmness is tantamount to produce quality – YaraLiva CN-9 is the ideal fertilizer for these conditions.
YaraLiva CAN-17 – A great solution
With a high N content, YaraLiva CAN-17 gets the job done from cool planting conditions to finishing a high-quality crop. Over 2/3 of the nitrogen in the nitrate form, with 1/3 of ammonium nitrogen to act as longer term feeding.
YaraLiva CALCINIT
YaraLiva Calcinit is a fully water soluble nitrogen and calcium fertilizer. It is a free flowing, fine granular or prilled material which dissolves quickly in water without any residues. YaraLiva Calicinit is suited to application through all fertigation systems.