Foliar feeding is a supplemental fertilizer application system meant to supply mineral nutrients to plants at critical growth stages and/or when the plants are unable to take up adequate mineral nutrients from the soil (Fig1). Foliar application provides nutrients for immediate uptake by the leaves or fruits. As a result, the grower is not reliant on the right soil, pH or growing media conditions and can quickly provide the right nutrients to suit an immediate crop need.
Fig 1 – Reason why plants may be unable to take up nutrients from the soil.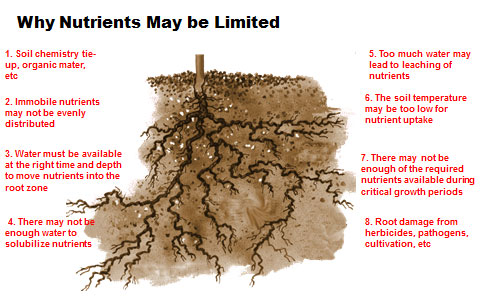 Which nutrients can be foliar applied?
All nutrients can be foliar applied. Primary and secondary nutrients are needed in large volumes by crops so they should be mainly soil applied, but can be supplemented by foliar applications as well. Micronutrients are needed in small volumes and can be supplied by foliar application.
Foliar applications are thus the preferred method of application of micronutrients during periods of active, rapid plant growth, particularly when any delay in a nutrient being available will restrict growth, yield and crop quality. It is often only necessary to use small quantities of micronutrients applied directly onto the target leaf or fruit. This is often more cost-effective than applications through the soil which use higher quantities of micronutrient, some of which, depending on soil status, are tied-up or lost through leaching.
In summary, the main advantages of foliar application are:
Lower volumes of nutrient required (fig 2)
Nutrient is applied where it is needed most
Avoids influence of soil type, pH or nutrient interactions
Overcomes climatic effects (e.g. water logging) and no residual or leaching effects in soil
Ideal method of application of micronutrients
Control of quantity, timing and frequency of nutrient supply
Easy integration into crop protection programs by co-applying with pesticides
Fig 2 – Lower volumes of nutrient required through foliar application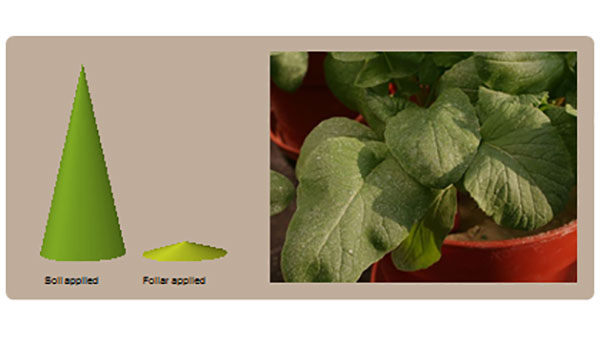 Why YaraVita® Foliar Feed?
Yara has developed a range of products specifically for application of nutrients by foliar spray. Manufactured to a high quality and with full support services to ensure correct product, rate and timing, the YaraVita range solves growers micronutrient requirements worldwide.
Primary concerns with foliar products are crop safety and product assimilation. Common practice is to tank mix the micronutrient with agrochemicals, to reduce application costs and this requires properly formulated and tested products.
The YaraVita Difference
Formulated products specifically designed for foliar uptake (fig 3)
High analysis easy to use wettable powders, soluble powders, liquid concentrates and liquid flowables
Products designed for "surgical" approach to foliar nutritionISO 9000 controlled production
Manufactured from high purity raw ingredients
Researched and used globally
Safe products, low phytotoxicity
Compatible with most pesticide systems.
Fig 3 – Control of Product Performance using formulation expertise