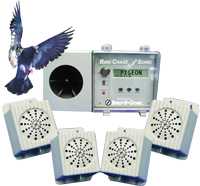 The new Bird Chase Super Sonic system from Bird-B-Gone, Inc. features distress and predator bird sounds of more than 22 types of birds. This system is a low-cost, effective, and long-term solution for targeting pigeons, crows, starlings, swallows, gulls, woodpeckers, sparrows, grackles, cormorants, and many other birds.
The Bird Chase Super Sonic will protect your property and surrounding area for up to one acre. It is easy to install and maintain, and offers an easy volume adjustment.
For more information, call 800-392-6915; [email protected].