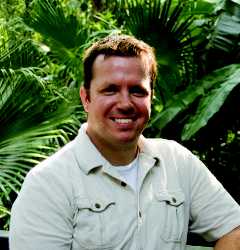 It has often been said that the best defense is a good offense. While this age-old adage is mostly associated with sports themes or warfare strategy, the saying certainly has applicability on today's farms. If it seems like Florida growers are constantly on the defensive fighting off pest and diseases, encroaching competition, increased regulations, and more, it's because they are. However, the only way you all have been able to survive and succeed is because of your proactive nature. Advancements in technology, breakthroughs in science, and good old fashioned trial and error have been and are giving growers the tools to move down the field.
At the 2011 Florida Ag Expo in November, State Agriculture Commissioner Adam Putnam praised industry professionals for doing their best work in challenging times. "We're the strongest builder in this economy," he said during his keynote address. He pointed out specific examples of how Florida ag has gone on the offensive to raise the bar on industry standards in areas such as water conservation, freeze protection, new market penetration (think blueberries and peaches), and variety innovation, which has yielded plenty of dining table staples, including the latest hit, the new UF/IFAS-bred Tasti-Lee tomato.
The fore-mentioned home-grown accomplishments may have never materialized without the teaming of forward thinking, scientific minds with the gumption of growers.
Putting On A Show
The latest body of work from researchers and stakeholders will be front and center at the 2012 Florida Citrus Show. Scheduled for later this month in Ft. Pierce, the annual gathering presented by Florida Grower, UF/IFAS, and the Indian River Citrus League, showcases a program that defines the best in what collaborative efforts between the research community and growers can offer. The fruits of this ongoing labor have awarded citrus growers new life and spawned a renewed vigor and commitment to an industry that's most valuable to the state's well being.
Institution Evolution
This month, Florida Grower shines the light on the land grant system. Land grant institutions, like UF/IFAS, have helped pave the way for American farmers to learn, grow, and prosper. The land grant system is celebrating its 150th anniversary this year. "We have a proud history," said Jack Payne, senior VP, UF/IFAS, at the Florida Ag Expo. "It's the next 150 years that are going to be important."
The current state of modern agriculture puts that figure in perspective. Just think about all the new ideas and opportunities that will emerge from what's to be the future's agriculture trailblazers. Score one for the home team. That ingenuity will come in handy as global food and energy demand put on the pressure.