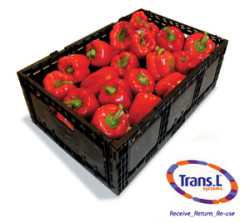 Efficiency in the supply chain is more important now than ever. A collective tightening of the belts among American consumers means growers and retailers are being challenged to find ways to ease price burdens on consumers — not an easy task. On top of that, increasing environmental concerns mean sustainability is top of mind for an increasing number of Americans, too. "Current market conditions are causing everyone to more closely examine their supply chain and seek ways in which they can extract additional value," says Ian Neeland, whose Australia-based company, Trans.L Systems, helps growers and retailers implement reusable transport packaging (RTP) systems.
Trans.L Systems currently has operations in Australia, Asia, and most recently, the U.S. In his role as CEO, Neeland's goal is to help supply chain owners convert from fiberboard/corrugate to returnable supply chains through the use of RTP. "I am convinced of the benefits of reusable plastic crates (RPCs) in improving product quality, reducing reverse logistics costs, and lowering environmental impact," he says.
How It Works
As a supply chain logistics expert for packaging, Trans.L Systems objectively analyzes its customers' supply chains to identify opportunities for achieving better returns, then designs a supply chain transformation based on the findings. "The adoption of reusable packaging throughout the fresh produce supply chain is considerably higher in Australia (60%) compared to the U.S. (12%)," says Neeland. But Trans.L's recent opening of a U.S. office in San Francisco — close to key fresh produce regions in the state — means the company will now be able to bring the technology to North America.
"Our company has a strong track record in working with retailers to design returnable supply chains for their fresh food procurement programs. We also bring automation to assist the handling of reusable packaging in wash plants and the packing operations of grower shippers and food processors," Neeland says. "This automation reduces the costs and improves the safety of reusable transport packaging. Until now, the automation piece has been lacking in the U.S. market."
He adds that the supermarkets in Australia really have taken the lead. Chains like Coles, Woolworths, and Aldi, which together control 70% of fresh produce sales, all have embraced the benefits of RPCs.
Life Cycle Analysis
One of Trans.L Systems' clients is leading Australian retailer Coles Supermarkets, which operates more than 700 stores with 450 fresh produce suppliers. In 2006, Neeland, as a produce executive for Coles, was responsible for implementing the company's conversion to reusable transport packaging, during which a Life Cycle Analysis (LCA) was performed. The project compared the environmental impact prior to and after conversion from fiberboard to RPCs. "The LCA proved that RPCs have 85% less impact on the environment," says Neeland. He believes there's a lot of potential for similar benefits — in efficiency and freshness — in the U.S., too.
"We can show that RTPs such as returnable plastic crates and larger returnable merchandise units are a cost effective way to ensure enhanced freshness and quality," Neeland says. "They can also achieve significant green benefits, including reduced water use and fewer carbon emissions. Supermarkets, quick service restaurant chains, growers, and distributors big and small can achieve the same significant rewards when they integrate RTPs into the supply chain."