One of the highlights of the Biocontrols Conference & Expo Series is getting an early look at some of the latest or soon-to-be-released biopesticide materials. Eleven of these products were featured in the "Biocontrol Products You Need to Know for 2017" session during the recent Biocontrols USA West Conference in Reno, NV.
Here's a quick look at the products that were featured — click the links for more information on each.
Loopex, Andermatt Biocontrol AG
This baculovirus targeting cabbage looper offers damage and population control (due to virus transmission between individuals); is very host specific, causing no harm to beneficials; can be used in combination with Bts and other products; calls for low application volumes (little storage size), and has no residue concerns, according to the company.
For more information, visit the Loopex page on AndermattBiocontrol.com.
Serifel, BASF
Serifel is a preventative fungicide based on Bacillus amyloliquefaciens strain MBI600 with multiple modes of action. It offers spray program flexibility used in rotation with chemical fungicides, has broad tank-mix compatibility and minimizes potential for resistance, and can be used in variable weather, staying after rainfall for an expanded window of protection.
For more information, visit the Serifel page on Agriculture.BASF.com.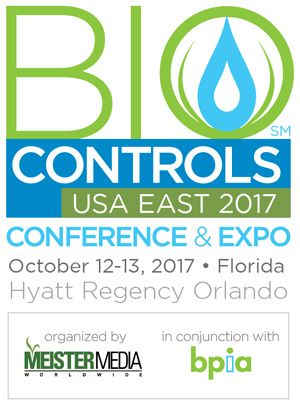 Serenade, Bayer Crop Science
Serenade is a familiar fungicide product for many growers, but recently added three new claims to its U.S. and California label. Those include increased root colonization, protection throughout the growing season, and increased plant health (crop vigor).
For more information, visit the Serenade page on CropScience.Bayer.us.
BotaniGard MAXX, BioWorks
BotaniGard MAXX is a Mycoinsecticide emulsifiable dispersible oil with active ingredients Pyrethrins and Beauveria bassiana strain GHA. The product is physically and biologically compatible with many insecticides and spray adjuvants, and compatible with some fungicides in tank mixtures. Used as a contact insecticide, it offers quick knockdown and a short residual. It also controls mites and can be drenched for root aphid control.
For more information, visit the BotaniGard MAXX page on BioWorksInc.com.
Celite 610, Brandt Consolidated
This mechanical insecticide is 100% pure, natural diatomaceous earth. It is registered by EPA and in all 50 states and is labeled for all field crops. The product controls a wide variety of insect pests, and is OMRI Listed for organic production. It can be used as a stand alone or in a tank mix. Celite 610 works by removing and adsorbing the waxy cuticle through contact or ingestion. As a mechanical insecticide, resistance development is very highly unlikely.
For more information, visit the Celite 610 page on Brandt.com.
LifeGard WG, Certis USA
LifeGard WG is a Biological Plant Activator with active ingredient Bacillus mycoides isolate J (BmJ). It has no direct antagonistic effect on plant pathogens, but rather activates a plant's natural defenses against pathogens. This makes it valuable in a program to reduce risk of fungicide resistance. The induced resistance response is detectable within three hours, lasts 18-to-21 days, and no phytotoxicity has been observed in 20 years of field trials.
For more information, visit the LifeGard WG page on CertisUSA.com.
RootGuard & FoliarGuard, Crop Defenders Ltd.
The beneficial microbe found in RootGuard and FoliarGuard is present all over the world. It acts by occupying the openings in the plant defenses that Botrytis and other pathogenic fungi would otherwise enter through, effectively guarding the weak spaces of the plant.
For more information, visit CropDefenders.ca
TetraCURB Concentrate, Kemin Crop Technologies
This 2-1 miticide + repellent is formulated for all plants and food crops and is compatible with beneficials programs. TetraCURB Concentrate is a rosemary oil-based contact miticide treatment, with the active ingredient extracted from Kemin's proprietary lines of rosemary plants that are rich in targeted active molecules. Benefits include exemption from residue tolerances in the U.S., zero reentry interval and preharvest interval, low phytotoxicity, and the ability to reduce the use of synthetic materials.
For more information, visit the TetraCURB page on Kemin.com.
Sporan EC2, KeyPlex
This new broad-spectrum botanical fungicide with preventative and curative qualities controls powdery mildew, blight, and rust. It can be used in both conventional and organic applications for fruits, nuts, vegetables, ornamentals, landscapes, turf, greenhouses, and nurseries. Sporan EC2 Is a FIFRA 25(b) Minimum Risk Pesticide with no reentry interval or preharvest interval. It can be tank-mixed or used in rotation with conventional fungicides for enhanced performance, and can be applied any time throughout the growing season, including bloom.
For more information, visit the Sporan EC2 page on KeyPlex.com.
Majestene, Marrone Bio Innovations
This bionematicide is a new bacterial species of Burkholderia (rinojensis), and is non-toxic to non-targets, including bees. Majestene reduces galls, adult reproduction, egg hatch, and nematode numbers, and is highly effective at planting and in-season to control a broad spectrum of nematodes and soil insects. It can be applied through seed treatment, chemigation, or in-furrow.
For more information, visit the Majestene page on MarroneBioInnovations.com.
Leap, Valent U.S.A. Corporation
Now registered for use on tomatoes and peppers, Leap  ES  offers two-way protection. This new and reliable alternative to copper-based products for bacterial disease management also provides tried-and-true Lepidoptera larvae (worm) control. Leap contains methyl salicylate (MeSA), which elicits a plant's natural defense systems to protect it against pathogen infections. Leap is now available in the Eastern and Southern U.S.
For more information, visit the Leap page on Valent.com.