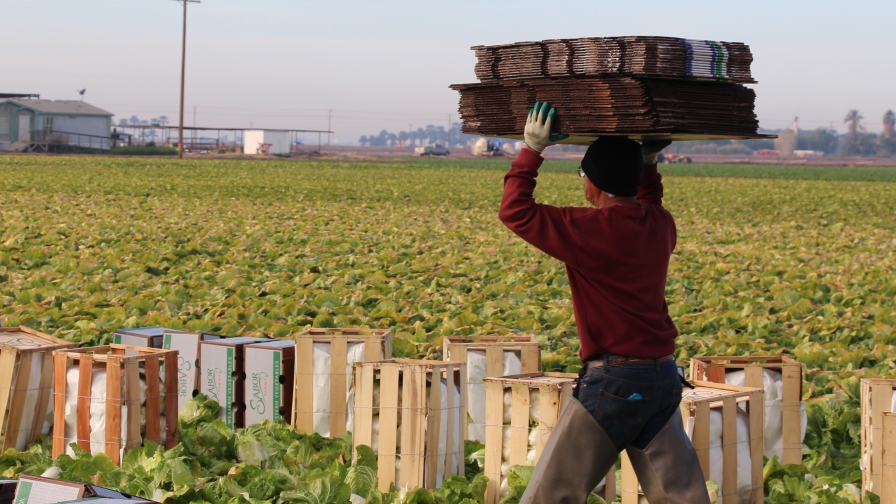 Paul Baker, a fifth generation fruit and vegetable farmer from Niagara, NY, doesn't pull any punches discussing New York State's pending farmworker labor bill (S. 2837/A. 2750).
Never heard of it?
It's a piece of legislation that will apply overtime rules to farms and allow workers to unionize. Currently the bill is still in New York's Senate Labor committee.
New York Farm Bureau projections say FFLPA will cost Empire State growers an additional $300 million in annual overtime labor costs, resulting in an across the board 23% hit to farm income. That's something the more urban-minded New York representatives and senators may think is an exaggeration. That's a natural result of the long-standing disconnect of modern Americans with agriculture. It can foster a lack of trust on both sides.
"You could call 10 of us (farmers) and you'll get the same answer from all 10, and that's that no one has a crystal-clear idea on which way this is going to go," says Baker, who also serves as The New York Horticulture Society's Director.
That uncertainty makes the state government's decision the focus of all New York farmers.
"The consequences of where this could go, if this passes it will forever alter and change agriculture in New York," Baker says.
What's in the Bill?
There are two legislative aspects of FFLPA with the most potential to affect NY's long-productive fruit and vegetable industries:
Requirements to pay overtime (i.e., time and a half, or 1.5 times the standard wage) to all farmworkers for any hours worked beyond the standard 40-hour work week.
Affirming the right of New York farmworkers to unionize and collectively bargain with management on things like wages, housing, and other benefits.
Baker's Main Concerns
"Where I am particularly concerned is, I think agriculture in New York is at a big turning point," Baker says. "A lot of these producers — if this passes — are going to have to make some tough decisions. Can they afford to farm in New York with overtime being paid at 40 hours?"
This possible law's effects will potentially touch every corner of the ag economy in New York, according to Baker. For example, seasonal farmworkers with options may choose to work in states like Michigan and Pennsylvania that don't restrict how many hours they can work per week.
Or produce marketers may realize they can source comparative agricultural products at a cheaper cost in nearby states. Even aging legacy farmers may decide they've had enough of farming's increasingly politicized economics. They may sell off the farm rather than accept nearly a quarter of their yearly income being redistributed.
"From the workers' point of view, we're an import state," Baker says. "To get the work done to pick 30 million bushels of apples, we have to import labor to reach that number."
That means New York growers compete with other states for labor by offering what they want.
"These farmworkers that come up here and work on the fruit, they want those extra hours. They don't intend to be up here working year-round. They want to get in, work hard, earn a good living, and get out when the harvest is over. Those folks aren't going to be content with [only] 40 hours," Baker says.
Working Across the Aisle
The Horticultural Society's constituents are willing to compromise with leadership in New York's now democrat-controlled Senate, Baker says. They would favor regulations like California, where farm owners pay out overtime on any hours beyond a 60-hour work week.
As of today, however, Baker does not see a similar reach-across-the-aisle motivation coming from the state's legislators.
"The labor unions in Albany have been very vocal that they don't want any exceptions — 40 hours is the standard," he says. "We're pigeon-holing our farmers when the farmers right below us (in Pennsylvania) are still paying out based on the federal minimum wage laws," he says.
So some workers may decide to go where they can earn more overall, even if the hourly rate is lower. Distributors and other customers will likely buy from farms with fewer labor costs, and therefore lower wholesale prices.
"And I can't really blame them to be honest. State lines don't really mean much in a global business-like agriculture," Baker says.
Economy, Politics, and Agriculture
Baker isn't sure the current political leaders understand how the bill will impact the state's economy. Agriculture is a big part of Upstate New York's economy.
The democrat-dominated executive and legislative levels have labor ideals they want to advance.
"OK, we understand that, and we're willing to work with you and compromise. But we just don't see how you can put our farmers in a 40-hours-per-week overtime pay situation and remain competitive," he says.
Good Relations with Your Crew More Important Than Ever
The fervor around farmworker wages and rights is building to a deafening roar. That requires growers to be proactive with workers, Baker counsels.
"[Growers are] making sure they maintain a good rapport with their farmworkers, making sure those workers understand what will or could happen if this overtime requirement goes into effect," he says. "Many of them will potentially see their hours cut."
Baker also recommends ensuring workers' housing is up-to-par and that they're generally happy.
"There's a history in this state where when we tell that type of worker his hours are being cut, they tend to leave and find work elsewhere," Baker says.