Consumer interest in where food comes from and how it was grown continues to increase. In general, they prefer fewer chemical inputs, fresher and tastier produce, higher nutritional content and longer shelf life.
Bringing Benefits Home
Seed innovations have given consumers a larger variety of high-quality produce than ever before. Varieties with resistance to diseases and pests require fewer chemicals, which pleases consumers and, of course, growers. Produce with a longer shelf life means less waste and more flavor. It also retains more nutritional content when it reaches the dinner table.
Vegetable breeders are continuously working on developing new varieties that meet those demands. Without these efforts, seedless watermelons, grape tomatoes, baby broccoli and broccoflower — foods we take for granted now — would not exist. Neither would tomatoes such as 'Big Beef,' a popular market variety that combines its large size, quality and full flavor with resistance to multiple pests and diseases.
Some of the more recent breeding innovations that consumers appreciate are:
Snack-sized mini conical peppers with almost no seeds, which are fun and sweet tasting for kids
Herb and arugula varieties that offer improved shelf life
One-cut lettuce, featuring brilliant colors and diverse leaf shapes
Lettuce with longer shelf life and delayed leaf pinking on lettuce that extends shelf life
Tear-less onions that make a better consumer experience while preparing cut onions
Sweeter and better tasting tomatoes
Melons with longer shelf life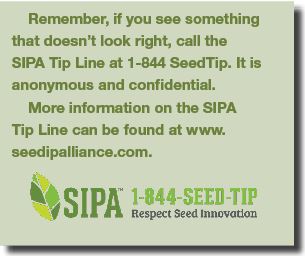 Developing New Varieties is a Big Investment
All of these innovations do come at a price, however. James Weatherly, Executive Director of the Seed Innovation and Protection Alliance, says developing a successful new lettuce variety takes on average seven to ten years at a cost of about $1 million per year. That cost includes the initial breeding, seed selection, trials, production, land, labs, employees and facilities. And there's no guarantee that a new variety will be a commercial success. The investment in seed innovations benefits everyone, and 95% of producers recognize that, Weatherly points out.
New seed innovations may also be associated with intellectual property rights, which breeders are using more and more to help recoup their investment.
"If producers are using seed with technology protected by intellectual property rights, but didn't purchase it legally, there may be some significant risks in using that seed," Weatherly says. "Those risks can include lost profits, liability for damages as well as statutory damages."
"The impact that this has on the industry is most consequential," adds Corinne Marshall, Program Chair of the Seed Innovation and Protection Alliance. "There is a significant cost to the industry as a whole when seed innovations are acquired or saved illegally. For example, we estimate the lettuce industry alone loses somewhere between $1.8 and $3.6 million dollars each year to inappropriate use in the U.S. Breeders invest an average of 23% of their revenue back into R&D to develop new innovations. When you do the math, that's $400,000 to nearly a million dollars that could have been invested into new varieties and technologies."
Seed Innovation Benefits the Food Chain
Creating produce with qualities customers want is a win for everyone, including growers and retailers, who see improved sales and profit as a result of seed innovations. Unique, flavorful, longer-lasting fruit and vegetables create a higher value product, increased demand and bring repeat customers. That means it's more likely growers will sell what they produce, plus many of these newer varieties also offer grower benefits such as disease resistance, less need for inputs and improved yield. This helps growers and retailers remain profitable and feed an ever-increasing population. In the end, we are all stakeholders in the process of bringing seed innovations to market and innovation seeds our future.