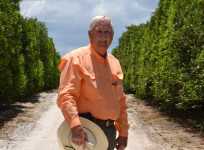 This Q&A is the final installment featuring Florida Grower's 2012 Citrus Achievement Award winner Vic Story addressing all things citrus. This month, the president of Lake Wales-based The Story Companies gives his thoughts on environmental stewardship and future leaders in the citrus industry.
Q: With a new citrus BMP manual being released, what is your philosophy on environmental stewardship?
A: I see the BMPs representing our agreement to take care of our own here in Florida rather than having the federal government dictate what we do. I believe voluntary BMPs are the way to go. I hope the new BMPs are productive in that they allow us to spread out applications to avoid wet times and they take into account that a certain amount of fertilizer is needed to grow a good crop. We know more fertilizer will raise a bigger crop. But, it is all about finding that happy medium of raising a crop, while not putting too much fertilizer into the environment. It is good for the land, and it makes solid economic sense.
Q: What qualities are necessary from the future leaders in the
citrus industry?
A: They need to have a passion to be involved with the industry and its well-being. In my case, it took some years to get my business established before I could get more involved, but I had a passion and energy for it when I did. There are a lot of places where young people can get involved. There are the regional citrus associations and county farm bureaus. All of these organizations are hungry for young folks to join in the process. Also, young people need to get involved in the political process on all levels. It really matters that our elected officials know what is important to agriculture; and they want to hear from us. I believe elected officials want to do a good job, but they need our input to be able to do so.
Finally, young folks should consider public office for themselves. Look at Adam Putnam who got involved in his early 20s. There is no magic formula — just get involved and see where you fit in and how you can help. If you have a desire for this industry to prosper, we need your involvement and input.