A new portion of Fresno County, CA, has been placed under quarantine for the Asian citrus psyllid (ACP) following the detection of the citrus greening vector within the City of Fresno.
The quarantine zone measures 97 square miles, bordered on the north by W. Alluvial Avenue; on the south by W. North Ave.; on the west by N. Chateau Ave.; and on the east by S. Chestnut Ave.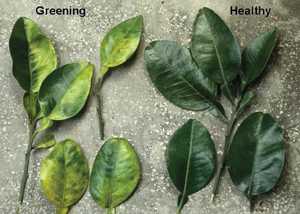 The quarantine prohibits the movement of citrus and curry leaf tree nursery stock, including all plant parts except fruit, out of the quarantine area and requires that all citrus fruit be cleaned of leaves and stems prior to moving out of the quarantine area. An exception may be made for nursery stock and budwood grown in USDA-approved structures, which are designed to keep ACP and other insects out.
Residents with backyard citrus trees in the quarantine area are asked not to transport or send citrus fruit or leaves, potted citrus trees, or curry leaves from the quarantine area.
ACP countywide quarantines are now in place in Imperial, Los Angeles, Orange, Riverside, San Bernardino, San Diego, Santa Barbara, Tulare and Ventura Counties, with portions of Alameda, Fresno, Kern, Madera, Merced, San Benito, San Francisco, San Joaquin, San Luis Obispo, San Mateo, Santa Clara, and Stanislaus counties also under quarantine.
In California, citrus greening (aka, HLB) has only been detected in 2012 and 2015 on residential properties in Los Angeles County.
Residents in the area who think they may have seen ACP or symptoms of HLB on their trees are urged to call the California Department of Food and Agriculture's Pest Hotline at 1-800-491-1899 or your local agricultural commissioner's office.