Propagation and citrus tree sales for the dooryard (homeowner) market continues to represent a significant portion of Florida's nursery volume. Recent Division of Plant Industry estimates indicate that approximately 15% (sometimes more) of current nursery propagations are destined for dooryard sales, most through secondary re-sellers. From a pure nursery perspective, dooryard citrus remains an important market.
Whereas commercial growers have made strides in recent years supporting their trees, selecting more durable varieties and improving nutrition and overall caretaking practices, many homeowners have been removing trees and replacing citrus with other tree fruits. Some tree removals represent an opportunity to sell new citrus trees, while others will result in a lost customer. Homeowners are interested in citrus trees that are durable and will produce and hold fruit with minimal care. Most big box stores and retail nurseries are uncertain how to advise consumers, and their portfolio of available varieties doesn't change much.
The UF/IFAS and USDA-ARS citrus breeding programs will have numerous candidates for the dooryard market in years to come. This is due in part because consumers are more flexible and can accept some seed, thorns, lower production, etc. Some selections are suitable for commercial and dooryard, while others that have great potential in dooryard markets have little commercial utility. Let's explore some current options for nurseries that can be promoted to retailers and homeowners with a reasonable level of confidence:
LB8-9 'Sugar Belle'
The current LB8-9 'Sugar Belle' nursery contract, through New Varieties Development and Management Corp. (NVDMC), provides for wholesale and dooryard sales — with proper tagging. This variety is amazingly durable in the face of HLB and, with proper nutrition (now available to the homeowner), produces a nice crop of fruit in the December time frame. Consumers love the dark red peel color and powerful flavor. 'Sugar Belle' seems to do well on a wide range of rootstocks (though Cleo is not recommended) and in all of Florida's citrus production areas. Once the tree is one or two years old, they tend to be quite cold hardy. There is a tree royalty for this variety.
'Jackson' Grapefruit Hybrid
'Jackson' is a low-seeded or seedless variant of the 'Triumph' grapefruit hybrid. This is a white-fleshed, low-acid, and non-bitter grapefruit hybrid that is very grapefruit-like in appearance and generally regarded by consumers as a grapefruit. 'Jackson' trees are quite tolerant of HLB and continue to hold their crop to maturity. This is the best current dooryard option in the grapefruit realm. The trees tend to get gangly but continue to flush and crop. The variety is public domain.
'US SunDragon'
USDA-ARS recently released the 'US SunDragon.' This variety was been observed in the USDA trial blocks for quite some time, as the cross dates back to 1999. The fruit is large (about the size of a navel orange), is peelable, and has some seed (five to 10 per fruit). The highly pebbled peel is orange. The flesh is light orange with a slightly crisp texture. It is relatively low in acidity, and the flavor is like a mild orange with a distinctive zesty note. This variety has shown strong tolerance to HLB and will be a good breeding parent for tolerance but also may have value as a niche or homeowner variety. It certainly fits the "exotic" label. The fruit is mature October through January. The 'US SunDragon' is public domain.
'Gold Nugget'
'Gold Nugget' was brought into Florida in 2009 for limited trial. Since that time, NVDMC has reached an agreement with University of California to make the variety available for commercial and dooryard sale. License agreements are being finalized as of this posting. This tangerine/mandarin has 'Willow Leaf' and 'Dancy' in its background and seems to be healthy in the presence of HLB. The trees grow upright in Florida, and the fruit matures generally in late January but holds well on the trees.
The fruit is yellow-orange and seedless. The trees have thorns, but since the fruit grows on the terminal ends of the branches, the thorns are not as controversial as they might otherwise be. HLB symptoms are quite noticeable on the 'Gold Nugget' foliage, but it keeps right on truckin'. Florida growers have yet to learn how to properly crop this variety, but since it crops fine in other subtropical areas, there is an answer for Florida. Fruit set should be acceptable to homeowners.
The variety seems well suited to C-35 and Rich Trifoliate rootstocks. Cleo is not recommended. This variety requires a nursery license and carries a royalty.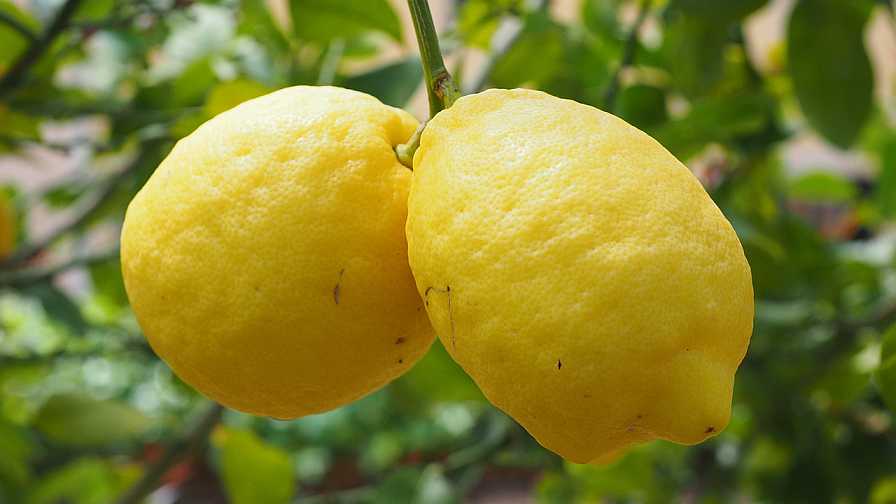 Lemons
Lemon trees continue to thrive in an HLB-endemic environment. The trees get infected and will show some HLB symptoms but continue to flush and crop relatively normally. Most commercial production is focused on 'Eureka,' 'Bearss,' and a little on 'Lisbon,' but 'Harvey' is another good option for homeowners. The 'Meyer' lemon is a lemon/orange hybrid and is performing quite well in the face of HLB. The pink variegated lemon and 'Ponderosa' lemons add a unique twist to the equation for the homeowner looking for something a little more exotic. Consumers should be informed about the importance of cold protection. Most lemons are public domain.
Persian Limes
Persian limes seem to be far more durable than Mexican or Key limes. Consumers also like the fact they get a main bloom but can get several secondary blooms. Small trees can produce a high quantity of limes, making dwarf rootstocks a good option. Like lemons, planting location and cold protection will be important. Limes also are well suited for large pots. The limes mentioned here are public domain.
This list is not exhaustive, and more variety options will soon be available to nurseries wishing to supply the dooryard citrus market. Stay tuned.