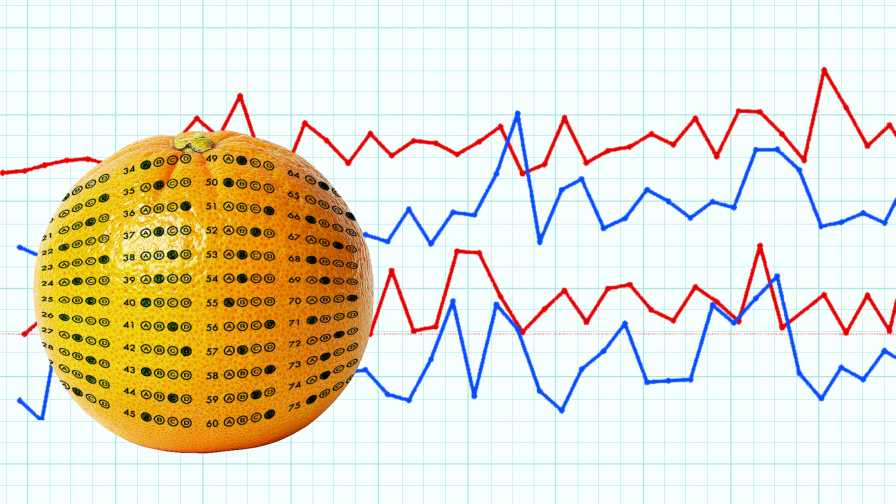 The New Varieties Development & Management Corp. (NVDMC) co-sponsors four variety displays with UF/IFAS each year and two with USDA-ARS. These gatherings take advantage of numerous mid-season opportunities to harvest information on promising citrus selections. Such opportunities provide key insight from nurseries, growers, packers, processors, and marketers related to traits and characteristics that may translate to market advantage. Data collected at variety displays and field days does not delve into the horticultural characteristics of the tree or its performance in the presence of pest and disease, but the information is of great value to Florida's breeding programs.
To date, information has been collected on forms using a clipboard and pencil. Participants log a unique identification number onto the form and score the selections on a 1 to 10 scale, covering a wide range of characteristics and traits. Questions are adjusted for each fruit type (grapefruit-pumello, fresh orange, tangerine, processed/round orange, and acid fruit). Survey sheets are collected and the data is cleaned, compiled, summarized, and submitted to the breeding teams. This information influences decisions about resource allocation and potential release.
High-Tech Hiccup
Though useful, this process has been cumbersome and laborious. Results and reports are needed quicker and with more consistency. Many possible avenues have been explored to improve the efficiency of data collection without making the process more difficult for participants.
NVDMC considered the development of an app (in Android and Apple version) that could be used on smartphones and tablets. The app would automatically upload data, populate a database, and generate reports.
This approach had several drawbacks. First, participants do not want to handle electronic devices while peeling and eating fruit. Second, numerous devices would have to be purchased for those who do not have them or do not bring them to the display. Further, conversations with variety display attendees revealed an appreciation for the form and clipboard. Most people interviewed felt that the use of the clipboard causes them to give more consideration to their responses and makes it easy to review and modify their answers. The clipboard also makes it easy to review and compare responses between selections. The ultimate answer would need to marry the clipboard and pencil with emerging technology.
Advancing Analytics
NVDMC consulted with Dr. Steve Rogers of Ecostat Inc. Dr. Rogers has participated in variety display events and is familiar with the data and reports generated. The NVDMC Board of Directors has engaged Ecostat Inc. to formulate an approach to data management and analysis based on a third-party software application called "Remark Office OMR." The application is quite robust and will improve data architecture and analytics. This system will utilize old-school bubble forms in an entirely new way. All selections displayed will be assigned a code number. Bubble forms, including the code numbers, will be completed during the variety display, scanned into PDF format, and then imported into the software. Data will then be extracted and captured into a database. The survey questions and scoring scales are being adjusted to accommodate the new system. Bubble sheet forms are being designed for ease of use and clarity.
The ultimate goal is to have a working model for the first variety display event in Lake Alfred in November.
The most significant goal of this project is to improve the availability and accuracy of data provided to the breeding teams. It also is hoped the uniformity and consistency of the data collected in the new system will enable comparisons throughout selection/variety seasonality and between seasons. Though survey data has never been made available to the general public, NVDMC has received requests from participants to store data by participant so that historical reports can be generated by participant. Breakdown by individual survey participant would likely add too much complexity to the program and is unlikely to be included. However, there may be a way to make compiled information or summary reports available to industry without compromising patentability or confidentiality. These discussions are ongoing.
Upcoming Variety Display Dates
Upcoming Variety Display Dates
UF/IFAS
It is hoped these displays will feature material from the Citrus Research and Education Center (CREC) Plant Improvement Team and Dr. José Chaparro in Gainesville.
• Nov. 9: CREC, Lake Alfred, 10:00 a.m.
• Dec. 13: CREC, Lake Alfred, 10:00 a.m.
• Jan. 26: 2017 Fenn Center, Ft. Pierce, held in conjunction with the Florida Citrus Show
• Feb. 14, 2017: CREC, Lake Alfred, 10:00 a.m.
USDA-ARS
• Nov. 30: A.H. Whitmore Foundation Research Farm, Groveland, approximately 12:30 p.m. or immediately following the board meeting of the Florida Citrus Research Foundation. RSVP to NVDMC 
• Jan. 10, 2017: U.S. Horticulture Research Lab, Ft. Pierce, 1:30 p.m., RSVP to NVDMC
Private Variety Display Opportunity
Growers may register for private field visits to see the Roe Tangerine. These tours will be available Nov. 9-10 and Dec. 13-14 and other dates as needed. Contact NVDMC to register. Visitor slots are available on a first-come, first-served basis.