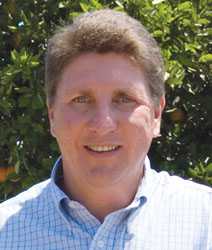 The recent USDA number that pegged abandoned grove acreage in the state at nearly 132,000 acres has caused alarm industrywide. To add to this, USDA notes that the number is probably higher because some counties and areas were not surveyed. Increasingly, research suggests that psyllids can and do move between groves, which makes it very likely the little pests are spreading citrus greening from abandoned acres to commercial groves.
Industry leaders say action must be taken to remove these abandoned groves to help in the fight against greening and canker. These abandoned acres represent nearly a fifth of the total commercial acreage in the state and that has a lot of people worried, including the 2008 Citrus Achievement Award winner Jim Snively. Manager of grove operations at Southern Gardens, Snively was recognized for his leadership in taking citrus greening seriously by aggressively scouting for greening-infected trees, removing those trees, and controlling pysllids to fight against the spread of greening. Others have followed his lead in the belief that it is central to the continued success of the state's citrus industry.
On what should be done to address abandoned grove acreage, Snively says, "There needs to be legislative action to address the issue of abandoned citrus groves. We need to give a tax incentive to those who removed trees from groves that have been abandoned. For example, remove the agricultural tax exemption from properties that are abandoned and have no horticultural activity occurring during the year, or extend the agricultural exemption for five years or more to those who have abandoned groves and removed the trees. This is an issue that will require a lot of involvement from our industry leaders."
Special thanks to Chemtura for sponsoring the Citrus Achievement Award program.