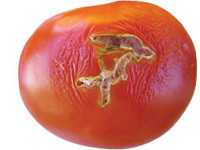 If tomato growers in Florida don't have enough to worry about, state and federal officials are concerned about a new invasive pest that has wreaked havoc in other parts of the world. The Tuta absoluta, originating out of South America, has become a serious threat in several tomato producing regions of the world. The pest, also known as the South American tomato leafminer, spreads like wildfire and can produce 10 to 12 generations per year.
In March, the first international conference dedicated to T. absoluta was held in Spain, illustrating the serious threat of the pest. In April, USDA updated its federal import quarantine on host materials of the pest in hopes of stemming its arrival to the U.S.
T. absoluta is a devastating pest of tomatoes. Recently, T. absoluta has become considered a serious threat to tomato production in the Mediterranean region. Each female can lay 250 to 300 eggs in her lifetime. The larvae feed voraciously upon tomato plants, producing large galleries in leaves, burrowing in stalks, and consuming apical buds and green and ripe fruits. It is capable of causing a yield loss of 100%. While its primary host is tomatoes, it will feed on other plants including potatoes and eggplant.
T. absoluta is a very challenging pest to control. Effectiveness of chemical control is limited due to the insect's nature of damage as well as its rapid development of insecticide resistant strains. The use of biological controls is still largely under development and not ready to combat this pest effectively in a cost effective way. Sex pheromone traps are being used as an early detection tool. IPM strategies are being developed to control T. absoluta. Various active substances can be applied in combination with biorational control tactics, but there is much to learn about best practices to manage the pest.
Plans are under way to begin a trapping system in Florida to monitor for the pest's arrival in the state.