Top-notch speakers, networking opportunities, and news on the critical issues of the day — these will all be on tap at Florida Fruit and Vegetable Association's (FFVA) upcoming annual convention Sept. 24-26 at The Breakers in Palm Beach. Registration is open at ffva.com/convention.
We are proud to have former U.S. Sen. George LeMieux as our keynote speaker. His presentation, "Florida Made: The 25 Most Important Figures Who Shaped the State," is sure to resonate with our Florida crowd. How appropriate it is that LeMieux deems Henry Flagler, who built The Breakers, as the most significant individual in Florida's history. You will definitely want to hear more.
Taking Issue
Our Issues Forums will focus on topics that are top of mind: workforce and water. You will learn what agriculture is doing to advocate in Washington for solutions that will give growers access to a stable and secure workforce. In addition, you will hear from a panel of experts on the need for workable solutions to reduce nutrients in our waterways and how we can work together on solutions.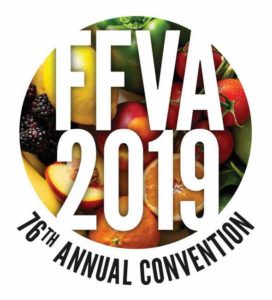 One schedule change this year. The golf tournament and fishing excursion, which have occurred on the final day the convention the past few years, have been moved to the first day. We look forward to seeing you there.
For the Love of Agriculture
Why do those of us in agriculture do what we do? For some of us, it's a calling. For others, it's our family's heritage. For everyone, it's an opportunity to talk about how farmers put nutritious food on Americans' plates.
Regardless of our motivation, a love of agriculture is the common thread that unites us across different ages, locations, and crops.
In our latest social media campaign featuring Florida Fruit & Vegetable Association (FFVA) members (#FortheLoveofAg), we are giving consumers a closer look into the lives of farmers. We asked producers and those in businesses that support agriculture what is so rewarding about their livelihood. The responses are as varied as FFVA's membership. Some talk about meeting the daily challenges of planting, harvesting, and marketing their crops. Others reflect on what makes a good day on the farm.
Blueberry and citrus producer Chuck Allison of Wild Goose Farms talks about gratitude and the blessings of farming. "A good day on the farm is when everything's running smoothly, and you slow down long enough to realize what a blessing God has given you," he says. "And in that moment, you realize how grateful you are to be able to farm on productive land, to work with great people, and to produce a crop that's healthy and nutritious."
Some spoke of the joy of working outdoors. Tomato grower Tony DiMare of DiMare Fresh put it this way: "Being outside in the fresh air and Florida sunshine watching crops grow and producing a bountiful crop is exciting to me. Knowing that you're producing a healthy and nutritious product to feed people in this country is very gratifying."
For Alan Jones, who grows potatoes and green beans on Jones Potato Farm, sharing the farming experience with his family is especially gratifying. "Some of the best days on the farm are on Sundays when you get a chance to sit back and look at what's happening," he explains.
"There's so much effort that goes into what we do, so my favorite days on the farm are when you can sit back with your family and just take it all in."
#FortheLoveofAg also serves to remind the public that farmers and agriculture constituents protect our food supply and work hard every day, despite ongoing challenges, to feed Americans nutritious food. We hope consumers will feel more emotionally connected to Florida agriculture after seeing why farmers do what they do.
Read more about why our members love agriculture on our Facebook page at Facebook.com/FloridaFruitandVeg. And let us know why you do, too, by sending an email and photo to [email protected].