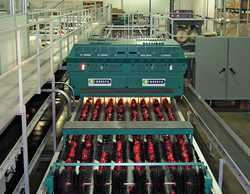 Fruit quality begins to develop in the orchard, but all your efforts will go for naught if you don't have the same quality standards in the packinghouse. If you're not taking every possible step to sort and package your fruit in the proper manner, your bottom line is bound to suffer. This is true whether you run a large packinghouse, send your fruit to a packer, or simply pass the fruit through a small storage shed between the orchard and the market.
In order for all of this to be possible, growers need to be on the same page with equipment manufacturers and suppliers. Manufacturers need to be aware of growers' needs when it comes to postharvest technology, while growers need to inform their suppliers how they plan to use this technology.
Supply Side
Greefa, based in the Netherlands, has been working closely with several large growing operations in the U.S. to learn more about new varieties and to constantly fine-tune their quality systems to meet the needs of these new varieties, and the growers who plant them. The company recently installed new sorting machinery for two major Washington-based fruit packers: Olympic Fruit Co. and Evans Fruit. These new sorters were designed with three different elements in mind: external quality detection, internal quality detection, and firmness detection.
"This technology helps our customers take the next step in offering consumers a perfect product, and at the same time save money on personnel and work more efficiently," says Monique Doornebal of Greefa. "Our customers are looking for systems that can detect internal browning and guarantee quality control."
The need for efficient sizing is also something that more manufacturers are noticing. "Fruit growers are always in search of a more gentle way to size their product," notes James Kerian of Kerian Machines in Grafton, ND. However, while it is usually not too difficult to find sizers with the necessary capacity, finding accurate equipment is a little more challenging, says Kerian. "Gentle handling, in my experience, is always the most pressing concern for fruit growers."
Kerian Sizers have been used to sort extremely delicate fruits including peaches and apples. Specialized rollers and the continuous increasing of the distance between the rollers minimizes the risk of pinching or bruising. In recent years, the company has also begun to integrate padded takeaway conveyors with the Kerian Sizer, and this has become a popular system for sorting fresh round tomatoes.
Grower Expectations
So, are these new technological developments meeting the needs of the growers who use them? For the most part, the answer is yes. According to Jay Fulbright of Dovex Fruit in Wenatchee, WA, defect sorting is a critical need for helping reduce labor costs. While the supplier industry is doing a good job, there is room for improvement, notes Fulbright. "We need to have defect sorting that will have an allowable tolerance to be accepted by the growers," he says. "When this does not happen, it creates a problem for the grower, as well as the customer."
Dovex is also taking a proactive approach to incorporating new technology. "The most important step we have taken is installing a bin sanitation system which removes spore loads from our bins before sending back out into the field," says Fulbright. "We are still evaluating non-destructive pressure testing and grade defect sorting, and we await further improvements."
Brent Smittcamp, president of Wawona Packing, a stone fruit grower in Cutler, CA, says the supplier industry is doing a much better job in providing new technology. "From packingline equipment, tote handling systems, and inventory control to packaging material, it's paramount to stay proactive and research various technologies to evaluate their efficiencies and effectiveness," says Smittcamp.
"We are always looking for new and innovative technology to increase both quality and efficiency," says Smittcamp. "Due to adverse labor conditions, we are utilizing more automatic distribution in order to streamline production costs." New technologies that Wawona Packing has recently incorporated include:
• Automatic tote de-stackers and stackers
• Multiple ozone generators
• Compact sizer with automatic distribution
• Specially designed micro-bubble packaging material for better handling of packed fruit
• A bar code system for inventory management.