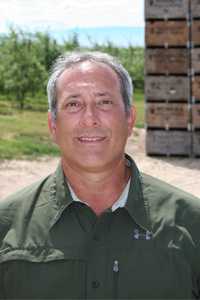 Every day is a long but often rewarding one for Jeff Leonardini. As manager of entomology at Washington Fruit and Produce Co., one of the state's largest apple, pear, and cherry growers, Leonardini is usually up before sunrise, and if he's lucky, he'll make it back to the office or home by early evening. In between, you can find him in one of Washington Fruit's many orchards in central Washington, scouting for pests and making recommendations on appropriate pest control or fertility strategies.
What drives Jeff Leonardini to spend so much time in the field?
"It goes back to this company's long and successful history that is based on a commitment to quality, integrity, and hard work every day," he says.
It's these qualities, along with his efforts to lead Washington Fruit, and the rest of the apple industry, toward a sustainable future, that make Jeff Leonardini the 2012 Apple Grower of the Year.
From Farming To Consulting, And Back Again
Leonardini's passion for the farming lifestyle began at a young age. He grew up on a family farm in California, east of Stockton, that originally produced peaches and plums before shifting to walnuts and cherries. He also worked for his two uncles who each had farms of their own, one in peaches and one in potatoes and other vegetable crops.
After earning his bachelor of science degree in agriculture business management from California Polytechnic State University in San Luis Obispo, Leonardini went to work for a chemical fertilizer dealer called PureGro. He started by managing inventories for the Pacific Northwest, and eventually became a field set-up man, where he gained experience in both sprayer calibration and chemical application. After about eight years, he relocated to Yakima, WA. "
It broke my family's heart, because I was the third generation of our family farm, but it was a good opportunity for me to try something new," says Leonardini (his family's farm is still involved in fruit growing).
Leonardini would eventually marry a girl named Linda, who came from a fruit growing and packing family herself.
After a brief time spent job hunting, Leonardini saw an ad for a fruit growing company looking for an in-house crop consultant. He interviewed multiple times with the Plath family, the original and current owners of Washington Fruit and Produce, who were more than impressed. They offered him the position, and in what has turned out to be an interesting parallel, this third-generation farmer who was hired in 1991 is now working side by side with the third generation of the Plath family, Dan Plath. (The company's patriarch, Fred B. Plath, unfortunately passed away this past spring.)
"This family has a strong backbone in business; they ask a lot, but the reward is a successful company that remains family owned," he says.
Even today, Leonardini maintains close ties with his peers in the crop protection industry. "
These guys know how their materials are supposed to work on a pest or disease," he says. "As growers, we can be the guinea pigs and help fine-tune them. It's a great way to work together."
IPM Takes Precedence
One of the biggest factors that has made Washington Fruit and Produce stand out in a crowded group of Washington apple producers is its commitment to a strong Integrated Pest Management (IPM) program. According to Leonardini, this focus on IPM began a few years ago, when an article in the Seattle Post-Intelligencer claimed that fruit picked from a Washington orchard and tested in a Yakima laboratory came back with high levels of chlorpyrifos, a common organophosphate used at the time.
"That sent a shockwave through the industry so fast you couldn't blink," says Leonardini, who recalls sitting in an office with several members of the Plath family shortly after the article came out and being asked, "Can you tell us if we can farm without organophosphates in our operation and be successful?" With about five seconds to make a decision, Jeff didn't hesitate to say yes. "We made the decision right there that we would not put another organophosphate on any of our commercial acres," says Leonardini.
That was certainly a tough decision; however, forces seemed to quickly converge that, in hindsight, let Leonardini know he made the right call. For one thing, Jay Brunner, head of the department of entomology at Washington State University, had just introduced the new "Decision Aid System," an online IPM decision support system for Washington tree fruit growers and pest managers. This system was designed to provide easy-to-use pest management programs and help to optimize management decisions for certain insects, diseases, and disorders by helping growers time their sprays for the most efficiency.
"We had worked with the Washington State University Tree Fruit Research and Extension Center for many years, so we thought it was worth a try," says Leonardini. "We knew we'd be leaders if we tried it right away, and even if things went wrong, we'd be able to learn from it." Fortunately, Leonardini says it has worked out very well.
At the same time, Leonardini saw an opportunity on the horizon with the upcoming introduction of two new insect control chemistries: Delegate (spinetoram) from Dow AgroSciences, and Altacor (rynaxypyr) from DuPont Crop Protection.
"These new chemistries are softer and from a new class of pesticides," says Leonardini. "We wanted to use them, learn from them, and hopefully hit a home run."
Delegate was registered in early 2008, and while Altacor came out later in the year, both products were in rotation by the following season. Use of these materials also coincided with Washington Fruit's decision to invest 100% in codling moth mating disruption on the farm. The end result has been a model others in the industry can follow.
"If we stay on this type of program, we can eliminate the potential for codling moth and leaf roller populations to reproduce in the orchards," says Leonardini.
Eager To Learn
While Leonardini's area of expertise may lie in pest management and nutrition, he is always looking to increase his knowledge in other areas of farm operation. Each of Washington Fruit's orchards has an orchard manager, and Leonardini will meet regularly with them to discuss not only pest management, but also variety and rootstock selections, and how to match them to the soil and orchard site.
He also tries to attend as many university or manufacturer meetings as possible, even if it means traveling internationally. "I try to learn more about horticultural practices that are outside my area of expertise," says Leonardini. "If I can learn more in that area, I might be able to fine-tune my pest management strategies accordingly."
By attending these meetings, he's learned about everything from new fire blight-resistant rootstocks to new codling moth management programs. "Even if we don't use this information right away, I can take it to ownership and tell them it's on the horizon."
Leonardini is a member of the Northwest Horticultural Council's Science Advisory Committee, as well as the Yakima Pomological Club and the International Fruit Tree Association, and these affiliations give him an inside look at new problems and issues across the industry. In addition, Washington Fruit's long-time partnership with Washington State University helped Leonardini land a committee role on a new project that will evaluate four different sprayer systems from Northwest-based manufacturers. The committee will be looking at these four systems to determine which are the most effective and efficient for the tree fruit industry. Some of these evaluations could open the door for more advanced sprayer technology for the tree fruit industry.