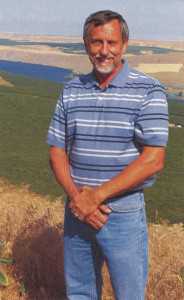 Ask anyone who knows Ralph Broetje, and they'll likely tell you he is the perfect candidate for American and Western Fruit Grower's Apple Grower of the Year. In fact, the only person who might tell you otherwise is Ralph himself.
An admittedly soft-spoken and humble man, Broetje has always been committed to growing and marketing the highest-quality fruit, starting from his early years in Yakima and Benton City, WA, all the way through to today's hugely successful business at Broetje Orchards in Prescott, WA.
But Broetje's knowledge of production and marketing is just one reason he is the 2003 Apple Grower of the Year. Ralph's dedication to the industry extends beyond the orchard. It means committing to providing a high quality of life for his employees, and ensuring that people around the world are able to share in the fruit that his business provides. Through the work of Ralph, his wife Cheryl, and their nine children (six of whom Ralph and Cheryl adopted from India), all of this is possible.
Building A Legacy
Broetje Orchards consists of approximately 5,500 acres of apples (with some cherries as well) in Prescott and Benton City. After growing up in orchards in the Yakima area, Ralph and Cheryl purchased their first orchard in 1969 in Benton City from a grower named Charlie Rowe. The first couple of years were rough, as there was virtually no crop.
But Rowe was helpful in offering his guidance and confidence to Ralph and Cheryl. Eventually the crop size grew, and Broetje credits Rowe as being the person who gave him a chance.
"We had a man who believed in us from the start, and I wanted to do a little bit of what he did for us," he says.
In 1980, Broetje sold the Benton City property and moved back to Yakima. At the same time, he was able to purchase some land and plant trees on the orchards' current sit along the Snake River, and once again in Benton City. In 1982, high-interest rates forced Broetje to sell the property in Yakima and move to Prescott.
Ralph was reluctant about the move at first. But he says it's amazing how everything turned out.
"I think God had a plan, and wanted us down here," he says.
Variety selection is important to Broetje, who grows at least 10 different apple varieties. The Granny Smiths are the oldest and reflect his early innovation in varieties. Broetje has tried to stay ahead of the game in variety selection, although he says it's a moving target. For example, while his Granny Smith acreage is the largest (and perhaps most successful) in the state, he stopped planting Gala
in 1990 when he felt the market had been saturated.
"In hindsight, I should have planted a few more Gala," says Broetje.
In 1999 and 2000, he pulled a large block of older strains of Gala and planted new higher color strains. This move reflected an orchard renewal effort at Broetje Orchards, which Broetje says is very important. Growers must be willing to renew some blocks with newer strains of varieties that may have better features.
"We can't stick with the old ones for too long," Broetje says.
About 95% of the apples at Broetje Orchards are packed onsite at a packing operation that opened in 1987. Until three years ago, Broetje Orchards also did its own marketing. Today, they are affiliated with L&M Northwest in Selah, WA.
It is this approach to marketing that Broetje says is a key to the success of all apple growers. In the wake of the Washington Apple Commission losing much of its funding, Broetje points out that the principles behind marketing are becoming more service-oriented.
With consolidation among retailers, marketing programs must be well-equipped to handle several tasks, from ordering to category management to quality control. Because of this, Broetje says it crucial for growers to align themselves with a strong marketing program.
On the production side, Broetje has been a leader in focusing on quality and variety selection.
"We can't stay in business with any kind of marginal fruit anymore," says Broetje. "Consumers have too many choices in the produce department today, so apples have to be excellent quality, with good flavor and in good condition."
This holds true all the way from growing to harvesting to packing, and Broetje makes sure his farm follows this rule at all times. It also involves food safety, something for which Broetje Orchards is highly recognized (see Safe Quality Food sidebar).
A Human Issue
According to Broetje, the most important thing in building a successful operation is good people.
"Apple growing is very labor intensive, and without good people running the business, we can't do anything."
This means providing a high quality of life for your labor force, and so begins a very interesting story.
When the warehouse at Broetje Orchards first opened in 1987, Broetje became aware that a majority of the people who worked on the packingline were women, many of whom also had children.
"We decided to build a daycare center, with an atmosphere where the kids could learn, grow up safe, and live in a strong Christian environment," says Broetje, order to make sure the children could remain close to their parents,
The daycare instructors also teach English, since most of the families are Hispanic. Soon after the daycare program started, Broetje began to hear about the housing shortage and poor living conditions his employees were experiencing.
To address this problem, he talked with the planning department in Walla Walla County and convinced them to approve the construction of 100 three- and four-bedroom homes, as well as 28 apartment units, a $6 million project. Since then these families have formed their own community, which also includes a chapel, a gymnasium, and a convenience store.
In a contest, the families decided to name the community Vista Hermosa ("Beautiful View").
"The families are very proud of their community, and it's been a blessing how it's turned out," says Broetje. "They have certainly touched our lives."
As with everything else he has done, Ralph is quick to give the credit to everyone else involved. For example, he notes that his wife Cheryl extends the principles behind Vista Hermosa through her ministry in the surrounding communities. He also credits the efforts of his family and managers for the cherry crop donations (ranging from $250,000 to just under $1 million) they make each year, under the First Fruits label, to ministries around the world. But he does point out that he wants to take the help and advice he had at the beginning, and pass it on to others, encouraging them to dream big.
"God gives us dreams and visions, and we need to go forth and not think that anything is impossible," he says. "We need to believe in ourselves and have people that believe in us."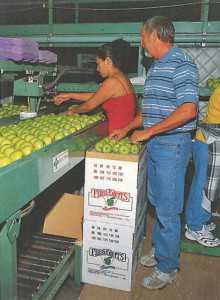 Safe Quality Food
Following the Alar scare, Ralph Broetje wanted to do everything he could to make sure that consumers knew the apples grown and packed at Broetje Orchards were safe. He wanted a strong third-party certification program, and found one in Safe Quality Foods (SQF) of Australia, which provided certification from growing all the way through to the packinghouse.
"We were one of the first packinghouses in the country to get certified on the packing end, and in 2002 we became the first orchard that was certified from growing all the way through shipping," says Broetje.
The certification is based on safe handling and transportation, as well as land use.
A Family Affair
According To Ralph Broetje, the most important thing that goes into a successful orchard is people. This includes a quality labor force, but in the case of Broetje Orchards, it's also about family. In fact, four of Broetje's nine children, as well as his three sons-in-law, have major responsibilities. His oldest daughter, Suzanne, runs the Vista Hermosa Foundation, and her husband, Roger Bairstow, oversees the housing, education, and community programs within Vista Hermosa.
Sara Broetje is the general manager of the company, and her husband, Eric Dahle, is responsible for accounting and information technology. Sonya runs the company's payroll, and her husband, R.C. Perez, is a manager in the orchard, along with Ralph's oldest son Sanjay.
Ralph's wife Cheryl is also involved in Vista Hermosa, and she runs a ministry called Centers For Sharing that is based in the Tri-Cities area.
Some of Broetje Orchards' employees have been with the company long enough to be considered family. Joe Shelton, Ralph's brother-in-law, is the orchard manager, and Arturio Iglesias, who started over 25 years ago, is in charge of planting and irrigation systems. Two employees who have been with Broetje Orchards since 1987 are Ron and Melanie Appleby. Ron is the warehouse manager, and Melanie supervises the packing line.
"The work of all these people, and the dozens of other families who have been with us over the years, makes everything possible," says Broetje. "Without them, the business wouldn't be what it is now."