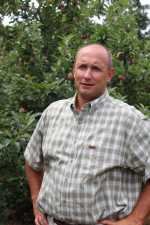 There is no single method of measuring success in the apple industry. For some growers, success is defined by staking a claim to the hottest new varieties. For other growers, it's all about constantly adding acres, or tipping the scales in tree density and production per acre.
Cordell Watt, the owner of Timber Ridge Fruit Farm LLC in Gore, VA, takes a different approach. He doesn't feel the need to force himself to try something new simply for the sake of doing so. Rather, he says that growers must recognize what works best for their own farm and their own site.
"We have to plant what we know will work here," he says.
Since taking over sole ownership of Timber Ridge Fruit Farm when his father Tommy passed away seven years ago, Cordell Watt has made every effort to carry on the farm's legacy that was first started by his grandfather, John. He has added acreage and planted some new varieties, while renovating the farm's packinghouse. Along the way, he has emerged as a rising leader by identifying the most efficient production and sales strategies that are suitable for his farm. It is for these reasons, among others, that Cordell Watt is the 2013 Apple Grower of the Year.
Making His Mark
Like many others, Watt grew up on the family farm, and even while earning his degree in liberal arts at West Virginia University (WVU), he knew he would find his way back home.
"We went through some rough years in the apple market in the late 1990s, but even in those lean years I never had second thoughts," he says. "I had it in my mind that we were going to make this work no matter what."
Upon returning to the farm after college, Watt didn't have an office or a desk.
"I was on a tractor, mowing and spraying and running a picking crew," says Watt.
Whether in the cold of winter or the heat of summer, Watt spent his days in the field, constantly honing his horticultural skills. He didn't have any sales or marketing responsibilities, although he was able to keep up with what was going on in the business.
"Dad and I would talk every evening about what was going on in the orchard and the rest of the farm," he says.
Cordell's father is one of several individuals who guided his early years on the farm. Some of them continue to do so today.
"We have a private spray consultant, Wayne Marston, who has been working with us for 27 years," says Watt. "I consider Wayne, along with my dad, to be the ones who taught me the most about growing fruit."
Watt also credits his office manager, Michelle Hartley, who has been with the company for 15 years ("When anything outside the orchard happens, she's involved in it."); Lee Ware, a semi-retired 40-year employee who used to run their packinghouse; Andrew Davis, a WVU graduate who runs the packinghouse and has a variety of other jobs; and Fernando Galarza, an 18-year employee who oversees hand thinning and peach harvest.
Watt's father's passing was unexpected, and after Cordell took over ownership of the farm, that's when he got active in sales and other aspects.
"I've become more of a manager and less of a hands-on person," he says. "But I don't have regrets about how we did things. I know what to do in the orchard, and if I had to, tomorrow I could get back on the sprayer or start pruning."
Success In Stability
"We are all looking for the right apple to plant," says Watt when talking about variety selection. "What's the next apple the public wants, and will it work on my farm?"
One of the issues Watt faces in this regard is the farm's location in northern Virginia, which puts it just south of the optimum growing region for trendy varieties such as Honeycrisp. However, whereas other growers might view this as a challenge, Watt points to his belief in knowing your farm, your site, and your market.
"We have to plant what we know will work here. There are plenty of good varieties we can grow that will always have a place in the market," he says "We might not be able to grow every apple, but there are strains we can grow that can't grow elsewhere. You have to find out what you can be successful with."
The main varieties produced at Timber Ridge are Red Delicious, Golden Delicious, Gala, and Fuji. With each of these, Watt says selecting the right strain and the right rootstock is critical.
"We try to grow Reds and Galas that will help us hit the early market when we can," he says. "Virginia has an advantage in that we can hit the market earlier than states like Michigan and New York, and we need to capitalize on that."
Watt also notes the challenge of having to essentially predict the future when deciding what to plant.
"Once you plant, it's a long investment. Anyone who has a lot of apples has a variety that, 15 years into it, they wish they had planted something different. This is even true for strains, such as a Fuji that might have a good color but not enough color that's demanded by buyers.," he says.
So who are these buyers? For Watt and Timber Ridge, it's a broad mix of both domestic and international customers.
"It's amazing how many places our apples go," says Watt. "I don't want to get tied into one direction. Markets change and buyers change, so I like to spread things out so that in one season, if one market is slow, I have a back-up."
Timber Ridge exports most of its apples to the Caribbean and Central America. About 99% of its export volume is Red Delicious.
"When you go to countries like the Dominican Republic, they have high standards for color," says Watt. "They pay good money and expect really good fruit."
That's OK, says Watt — as long as you know who you are dealing with and what they want, it's not a problem.
The breakdown between domestic and export sales changes each year, usually based on the status of the Washington state apple crop.
"If they have a big crop, they will hit the export market heavier. If they have a light crop, they will keep it within the country and don't need the export market," says Watt. "The export market has been very good to me as a packer. I haven't had any bad experiences with it."
Within the U.S., Timber Ridge sells to Wal-Mart and other chain stores. It also sends apples to large farm markets in Georgia, and even its lower-grade apples have a use: they are sold to prisons.
"It's a good deal for low-end apples not suitable for export or chain stores," Watt says.
New Ventures
While Watt has found success with his variety choices, he's not ready to settle in and simply ride the current wave.
"We are always trying to do something different on the farm," he says. "We don't want to go 10 years without planting trees. We are always trying to buy land, and are looking for virgin ground where there's never been an orchard." T
wo years ago they bought a 270-acre field adjoined to the farm, and are in the process of clearing the woodland and putting in apple trees.
"All projects come with headaches, but we deal with them." Watt also cautions that it's best to try new things in small doses first. "You have to do what you're comfortable with and what's best for your orchard. You have to be realistic."
Two years ago Timber Ridge built a 100,000 bushel cold storage facility, mainly because they wanted to start using SmartFresh (1-MCP).
"We built it according to MCP specs. I've used it for two seasons, and while we are still learning about how it works with different varieties, it's been a positive experience."
This year's big endeavors involve putting a new roof on the packinghouse and building a new office.
Whatever big project, decision, or investment Watt has made, he says that while not every decision is the right one, "you have to make a decision and go with it. I've been pretty lucky. My philosophy is to make a decision, go with it, and don't look back.