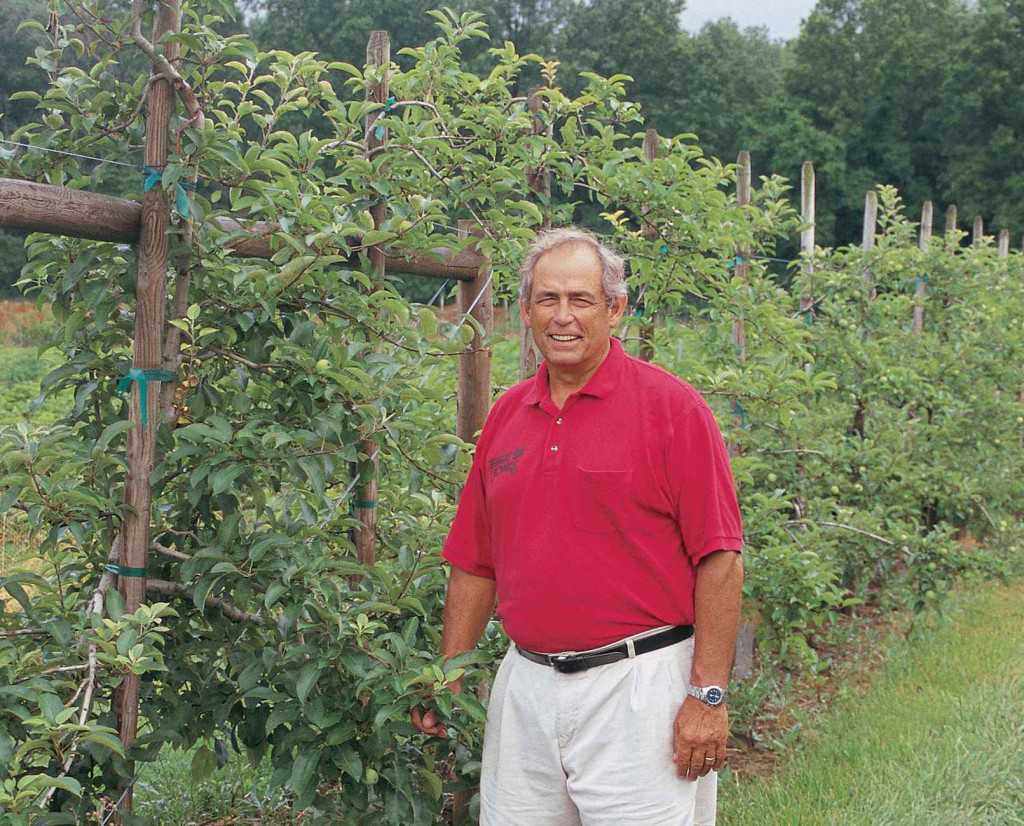 Gary Mount's desire to seek out the best methods of growing and selling his fruit have guided him to the top of his industry.
Sometimes you can tell when a grower just seems to be doing things the right way. For example, Gary Mount's home state of New Jersey is hardly the nation's largest apple-producing state, and his acreage is about average for an East Coast fruit grower. Yet there's a very good reason he is American and Western Fruit Grower's 2005 Apple Grower of the Year.
His thirst for knowledge, whether he is experimenting with new technology, going to every industry meeting that he can (both local and international), or searching for the ideal relationship between grower and consumer, has allowed him to develop a successful fruit operation at Terhune Orchards in Princeton, NJ.
However, his path to reaching this level of success has taken a few turns.
He grew up on his father's 300-acre apple farm outside of Princeton, where he says he learned less about how to grow fruit and more how to work hard. But while he knew he wanted to be in farming at a young age, when the chance to attend Princeton University came calling, his father insisted on it. As it turns out, his father was right.
"Going to college, that helped me learn how to learn," says Mount.
And not only has he kept on learning since then, he's also passed this important trait on to his children and the employees at his orchard.
"The aspect of learning how to learn is one of the most necessary ingredients here," he says.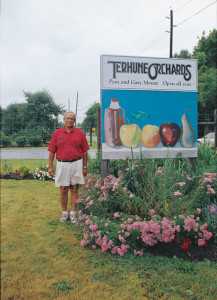 From Books To Bushels
Upon graduating magna cum laude from Princeton in 1966 with a degree in physiological psychology, Mount was set to pursue his Ph.D. But then his father died, and he returned home to the family farm to help finish out the apple season (it was also about this time he married his high school sweetheart Pam).
A year later, inspired by President John F. Kennedy's call to service, they joined the Peace Corps and served in the Central Pacific islands of Micronesia.
"This was probably the watershed experience of our lives, and after returning home, we began to look at things a little differently," Mount remembers.
Suddenly the idea of being a college professor, or enduring a daily commute to New York City, wasn't so appealing.
Gary and Pam purchased Terhune Orchards from its original owner in 1975 (the name was not changed partly because of local name recognition, but also because, quite frankly, high financing charges meant the Mounts needed to keep every last customer they had). This decision to go back to farming has not only allowed Gary and Pam to spend more time with their children, but it has also given them the chance to work side by side (see "An Equal Partnership" sidebar).
At the time, all of the trees were standard, but this soon changed with the planting of trellised trees, freestanding trees with stakes, and most recently, slender-spindle training systems. This latter technique helped Mount reach one of his main goals: early production.
"I learned early on that to shorten the pre-productive period was one of the most profitable things I could do," he says.
Knowledge Is Power
Mount's love of knowledge and learning is mostly satiated by his interest in technology and coming up with new approaches to doing business.
"A new idea is the best tonic for being interested in what you do," says Mount.
It has certainly helped because Mount says he's never bored working in the orchard.
"The information for solving farming problems is available — the key for me is finding it," he says.
One of the best ways to come up with new ideas, according to Mount, is by attending industry meetings. He's been a member of the International Dwarf Fruit Tree Association (IDFTA) for more than 25 years, including serving on the board of directors for 11 years, and has been to several of IDFTA's meetings and tours. He is also the current chair of IDFTA's Rootstock Research Committee.
Closer to home, Mount has worked with Extension agents from Rutgers University on pest management issues, particularly in the field of integrated pest management (IPM).
"We had employed a private IPM consultant, and since then Rutgers has started its own IPM program, which has been our main help in fruit growing," Mount says.
Not only has IPM benefited Terhune Orchards on the production side, it's also helped to improve relationships with its customers.
"Most of our customers are smart enough to know that there has to be some control of disease and insects," says Mount. "What they really want to know is that you're knowledgeable about it and are doing the best you can with the least amount of chemicals."
When the Mounts purchased a 65-acre orchard in 2003 (they now own a total of 185 acres), they invited each of their surrounding neighbors over for refreshments and informed them about their entire pest management program. In addition, Mount worked with IPM specialists at Rutgers on the creation of a poster explaining the practices and benefits of IPM that can be displayed at farm markets.
"IPM has been important not only as a growing tool but also as a marketing tool," he says.
Know Your Buyers
The other factor in Mount's approach to running an orchard is a commitment to direct marketing. Mount says fruit growers need to get in closer contact with their customers, promoting the fact that they have a product that is not only healthful, but is "really good to eat." This self-promotion is important not only with consumers, but with wholesalers as well.
"A farmer that is promoting his own product is a tremendously powerful entity," says Mount.
For example, Mount points out that during the Alar scare of the early 1990s, "we sold more apples than ever."
The difference for them, and for other direct marketers, was that their customers knew all about their operation and felt confident in the fruit they were providing. Mount admits that this idea is easy to say, but not always easy to carry out.
Fortunately, he's benefited from being located in the most densely populated area of the U.S., with millions of potential customers within a 100-mile radius. At their own farm market, Stayman Winesap is the most popular apple variety, but the key is the multitude of fruits and vegetables available for purchase.
"Variety is the spice of life for retail farm marketers," says Mount.
In fact, Mount's business model is to sell everything retail.
"If we have to sell something wholesale, then we've fallen down on the job," he says.
This presents the obvious challenge of balancing production with what can be sold at the market, and recently Terhune Orchards has turned to local farmers' markets and tailgate markets. Another factor in Terhune Orchards' marketing efforts is its newsletter. Rather than relying solely on newspaper ads, the Mounts supplement their ads by mailing out their own newsletter and inserting it in the local newspapers. The costs of printing, mailing, and inserting are minimal, and the newsletter can also be sent electronically.
The orchard's website also adds to its marketing efforts.
Active Roles
Aside from his IDFTA involvement, Mount has been treasurer of the New Jersey State Hort Society for about 12 years.
"It's my feeling that farmers need to work together in all issues, and the Hort Society is part of that," Mount says.
He's a former president of the New Jersey State Board of Agriculture, he was a New Jersey water commissioner for many years, and he's currently a soil conservation district supervisor. He has also been highly involved with New Jersey Farmland Preservation, a unique program in which the state pays farmers to preserve their land. With land values soaring in the Garden State, the program has been a key to helping growers pass on their land without fear of it being developed.
Of course, there is life outside of fruit growing. One of Mount's passions is rowing, a love he first developed at Princeton and has maintained ever since. But for Gary Mount, his biggest joy is seeing his children grow up on the farm.
"Farmers always tell you their children are their best crop, and we're no different," he says.
Gary and Pam's oldest daughter, Reuwai, lives in Baltimore and teaches with her husband. This summer, they are spending a month living and working at the farm. The Mounts' other daughter, Tannwen, works full-time in the orchard and market and is planning a new venture at Terhune Orchards — grape growing and winemaking. Their son Mark is in the Army's infantry division and is in the process of being deployed to Afghanistan.
"He's real excited, and we're very proud of him," says Mount.
Growing with his kids, growing his mind, and growing apples. All three have given Mount great pride and led him to the top of his industry.
An Equal Partnership
Gary and Pam Mount are not only life partners, they're also partners in business. Gary is responsible for the production and business management at Terhune Orchards, and Pam is responsible for retail marketing.
"That's how we started, and we still do it that way," says Gary.
Yet there is another important part of Pam's life, and it's outside the orchard. She is very involved in the local community. She's served on the Lawrence Township, NJ, town council for seven years, and is in her second term as Mayor.
The Mounts are also active in giving back to the community, something their customers are aware of and appreciate. For example, New Jersey's Farmers Against Hunger program was started in one of the Mount's barns.
"It's a two-way street," says Mount, "and our town is supportive of us as well."
While both Pam and Gary Mount are busy at all hours, they've never lost the love of being able to work side by side.
"It's a decision we've never regretted," says Gary.
As they like to put it, farming and retail is a mix of science and art; Gary is the science part of the equation, and Pam is the art.
Higher Learning
Because it's not located in a major agricultural area, the labor supply for Terhune Orchards is slim. As a result, they need to be able to keep their employees happy and busy throughout the year. Growing a wide range of varieties has created a large harvesting window, helping to improve efficiency with limited resources. But there's something else that's been a hugely positive influence on keeping employees happy.
In recent years, Terhune Orchards has attracted more Hispanic employees who want to incorporate themselves into the American way of life, yet must overcome the language barrier. To alleviate this problem, Gary and Pam Mount hired a language teacher and began offering English classes every Tuesday afternoon. These classes have been hugely successful, both for the employees and for the Mounts. A couple years ago, the Mounts considered stopping the classes, until their employees changed their minds for them.
"When they learn English, they can do more, and you can afford to pay them more," says Gary Mount.
It's also helped the Mounts retain their employees by giving them a sense of belonging and pride in the work they do.