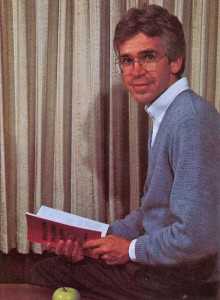 When you create a new award in an industry that sometimes seems to be awash with awards and honors, you want it to be something special. Likewise, you want the first person receiving the award to be an individual who clearly stands out and deserves recognition. With the creation of the American and Western Fruit Grower "Apple Grower of the Year" award and the selection of Adams County, PA, grower John L. Rice as the first recipient, both objectives have been met.
In creating the "Apple Grower of the Year" recognition, American and Western Fruit Grower saw a need to identify apple growers who have gone beyond the confines of the orchard and have, through their involvement and leadership, made a real impact on the apple industry. No other national recognition exclusively geared for apple growers exists.
John L. Rice exemplifies the involved, dedicated individual American and Western Fruit Grower had in mind when creating the award. He has made a difference in the industry, and sets an example that other growers can follow. Rice has gained a lot of unplanned visibility this year as a spokesman for growers during the Alar crisis.
As chairman of the International Apple Institute (IAI), he has not only been thrust in the media spotlight, but has also been a driving force behind the scenes in helping the apple industry move past this crisis.
Helps Lead Industry
Rice has maintained an active involvement in apple industry organizations for many years. Heading the list is his 10-year tenure on the IAI board of directors. He is also chairman of the Pennsylvania Apple Marketing Board, and has maintained involvement in the State Horticultural Association of Pennsylvania, the Adams County Fruit Growers Association, and other groups.
But membership alone in many organizations would not garner the Apple Grower ofthe Year award for Rice.
The key is that he has been a leader and a driving force in getting things accomplished. For instance, he helped lead the drive to establish a new marketing order for Pennsylvania apples. He has also been a stalwart member of the IAI board, and has successfully pushed for programs and structural revisions that will allow IAI to keep up with changes and expand in critical areas.
Alar Dominates Agenda
The Alar issue has virtually been an all-consuming issue for Rice in recent months. Like others in the apple industry, Rice suspected that Alar could become an issue. But the magnitude
of the Alar crisis shocked him and everyone else in the industry. The key was the picture that was presented to the public — kids getting cancer from apples or apple juice.
"It hit home so hard — it hit such a sensitive nerve," he said. "They (the Natural Resources Defense Council and the media) hit the emotional target that caused hysteria."
The apple industry has incurred a substantial financial loss because of the Alar scare. Conservative estimates indicate a $100 million loss, and Rice said when all factors are considered that amount could easily double. But perhaps a bigger problem is loss of consumer confidence.
"The perception is that we farmers only care if the apples are red, and don't care if we are causing cancer," he said. "There is a breakdown of trust. The apple was for generations a symbol of a health food. This (the idea that apples cause cancer) has now been planted in the minds of millions of children."
To regain consumer confidence, he feels strongly that growers must forgo the use of Alar in 1989.
"It has been tried and convicted so thoroughly in the American press I don't think we could ever go back to using Alar. I think we ought to go on to other battles which are quickly following close on the heals."
Rice's position as apple industry spokesman on the Alar issue is more remarkable when you consider two other factors. He hesitates to discuss these matters, and has not mentioned them in interviews with the mass media.
First, he is not defending personal interests when he says Alar-treated apples are safe, because a decision was made at the Rice operation several years ago to stop using Alar. But he doesn't emphasize this, because he sees the potential for a divisive, damaging split if growers who didn't use Alar start pointing an accusing finger at those who did. Second, he is very aware of how devastating cancer can be, having lost his wife (who did not work or live on the farm) to that disease last year.
"For me, one additional case of cancer in a million is not acceptable. But that is a theoretical risk. If I did not firmly believe that people who eat more apples, whether or not they are treated with Alar, have less chance of getting cancer than people who don't, I wouldn't be doing this job."
The time-consuming Alar issue has delayed progress on some changes in the IAI that Rice has advocated. The organization is in the process of hiring someone to fill the newly created position of director. This position will handle many tasks such as storage reports, convention planning, etc., that currently fall on IAI President Derl Derr. Derr will then be free to expand IAI activities into public affairs, trade and regulatory actions, and other areas that are growing in their importance and impact on the apple industry.
Rice also sees the IAI putting itself in a position to provide more direction to growers than it has in the past. Rice states that it is time for all growers to get involved.
"The days when you could innocently sit back and just move your crop out or deliver it to the packing house and that was it — those days are gone. We have to be involved in the public arena. We have to be giving our side of the story. We need to anticipate problems rather than just react to them."
A Look At Rice Fruit
John L. Rice is part of prominent Adams County, PA, fruit growing family with a long heritage. While Rice can trace apple growing back seven generations in his family, the modern history dates back to 1913 when John's grandfather, Arthur E. Rice, founded Rice Produce.
The family has been actively involved in the fruit industry ever since. There have been a number of different ventures over the years, including a packaging supply company, and there have been changes in location, business structure, and business name. Currently, there are two main operations:
R&L Orchards was founded by John's father, Arthur E. Rice Jr., and William Lott. It is now completely owned by the Rice family. It includes about 700 acres of apples and 300 acres of peaches and nectarines.
Rice Fruit Company is a closely held corporation. Ownership is divided between four area families who all grow fruit: Lott, Knouse, Tyson, and Rice. The entity most people are familiar with is Rice Fruit Company. The buildup of this company dates back to 1955, when it moved out of Biglerville and built storage facilities at its current location on Rt. 34 north of Biglerville, PA.
Expansion has come regularly, with the latest major change being a modernization of the packing operation in 1986. Currently there is a total storage capacity of about 650,000 bushels, with 360,000 of that being controlled atmosphere. In a good year, the company will pack 700,000 to 800,000 boxes of apples, 120,000 bushels of peaches, 50,000 to 60,000 bushels of nectarines, and 20,000 to 30,000 bushels of pears. The equipment and techniques used are designed to produce fruit that can compete with anything on the market.
Rice Fruit Company stores, packs, and markets fruit for its owners as well as for a number of area growers. Fruit is now primarily marketed under the Rice label. Eagle and William Tell are labels that were previously used.
Arthur Rice Jr. serves as chairman of the board for Rice Fruit Company. His four sons are all actively involved: David is in charge of plant operations and personnel; Ted is the treasurer; John is the sales manager; and Mark is the orchard manager.
There have been a series of setbacks for the Rice operations over the last year. Weather problems in 1988 included a severe hail storm, a 7-inch deluge of rain that flooded the packing house, and then an extended drought. In the fall, just after everything was harvested, a packing house fire caused major damage and interrupted packing activities for two weeks during the peak part of the season. That building is now being rebuilt. Finally, a hard frost hit earlier this spring and may have reduced current crop prospects by as much as 40%.