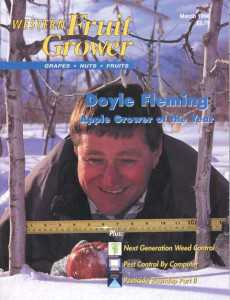 Doyle Fleming's lifelong trek through the apple orchard has taken this Washington State grower from migrant worker to the treetop level of the horticultural world. Fleming's five-decade journey, which began in 1956 under the tutelage of Grady Auvil, has been peppered with many highlights.
This Orondo, WA, grower planted one of the first Braeburn blocks in the U.S. When it came to bagging Fuji, he was one of the first. As for Gala, it made its U.S. debut on Fleming soil. And super high-density plantings, such as the 6,000-tree per acre planting shown on the cover, remains a trademark here.
Today, Fleming continues the trailblazing by being the first to examine apple buds under a microscope prior to pruning. Additionally, he's launched his own apple breeding program-typically not your normal endeavors for most growers.
Fleming has been in the lead in apple growing, charting new courses for himself and other growers. Motivated by the need to do things more cheaply and better, Fleming continues to push the horticultural envelope at his Wee Hoot Orchards, located about 30 miles north of Wenatchee.
This life of fruit-growing innovation and his contributions to the apple industry have earned Fleming American and Western Fruit Grower's Apple Grower of the Year award for 1996.
Fleming's Living Laboratory
For the past 20-plus years, Fleming's laboratory has been Wee Hoot Orchards, 175 acres of orthodox and unorthodox rows of fruit. Traditional orchards include Reds, Gala, Braeburn, Granny Smith, and Fuji, planted at various densities.
His departure from tradition takes place in a scenic track of Fuji on Malling 9, now in its third leaf. It totals 6,000 trees an acre. This high-density squeeze play illustrates Fleming's desire to make orchards more profitable, more quickly.
Why so dense? Fast, high production, and an experiment with training and light management.
"The closer you put trees, the less you have to train them to intercept the light," says Fleming, who picked 40 bins an acre in its second leaf. "We basically farm light."
Fleming's decision to plant 6,000 trees an acre involved risk-taking and prudence, but not necessarily bottom-line economic logic.
"When you experiment, you don't do a cost analysis to study the concept. If you did, the answer would always be no," he says.
The cost breakdown comes later, once the trees settle down.
There was another reason for the high density. Along the Columbia River, where Wee Hoot Orchards sits on a shelf, replant disease is rampant. Despite fumigating with Vapam (metam-sodium, ZENECA Ag Products), growing a large tree is difficult. So Fleming opted to grow smaller trees closer together.
Varying Varieties
The interest with new varieties began for Fleming in the 1970s, when he planted one of the first blocks of Granny Smith. The next decade saw a continuation of experimentation when he planted the first block of Gala in the U.S. This decision came after Fleming saw New Zealand-grown Gala and Braeburn in supermarkets. The fruit was being shipped to Vancouver and sent into the U.S. from that British Columbia city.
Soon after he planted new varieties, Fleming investigated the idea of bagging Fujis for the upscale and discriminating Japanese market. The blemish-free Fujis command top dollar in that Asian market, and that strategy worked out well for Fleming.
Through the years, Fleming has found himself in the vanguard of horticulture, whether he intended to or not.
Not one to claim bragging rights to anything, Fleming is more inclined to share than hoard his knowledge. This year alone, about five South African tours stopped by Wee Hoot Orchards to sneak a peek at Fleming's latest tinkering.
"If you're the first to do something, chances are that people will seek you out as an authority," says Fleming.
The Growing Years
Just after the Korean War, Fleming began picking fruit during the summer at Grady Auvil's Orondo orchards.
The year was 1956, and Fleming was attending junior high. Auvil was laying the groundwork then for his reputation today as Washington's fruit-growing guru.
Working for arguably the most progressive grower in Washington provided a unique basic training for Fleming. Auvil's knack for experimentation rubbed off on Fleming.
Additionally, the years in the orchards also cemented Fleming's love for certain horticultural practices, such as pruning. That penchant for pruning continues today with his latest experiment. It began with the purchase of a dissecting microscope, the kind junior high students use to dissect frogs or cows' eyeballs.
Prior to pruning, Fleming pulls buds off trees to examine them under the microscope. This high-powered look-see reveals whether the buds are fruit or leaf buds.
Armed with this knowledge, Fleming tailors his pruning to reflect the desired amount of fruit buds left on the tree. Instead of counting two buds per linear foot, then pruning the rest, Fleming examines buds and counts them for what he hopes will be a perfect crop load. This is his first year analyzing buds, so the jury's still out. Still, it's another example of trying to perfect the imperfect livelihood of fruit-growing.
Industry Leader
Fleming's commitment to the apple industry is illustrated by his many affiliations. He's one of nine people on the Washington State Tree Fruit Research Commission, which distributes $3 million a year to fund horticultural research in the Northwest and around the world.
Looking ahead, Fleming sees few revolutionary horticultural changes in the offing as we near this next century. However, he considers light management and canopy management an area of hot exploration. For example, improvements in screening — to protect apples from the sun — and in different meshes of screening could be a popular avenue of exploration real soon.
Fleming is also a member of the Washington Horticultural Association and the Douglas County Pest Control Board. Additionally, he's a member of the Northwest Food Alliance and the International Dwarf Fruit Tree Association.
This organization is looking into the idea of farming smarter, to see if less intrusive farming practices can yield extra returns. That's a philosophy dear to Fleming's heart.
"That's the basic philosophy of how we do things here," says Fleming. "We look at soft programs that have as little effect as possible on the environment, yet are still economically viable for growers to use."
Out Of The Orchard
Fleming has recently jumped out of the orchard and into marketing. He is now pushing the new Cameo apple, which was formerly known as Carousel. The Cameo apple variety was featured in Western Fruit Grower.
The metamorphosis from orchardist to salesman is a new mile marker in Fleming's career, one he couldn't have predicted. No doubt he'll use the same techniques he's used all his life: trial and error.
Fleming didn't stop at becoming a salesman. He's also wearing an apple breeder's hat lately. Four years ago he started his own private apple breeding program. The open-pollination program, so far, has yielded 10,000 crosses of apples.
No winners — like the Cameo — have emerged yet. But the first fruit is due this year. Like his microscope pruning technique, the breeding program is something most growers don't tackle, but it is simply a byproduct of his professional curiosity.
On a local level, Fleming's interest in the apple industry is reflected in the interest of his farming community, and the next generation.
For the past 20 years he's served on his local board of education, pruning the next crop of students, in hopes of producing a more productive generation.
Wee Hoot Orchards
After working for Grady Auvil, Doyle Fleming started Wee Hoot Orchards in 1974, and it's proved a tongue twister for bankers ever since.
"The first orchard was named Little Owl, and we named the second one Wee Hoot. People like bankers never get it correct," says Fleming.
Wee Hoot Orchards consists of five different entities, totaling 175 acres. Fleming grows 65 acres of Fuji; 35 acres of Gala; 32 acres of Cameo; 14 acres of Braeburn; 8 acres of Gingergold; and the rest are Goldens, Reds, Jonathons.
Pruning is Doyle Fleming's first love because it sets up the tree for the rest of the year.
Doyle Fleming stays at the forefront of the apple industry by experimenting with new varieties, such as these Cameo apples