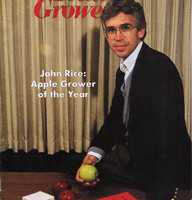 John Rice (1989)
American Fruit Grower's first Apple Grower of the Year, John Rice, is co-owner of Rice Fruit Company in Gardners, PA. At the time, Rice Fruit was an 800-acre, multigenerational family operation. Today, the seventh generation of the Rice family is still at the helm and members of the eighth generation have entered the business, which has expanded by more than double in size. It handles 2 million bushels of fruit and packs apples 12 months per year, no longer qualifying it as a seasonal business, says Rice, who along with his three brothers, David, Ted, and Mark, oversees the company.
"In some ways that has made our business easier, since we can provide better service for our customers," he says. "But every year, it seems like the demands on produce suppliers become more difficult. The new requirements with regard to food safety and security are good examples."
While things may have seemed simpler back in 1989 in terms of having fewer apple varieties and packages to manage, Rice says the key to success remains the same: adapting to changes in customer and consumer demands by planting new varieties, upgrading facilities, and constantly improving products and service.
"I can't really remember a time when this was a simple business," Rice says. "It has always been about solving problems, because problems arise no matter how hard you work to avoid them. You need to develop a certain equanimity to get through the tough times. But in good times and bad, you need to be honest and fair."
Issues such as the labor crisis and others have been close to Rice in the leadership roles he has taken on at the state and national level. Having served twice as chairman of the U.S. Apple Association and the Pennsylvania Apple Marketing Board, and as the first chairman of the U.S. Apple Export Council, he says he feels these roles have been his greatest accomplishment thus far. "It has given me the opportunity to become friends with some outstanding individuals," Rice says.
Grady Auvil (1990)
The late Grady Auvil was well-respected as a leader in the industry during the 60-plus years he spent running Auvil Fruit Company of Orondo, WA. Though Auvil passed away in 1998, his legacy lives on in the innovative orchard practices he instituted over the course of his career.
Auvil was in his eighties when he won the award, but he was no less willing to take calculated risks than he was in his younger days. He talked about the successful future he envisioned for Granny Smith and Fuji apples, and at the time, he was in the midst of grafting his Red Delicious trees over to Fuji.
Citing the lessons learned from making mistakes as one of the most valuable learning tools available to growers, Auvil had great faith in research. He was a member of the Washington State Horticultural Association's Research and Scholarship Committee for nearly half a century, and he was a co-founder of the Washington Tree Fruit Research Commission. The latter organization has donated millions of dollars for scholarships and research grants over the years.
One issue that hasn't changed since Auvil's time is the general public's lack of education about the agricultural industry. Like many growers today, Auvil recognized that it was the responsibility of the people within the industry to make the public aware of the realities they were unable to see because of their distance from agriculture. On the marketing side, he also felt that in order to be profitable, growers needed to take into account the entire system — growing, harvesting, packing, and marketing.
Above all, however, it was the people working in the industry that inspired Auvil most, especially his own people. Auvil made a point of promoting from within the company, and returning a share of its net gains to the employees during profitable years.
Steve Wood (1991)
When Steve Wood of Poverty Lane Orchards in Lebanon, NH, was named Apple Grower of the Year, he had already been experimenting with grafting and growing heirloom and cider apple varieties for nearly 10 years. At the time, he was looking for a possible sideline to his existing business.
"Survival depends on agility. You have to be able to change what you do according to the reality of the marketplace, and that involves making dramatic changes in what we do," Wood says.
In the early '90s Wood began slowly converting orchards over to heirloom and cider apple trees, and by 1997 he had completely altered the landscape of the farm after leveling his existing orchards and replanting them, he says. Today, many of Wood's 100 acres of orchards are still in preproduction or young trees just coming into production for the inedible cider apples he uses for fermented hard cider. The cider is sold under the Farnum Hill Ciders brand, and the heirloom apples are sold under the Uncommon Apples brand. Varieties for cider include Dabinett, Yarlington Mill, Chisel Jersey, and Medaille d'Or, and heirloom varieties include Spitzenburg, Pomme Grise, Ashmead's Kernel, Wickson, and Golden Russet.
Wood says Poverty Lane Orchards is still building its new business and still in investment mode, and adds the prospects are good and the business is staying afloat, but hasn't yet reached its goal of "wild profitability."
"If you had told me in 1991 that we were going to be spending a lot of attention on sommeliers in New York restaurants, I would have laughed my head off, but those are the people we're talking to these days," he says.
Harold & Joanne Thome (1992)
Despite the advances in technology that have been made in recent years, Harold Thome says the keys to being a successful apple grower are still hard work and good management. The most crucial characteristic for any fruit grower to possess, however, is tenacity.
"Fruit growing is a high-risk undertaking. As a fruit grower, you have to be willing to get back up when you've been knocked down," Thome says.
Though Thome turned over Thome Orchards of Comstock Park, MI, to his son, Steve, a number of years ago, he still works on the farm, helping with spraying and harvesting. Joanne takes care of accounting for the family owned business.
Thome is proud of the fact that the operation has remained in the family for so many generations — he is the fourth generation to have run it, with Steve as the fifth — but he recognizes the inconsistent nature of the occupation and understands why the numbers of family operated farms are diminishing.
Thome sat on the board of directors of the International Fruit Tree Association for six years. He remembers traveling both domestically and internationally as a highlight of his career. However, he turns modest when the subject of the award comes up.
"Joanne deserves the credit for us winning that award, for all that she does for the business. I am just your every day, average grower," he says.