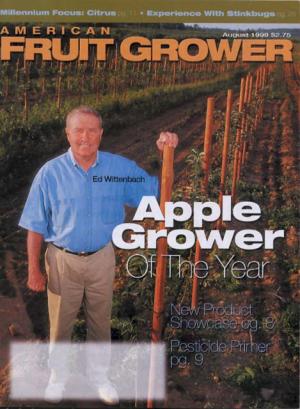 1999 Ed Wittenbach, Belding, MI
Little has changed in Ed Wittenbach's orchards over the last year, but he's reflecting more and more these days on the state of the U.S. retail grocery industry.
"Retailers are getting bigger and bigger and demanding more and more of the supplier, including inventory control, advertising monies, and a steady supply of superior quality fruit," Wittenbach says. And he adds that the price retailers pay for an apple vs. what they sell it for continues to be a thorn in the apple industry's side.
He believes now is the time to capitalize on recent news of the health benefits of apples. "We have to get this out to the American public somehow," he says, though he admits that a national generic promotion is just not currently affordable for many growers. He is also confident that fresh-sliced apples will gain popularity once they're perfected.
Wittenbach says that a key to future industry success is putting a better apple on the shelf. Consistently.
"We have to deliver an apple that has internal quality with adequate internal pressure. One that a household wants to repeat buy," he says.
He has found himself waiting on the color of an apple when it was really ready for harvest taste wise.
"We can't put all the emphasis on the outside," he says.
In his own orchards, Wittenbach has had good luck with Galas, Fujis, and Jonagolds on some 220 acres, but he's diversified his business in light of challenging apple times. He now grows 400 acres of corn and soybeans and rents 150 acres of his land to other farmers.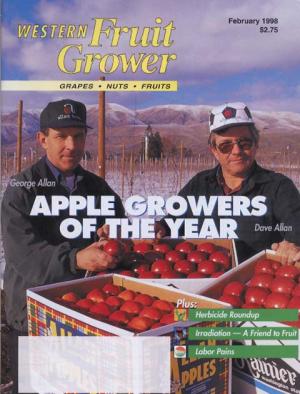 1998 George and Dave Allan, Naches,WA
The year Dave and George Allan were honored was also the year they planted their last Red Delicious tree.
"And we'll probably never plant a Red Delicious again," says Dave. "The consumer doesn't like Reds as well as some of these new varieties, and we're losing market share there."
Instead, the brothers have forged ahead with plantings of Braeburns, in particular, as well as a few Cameos. All new acreage uses high-density techniques, and the Allans have experimented with ways to speed up — and reduce the cost of — transitioning to these plantings.
Dave says it's often a three-year program from the time he plans, buys rootstock, grows it, buds it, then grows the top of the tree.
"We're trying to shorten that time, planting just the rootstock with the graft on it right in the orchard," explains Dave.
The Allans also produce Fujis, Galas, Golden Delicious, and Granny Smiths.
Contemplating the state of the apple market long-term, Dave is optimistic and anticipates increases in total consumption of apples as new varieties gain ground. He believes that promoting these new varieties — the Braeburns, Galas, Fujis, Pink Ladys — is what will turn the apple industry around.
Reflecting on a national generic campaign, he says: "We should not advertise and promote apples that are not in demand. Does GM promote their 1984 Chevrolets? We're promoting our 1960 apple variety."
To survive the last few years, the Allans have continued to diversify. One strategy is spending more time on Rainier cherries. Allan Bros. Fruit's Rainier Fruit Sales now packs its own crop as well as those of 50-60 Washington cherry growers. The operation requires some 400-500 people at peak.
"This will be the biggest year we have, with packing and trucking running 24 hours a day," Dave says
His son, Travis and George's son-in-law, Andy Wright, handle this end of the business.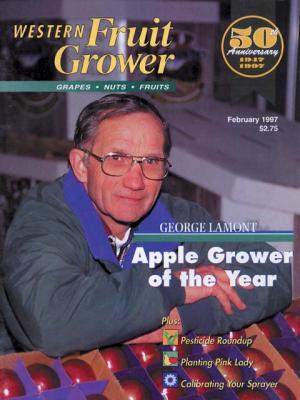 1997 George Lamont, Albion, NY
George Lamont has passed the torch of his business to the next generation of apple growers, among them 18-year manager/employee Rod Farrow. Lamont has stepped back from the farm in an effort to downsize in continued difficult economic times in New York State's processing apple industry — which has been operating at a loss for the past eight years according to Cornell studies.
But Lamont is far from retiring. He now serves as interim executive director of the New York State Horticultural Society and chairs the New York Apple Industry Strategic Planning Task Force. The goal of this group is to generate concrete suggestions for growers in the state on how to build profits again.
"The economic system is excellent in telling you that you have to change, but very poor at telling you how," he says. "Unfortunately, many people feel they don't need to change."
The grandfathers and fathers of many growers in New York profited from processing apples, and today's growers "just think they have a God-given right to make money growing processing apples."
Looking to the new millennium, Lamont is particularly excited about the new ethylene blocker MCP, which is promising much better storage and shelf life for fruit. He says it will be especially helpful for growers in the East, where softer, McIntosh-type varieties are grown.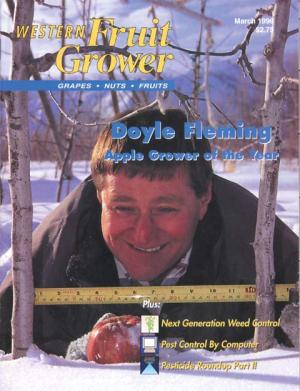 1996 Doyle Fleming, Orondo, WA
Doyle Fleming has long been an accomplished organic grower, but in the past year, he's made plans to cash in on that skill a bit more:
He's creating a new, smaller pack for his organic Braeburns, Galas, and Fujis, to be sold at a premium price. The goal is to get away from selling crop through large packing sheds.
"We're hoping we will be able to niche our product and get a better return," explains Fleming.
He is also trying to start a co-op among Washington's Cameo growers. He's estimating he'll need about 100 producers to get the business rolling.
"We'd like to see the control in growers' hands rather than the buyers' hands," he explains.
Looking to the future, Fleming has concerns about producers in the traditional growing areas of Washington state, particularly his own Columbia River Basin region. He points out that environmental pressures are particularly high on growers who farm along waterways.
On a positive note, he is excited to see more sorting of fruit based on Brix. He wants it to become the standard, to ensure consumers have a better experience with apples.
"That will definitely be a swing factor on where I want my fruit run or marketed," he says.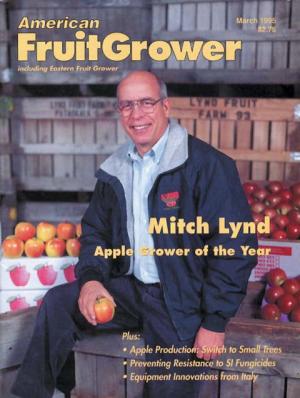 1995 Mitch Lynd, Pataskala, OH
Visiting Lynd Fruit Farm's website — created since company president Mitch Lynd's term as our grower of the year — is enough to get any direct marketer excited. The site describes the family's rich, seven-generation history and farming methods.
September and October are listed as pick-your-own months, when the farm offers cider, pumpkins, and mums, as well as com and straw mazes, apple butter making demonstrations, and an old farm equipment show. Cherries and day lilies abound in July.
In the new millennium, Lynd is carrying the energy and enthusiasm needed for direct marketing into his quest for varieties suited to the Midwest. One winner has been GoldRush with its unparalleled "flavor intensity," says Lynd.
Unfortunately, popular newcomers such as Fuji, Braeburn, Gala, and Jonagold don't do well in this region.
Hence, three years ago, Lynd helped form the Midwest Apple Improvement Association (MAIA).
This group of approximately 60 growers is making crosses with the best materials from the Purdue, Rutgers, Illinois (PRI) breeding program.
With the help of Ohio State, Purdue, and Cornell researchers, MAIA has produced three crops of apple seeds that have been disease screened — and last spring shipped them to member cooperators for a 10-year field trial.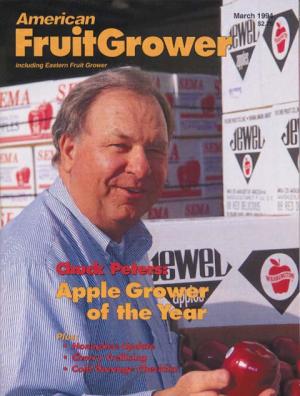 1994 Chuck Peters, Wapato, WA
The past several years have seen Chuck Peters' apple business expand and diversify. For instance, newcomers such Braeburn, Pink Lady, and Taylor's Gold have been planted to capture today's consumer tastes. But Peters is no longer the chief decision maker at the farm. In 1996, he officially turned the business over to his son, Chris.
These days, part of Peters' time is spent consulting with Independent Food Processors, a Sunnyside, WA, canner of cherries, pears, and apples. He is also investing a great deal of energy in Yakima community affairs.
Peters is concerned about the future of the apple industry, particularly in Washington state. He believes other areas of the U.S. are gaining a competitive advantage over Washington, as Red Delicious loses popularity and new varieties — that can be grown equally well throughout the U.S. — come tothe fore.
"And certainly, New York and Michigan are closer to population centers," he points out.
The bottom line, Peters estimates, is that in coming years, Washington will have to lose one third of its acreage to stop the overproduction.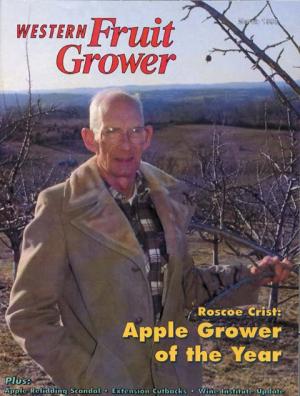 1993 Roscoe Crist, Walden, NY
It's bad enough when market forces tum against you, but when the forces of nature add their insult, it's enough to discourage the most diligent producer. Such were the experiences of Roscoe Crist this year, when major hailstorms in the Hudson Valley wiped out about 75,000 bushels on one farm and 35,000-plus bushels at another growing location.
But Crist is encouraged about the way growers are pulling together in these tough economic times. For instance, he believes that a national generic apple promotion is an idea whose time will come.
"Twenty years ago everyone was looking out for their own little area. Now we've learned to cooperate internationally through USApple and in government relations — that approach will come into marketing and promotion at some point."
Now semi-retired, Crist has turned the reins of the company over to his, nephew, Jeffrey.
While he doesn't put in full days, Roscoe is still plenty involved in the business — and in the industry.
He currently serves on the New York State Horticultural Society's government relations committee and is helping the group tackle a host of issues, not the least of which is keeping up on the Food Quality Protection Act.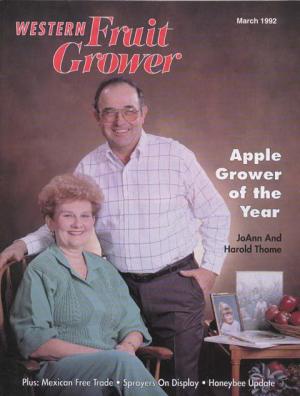 1992 Harold and JoAnn Thome, Comstock Park, MI
For more than100 years, the Thomes' fruit farm has stayed in the family. Harold notes that fall 1999 marked the 50th crop he helped harvest since he graduated from high school. And he has no intention of retiring any time soon, though he is gradually turning the business over to his son, Steve.
"I just can't seem to walk away. I like to be involved in the growing end, the spraying end, and the marketing end."
Since being honored, JoAnn has remained involved in Comstock Park's township planning committee, monitoring land use and helping to ensure that farmland in the area is preserved. Harold currently serves on the Michigan Processing Apple Committee, which monitors apple prices.
In the new millennium, Harold believes we have to educate consumers on just how difficult it is to grow food.
"We're getting three and four generations away from anybody that's had any contact with agriculture," he says.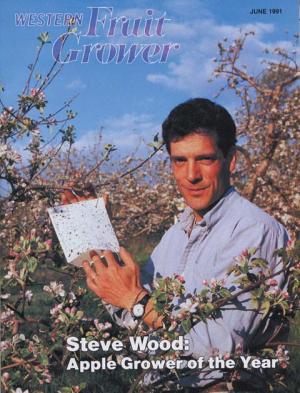 1991 Steve Wood, Lebanon, NH
Steve Wood was honored, in part, for his efforts to defend the apple industry in the days and years following the great Alar hoax of 1989. A vocal proponent of enviro-friendly growing practices such as IPM, he was not about to let Congress or the public think that his product was unsafe to eat. In fact, he talked personally with EPA staff, the Natural Resources Defense Council (NRDC), and CBS in attempts to head off the 60 Minutes broadcast.
Wood's battles these days focus on how to continue to make a living on the land and in the industry he loves. He's decided to move away from wholesale production of McIntosh, Cortland, and Galas to enter a risky new arena: apples for hard cider. In just the past two years, he's planted a few thousand trees — varieties of English and French origin bred specifically for hard cider.
The plantings will begin bearing in four to five years, and Wood is banking he'll have a market for the cider by that time. So far, production is done on-farm, as Wood has put together a bonded, on-farm winery that's taking over some of his former packing facilities.
Demand for traditional hard cider (versus the "fizzy" Six-pack type) in the U.S. is virtually nil. But Wood has been cultivating customers in the form of upscale inns and pubs in New Hampshire for a few years now.
"We're developing a high-end market that's distinctive enough to survive in … that we can protect when the demand does come," he explains.
So far, the volume of cider he's been moving — sold in wine bottles under the Farnum Hills Cider label he created — hasn't been huge, but "the margins are pretty good."
Wood's goal is to make the cider a regional treat that people seek out and ask for.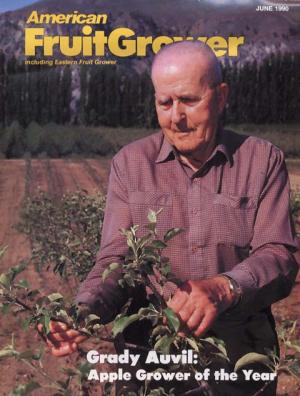 1990 Grady Auvil, Orondo, WA
Legendary grower Grady Auvil passed away Dec. 28,1998. Known for being far ahead of his time, his beliefs, ideas, and innovation still influence this industry today.
1989 John Rice, Gardners, PA
The first Apple Grower Of The YearSM ever selected, John Rice says he was in the right place at the wrong time. He was president of the International Apple Institute (now USApple) when the Alar scare hit the industry broadside. In this position, he was sought out to share growers' side of the controversy with national news media.
A decade after the Alar scare, he's surprised and disappointed that people still have lingering misconceptions that food in their grocery store is not safe … that the food safety issue still revolves around "additives" such as pesticides and more recently, genetic modifications.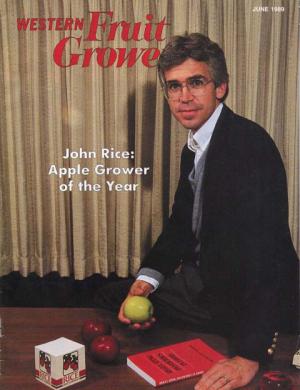 Instead, he points out, scientists have tried to hammer home that microorganisms and pathogens are what consumers should be concerned with — but they're not listening.
In the past 10 years, Rice says that Rice Fruit Co. has continued to grow and prosper, more than doubling its sales volume and constructing multiple packing facility additions and upgrades. Part of that success has come because the company is growing and packing more stone fruit. Rice's job now is to make sure all the company's fruit – 75% of which comes in from approximately 50 other growers — is marketed and sold.
In the new millennium, he believes the apple industry needs to educate consumers about the need to eat more fruits and vegetables. But we have to deliver product they'll come back to.
"We need to be constantly focused on the quality of product that reaches the consumer. We need better flavor and better shelf life," he says.
That's why Rice Fruit Co. has spent $10 million on controlled atmosphere storage.