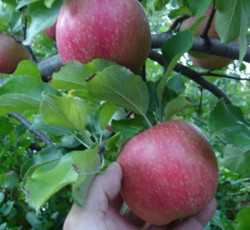 EverCrisp, a controlled cross of Honeycrisp and Fuji, was debuted during the "Apple Variety Update" from the Midwest Apple Improvement Association (MAIA) at the Ohio Produce Growers And Marketers Association Congress on January 22 in Sandusky, OH.
The variety, developed and released by MAIA, is very sweet and slightly harder than Honeycrisp, with a 21st century crunch. It is a dense apple, with a texture similar to Honeycrisp, with a look of Fuji. It is a precocious cultivar, with maturity late in the season. The apple is also long- storing.
For more on the cultivar, visit EverCrispApple.com. You can also look for more coverage in the February 2013 issue of American/Western Fruit Grower.