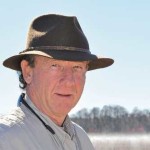 Last season, Florida blueberry growers harvested about 25 million pounds of berries throughout the state. This was up from just less than 17 million the year before and closer to our harvest of 22 million pounds two seasons ago. If we believe the common wisdom that there are about 7,000 acres of blueberries in the state, this year's harvest works out to an average of about 3,500 pounds per acre.
More beneficial chill hours, good growing conditions, favorable harvest weather, adequate labor supply at the beginning of the season, and additional mature plantings contributed to a record blueberry harvest for the state.
So you would think we would be pleased with the results, but most growers were disappointed with their bottom line figures at the end of the season.
The fruit came off the bush quickly and in great quantity throughout the state overwhelming some marketers' ability to move the fruit quickly. Full coolers and the result of some fruit being directed to terminal markets resulted in reduced prices. The market for Florida blueberries goes almost exclusively through the grocery stores to get to our consumers. If ads are not in place to move a large volumes of fruit within a few days of harvest, lower prices are the result as produce managers try to encourage the public to take home an extra clamshell of berries at attractive prices.
"You need to match the terminal price," is the mantra of the grocery produce buyer at times like this and growers feel the result of this request in our wallets.
Forecasting On The Radar
I have talked in the past about the need to better predict our crop. Other states, with many more years of blueberry experience under their belts, have developed forecast models that offer information about what volume they may expect and when harvest may peak. Forecasting requires monitoring weather, disease and insect pressure, and the input of this data into constantly fine-tuned models for yield.
We need to learn from our brother growers in other states and try to develop similar forecasts for Florida blues. We may not be 100% accurate at the beginning, but with experience, I think we can move toward knowing with more certainty what type of harvest we may have each season.
The Executive Committee and Board of Directors of the Florida Blueberry Growers Association (FBGA) are committed to making crop forecasting a reality. We plan to work with UF/IFAS and the US Highbush Commission to try to bring accurate yield forecasts to Florida. It won't happen overnight, so we need to start as soon as possible to enable us to fine tune our models.
Read the following pages to get Calfee's take on persistent pests, expanding acreage, and marketing progress.
Persistent Pests
We had our share of challenges with pests and pathogens again this season, too. The usual suspects: cedar waxwings, spotted wing drosophila (SWD), snails, and beetles came at us with varying degrees of ferocity.
Some growers got their first federal predation permits for the birds this year. This is good news, but having a permit to only remove 50 of the pests for the entire season must have seemed pretty useless to a grower who is watching a flock of thousands go after his fruit. And all the permits expired the same day throughout the state (April 15), leaving many growers with weeks of harvest left and no way to dissuade the little thieves other than marginally effective bird scare pyrotechnics, electronic predator calls, or "scarecrows" of many types. We need to find a better way to protect our crop from these migratory opportunists.
And almost everyone had some degree of difficulty with SWD this season. Some growers abandoned fields because they could not bring the pests under control. Some varieties seemed to be more susceptible to infestation by the pest and were rejected outright when presented for sorting at the packing facility.
Other blueberry states and other crops are taking a beating from SWD. We need to make sure that all growers are on an effective control program from the start of harvest season to the end. You may be protected only to the extent that your neighbor does a good job, too. SWD can move quickly and can be in your field from an infested adjacent property within a very short period of time.
Talk to your neighbor growers and try to work together to control this pest. Time your sprays together and consider aerial spraying if you are not able to get through your fields in a timely manner.
Measured Growth
Blueberry acreage is expanding in our state. How much we don't know exactly, but we constantly hear about new farms in the 10- to 75-acre range being developed and current growers who are adding acreage each year.
In order to gain more accurate information on the extent of blueberries in Florida, the FBGA has partnered with UF/IFAS to undertake a survey to find out the answers to these questions. By the end of the year, we hope to know a lot more about acreage, varieties, planting density, age of plants, and hopefully, some historical yield data for farms throughout the state.
Citrus growers, who have watched and are watching their groves being decimated by greening, are looking at blueberries as a possible replacement crop. This generates an indirect benefit to blueberry growers as some of the labor contractors that used to exclusively harvest citrus now harvest blueberries as well.
Marketing Moves And More
The question on everyone's mind is: Will consumer consumption keep up with increased production from Florida blueberry growers?
Considering Americans already eat more blueberries per capita than anyone in the world, we can say with certainty that our "little blue dynamos" are a product that is well-liked by our consumers. The US Highbush Council has done an excellent job of funding the research that highlights the health benefits of blueberries and they plan to continue their efforts.
Lots of other good things are happening in the Florida blueberry world. The talented breeders at UF continue to work to bring us new varieties tuned to the unique requirements of our varied climate conditions throughout the state.
Also, the FBGA worked with Farm Credit and our elected officials to secure expanded blueberry crop insurance coverage in many counties this year. This will make it easier to get financing and smooth out the bumps in tough years for those who choose to secure coverage for their crop.
The future offers wonderful opportunities for our industry. But we are still a relatively new crop in the state. We are in our teenage years and still have a lot to learn. Through this learning process, we will become a better and stronger force in the state's agricultural economy.