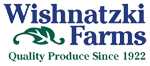 Wishnatzki Farms got its start in New York City by Harris Wishnatzki, a Russian immigrant who arrived in the Big Apple in 1900. He was selling fruits and vegetables from a pushcart in the streets of New York when he met Daniel Nathel, also a pushcart peddler. In 1922, Wishnatzki and Nathel each had large fleets of pushcarts when they joined forces to build a wholesale business and thus, Wishnatzki & Nathel was established.
In the late '20s, a buyer in Florida began to sell strawberries to the pair, and Harris Wishnatzki spent several winters there buying produce. Falling deeply in love with Central Florida, he moved his family south in 1929 to set up a produce shipping operation in Plant City while Nathel stayed in New York to run the wholesale market operation.
When World War II began, Harris was grooming his three sons to enter the business. The eldest, Lester, stayed home to help run the business, and Joseph and Ernest served in the Army in Europe. Ernest was killed in action and Joe returned home to join his father and brother in the family business. Lester and Joe took over when Harris passed away in 1955.
In 1974, Joe's son Gary graduated from high school and began working full time at the operation. He took over management in 1981 and, after his father passed away in 1988, became president of Wishnatzki & Nathel in 1990. Gary Wishnatzki grew the wholesale and shipping end of the business steadily and, in 1987, he bought the first farm — a 240-acre parcel in Manatee County —  and began farming. In 2001, Wishnatzki and Nathel mutually agreed to part ways and Wishnatzki Farms was formed to focus on growing and shipping produce.
"Starting the farming end of the operation was a matter of having more of a guaranteed supply of our product that we know we'll have every year — a nucleus of supply," Gary says. "We still have good, long relationships with growers we represent and don't expect that to change."
Back To The Farm
The farming operation grew through the '90s, reaching 1,100 acres in Manatee County. In early 2000, the farm acquired Clear Choice Greenhouses in Thonotosassa, which produces organic strawberries, and last year Wishnatzki purchased Brock Farms in Plant City, adding more than 100 acres of tomatoes and strawberries. Wishnatzki owns parcels of land that it leases to other growers, as well. All told, the operation now numbers 1,400 acres.
Wishnatzki Farms' primary crop is strawberries, followed by bell peppers and tomatoes including cherry, grape, and Romas. It also produces green and yellow squash, some hard squash, eggplant, and an expanding Athena melon crop, which double crop with strawberries.
As the largest strawberry shipper in Florida, the company represents more than 100 growers in the state, shipping approximately 2.5 million flats of strawberries and 2 million packages of other products annually. Its customers include chain stores, wholesalers, repackers, brokers, and the foodservice industry. This year Wishnatzki Farms will open a processing facility, as well.
Wishnatzki Farms also represents a large grower in North Carolina and formed an alliance with Colorful Harvest in Monterey, CA, which carries exclusive license of the Green Giant label on fresh berries. The relationship offers reciprocal marketing of Florida and California fruit.
Gary says the entire operation — from farming to representing growers — focuses on three keys to success: quality, integrity, and responsiveness. "We look at our growers as our supply source and if they're not successful, we're not successful, so we have to be sensitive to their needs. The fact that we pay our growers quickly and we have good communication and they know what to expect has been a key on the wholesale side," he says. "On the growing side, the key is giving customers the quality they expect. It's a lot of dedication and it doesn't happen on its own. There is a lot of attention to detail and attention to urgency."
Gary says the attention to detail comes from high-quality employees within the business, an asset he invests in and seeks out at agricultural and business schools in Florida. "We're in hiring mode and looking for good young people," he says. "They're out there but you have to be more proactive about looking for them — they don't just walk up to your door and ask for a job."
Gary points to three young men as examples: J.C. Clinard, Jeremy Burris, and Clint Austin, who have bright futures. His sales team includes manager Chuck Hollenkamp and John Brown. They each have over 20 years of sales experience and are tremendous assets. Andy Gutierrez, operations manager, is an example of someone who has come up through the ranks in the company, adds Gary.
Looking Forward, Tracing Back
Wishnatzki Farms is now working to develop a traceback system for strawberries that could be used throughout the produce industry. "We do have traceback to the master containers currently on strawberries and we can at least trace it back to the farm it came from, but when you get to the clamshells at the consumer level, it's not there," says Gary. "I truly believe traceback is a very important piece that we need to add to our food safety program."
The system under development by Wishnatzki assigns a unique barcode identification number to each clamshell of strawberries. That number would reveal the farm it came from, the day it was picked, the field it came out of, the worker's name who picked it, and what time the flat was delivered from the picker to the packingshed, Gary says.
In addition to the benefits of traceback, Gary says the retailer and customer would see value in tracking product age and shelflife, which would aid in rotation. "Once a clamshell goes onto a retailer's shelf, it loses its identity and there isn't good traceback on most products right now," he says. "Our vision is for all of our growers to have it and the greater vision is to market and sell it. If we figure it out, we want to share it with the industry. It is applicable not only to strawberries but many other crops, as well, that could benefit from this system if we get it figured out."