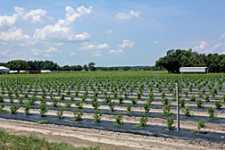 Best Of The Breed
For those growers looking for diversification in their operation, one place to look is the UF/IFAS breeding programs in stone fruits and blueberries. IFAS has a strong, cutting-edge breeding program to accommodate Florida's low-chill areas. Both stone fruits and highbush blueberries have been selected for this breeding program. These temperate plants have been selectively bred to the lower chilling hours that are typical to Florida and match regional climate zones.
It is important to match cultivar selection with your appropriate climate zone for chill hours for best fruit production. Chilling hours are the accumulated amount of time a plant will experience temperatures between 32°F and 50°F after the tree enters dormancy in the fall.
After a cultivar is bred and passes the selection process, it is patented and released through the Florida Foundation Seed Producers Inc. (FFSP). The FFSP then licenses growers that will propagate the new releases. FFSP also looks for growers to help make cultivars available to the general public when a new variety is released.
Pay To Play
Blueberries are not the easiest plant to propagate and grow, but the obstacles to production are not insurmountable and can be researched with your local Extension agent before large scale production begins.
These cultivars can be purchased from licensed growers as liners or one-gallon material to step up into the field. If you would like to propagate blueberries or stone fruits for your own use or for sale you will need to obtain a license from the FFSP. A single variety of blueberry has a one-time licensing fee of $500. For each propagated plant either kept or sold, there is a 30¢ per plant royalty fee with a minimum of $250 royalty due per year for each cultivar grown. However, if multiple varieties of patented plants are grown, the minimum $250 annual fees may be aggregated and paid for with combined cultivar royalties. The stone fruits vary slightly in fees of $350 to $400 one-time fee, a $1 to $2 royalty fee, and an annual minimum fee of $200 to $300 depending upon the variety selected.
Visit www.ffsp.net to find other licensed growers to obtain propagated material. Interested growers also may call FFSP (352-392-9446) or contact their local county Extension office for more information.