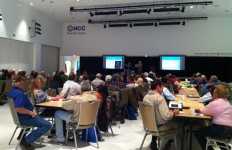 Though the weather was unseasonably chilly outside, there were plenty of hot topics discussed at the Florida Blueberry Growers Association (FBGA) Spring Meeting in Plant City.
The entire front half of the short course was dedicated to addressing labor issues. Bill Braswell, FBGA president, says this was by design. "We found out at our last meeting that a lot of growers had questions regarding piece work and minimum wage requirements. So, we took this meeting and set aside three or four hours so they can get their questions answered. We want to make sure the growers know the rules and comply with them because the alternative is not good."
Fritz Roka, UF/IFAS agricultural economist, led off the program with an overview of labor concerns (availability, cost, and regulatory compliance) in Florida. The interactive presentation produced robust participation from the audience. During the discussion on I-9, an audible gasp was heard from the crowd when a PowerPoint slide confirmed more than 70% of farmworkers in Florida are deemed mismatches by the Social Security Administration. One attendee asked: "How does E-Verify help if we can't hire 70% of workers?" Roka replied, "The best answer to the problem would be guestworkers."
While there was a good crowd in the session area as well as in the adjacent tradeshow rooms, the turnout was down compared to previous meetings, Braswell said. This was for a good reason as many growers have been logging long hours in the last week and the night before protecting their crops from the cold. The majority of growers in the session room raised their hands when asked if they were up late running water. "Originally, I thought we were going to have a very early season," Braswell said. "I figured growers would be picking in February. Unfortunately, we've had a couple very strong cold waves come through. We're in one right now, and it's pushed our season back. We'll probably be in the fields next week just starting, pretty good into harvest the third week of March, and wide open April 1."

FBGA President Bill Braswell sat down for an exclusive interview
with Florida Grower during the 2013 FBGA Spring Meeting.
The extended period of time on the bush is not all bad though as it generally makes for high-quality, sweeter fruit, Braswell said. "As far as quantity goes, I think we're going to set a record this year. We've had a little bit of frost damage here and there, but overall I'm expecting at least 25 million pounds out of the state this year."
Keeping Pests At Bay
Crop protection, the other main topic of the short course, is key to preserving yield. Last season, birds plagued growers and hindered harvest. "I've had several growers come up to me at this show today in a full panic [because] they saw their first cedar waxwings this morning," Braswell said. "We're going to have bird issues as always. It's just a matter of figuring out how to deal with them."
Another winged pest on the radar is the spotted wing drosophila. "It has been an issue on the West Coast and other states," Braswell said. "It really hasn't been a problem here in Florida, but we are ready for it. We've been getting growers tuned up on what to do in case they do spot them. And that's our concern."
Farm Management Factors
Marked progress has been made recently in marketing the local industry with print ad campaigns and self-promotion efforts like the Florida Blueberry Festival, but the work in this area is from over. "We want to differentiate ourselves from some of the other less fresh fruit in the marketplace," Braswell said. "We want everybody to look for the 'Fresh From Florida' label. We think it's very important that fresh fruit is out there."
Another task on FBGA's list involves food safety. The FBGA asks every grower that sells fruit commercially to get a third-party audit, Braswell said. "We're in compliance with that and feel it's very important for the safety and health of our consumers."
The FBGA will host another meeting in the fall to recap the season and prep for 2014.