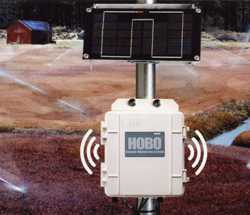 Web-based Frost Alarm System
The Hobo U30 Frost Alarm System from Onset Computer Corp. is a Web-based monitoring system that makes it easy for growers to protect their crops while reducing water usage. The solar-powered system enables growers to view real-time field conditions during frost events from any Web browser, and set up frost alarms that automatically turn on irrigation pumps, wind machines, and other frost abatement equipment. The system can also send growers instant notification of when frost occurs, or equipment problems, via cell phone and eMail.
The base model includes a HOBO U30 monitoring station, a temperature Smart Sensor, and a solar panel. Additional Smart Sensors, HOBOlink data service plans, and accessories are priced separately. Other systems features include research-grade dependability, Smart Sensor architecture, and expanding design.
For more information, go to www.onsetcomp.com.

Precision Partners
Leica Geosystems and TeeJet Technologies will combine the technologies of the two companies to offer new products and solutions for growers. Leica's high-accuracy GNSS and auto-guidance systems will be combined with TeeJet's guidance and material application solutions to provide customized options for growers.
Under the agreement, TeeJet will private-label and distribute Leica's No-Drift mojoRTK auto-steer system, adding RTK-accuracy guidance to their suite of precision agriculture products.
Under the same agreement, Leica will capitalize on TeeJet Technologies' range of vehicle-specific assisted steering kits to increase the number of tractors the mojoRTK can steer. The list of kits offered by TeeJet currently tops more than 50 individual kits that are designed to fit approximately 150 individual vehicle models. Initially, Leica will offer TeeJet vehicle kits through their network of resellers.
For more information, go to www.leica-geosystems.com, or www.teejet.com.
DosaCart Quick Hook-up Kit
The easy-to-assemble Dosa-Cart Quick Hook-up Kit from Dosatron International, Inc. simplifies Dosatron fertilizer injector installation for DosaCart users in the horticulture market. The kit contains everything necessary to connect a Dosatron D14-14 GPM injector to the new DosaCart, including a 200 mesh filter, check valve, hoses, and connections. The kit also allows users to install their Dosatrons using only an adjustable wrench, and it includes a low garden hose hook-up design to help balance the cart and avoid tip-over.
For more information, go to www.dosatronusa.com.