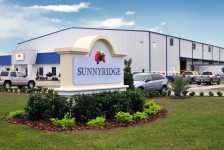 SunnyRidge Farm Inc., a family owned grower, packer and shipper of blueberries, raspberries, blackberries and strawberries, held a grand opening and ribbon cutting at its new distribution facility located in Plant City, FL. The event drew more than 100 people, including various growers and retailers that conduct business with SunnyRidge Farm and many attendees from the Plant City Chamber of Commerce.
The evening began with an official welcome from SunnyRidge Farm's President and CEO, Keith Mixon, followed by the official ribbon cutting with the Plant City Chamber of Commerce. Guests where then invited to enjoy refreshments and take a tour of the new facility. Guests toured the Shipping & Receiving offices, the packing line room, viewed the newly built blast chiller rooms, and learned about the materials warehouse, including the drive-thru pick-up and drop-off area.
The new distribution and packing center features more than 51,000 square feet of packing and distribution space. The building will be the centerpiece of the company's strawberry program serving as the shipping, receiving and cooling facility. In addition, the facility will support the company's Florida blueberry as well as the Mexico, Argentina and Chile berry programs.