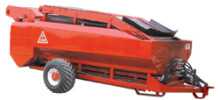 Flory Industries recently introduced a cart equipped with a stick-remover as well as a stick-collection box. The new Flory Model 1395-C Conveyor Cart is designed to fit with any nut harvesting system and has the capability to collect sticks in the built-in box or to discharge the sticks back on the ground in a row.
The 1395-C provides a way for the grower to remove sticks from the harvested nuts, eliminating expensive stick removal equipment at the field elevator. The Flory Conveyor Cart is equipped with a cleaning chain that removes dirt during the discharging process.
Options for the 1395-C include the auto-unload feature that works with any shuttle system and power-assisted drive wheels for steep terrain or soft harvesting ground conditions.
The 1395-C Conveyor Cart can be used in conjunction with the 8500 Self-Propelled Harvester, also available from Flory Industries. The 8500 is equipped with standard features including a hydraulic hitch, simple hydraulic shaft drives, a "fail safe" parking brake system that automatically engages when the engine is off, and a video camera that allows growers to view the cart as it is loading. Optional features for the harvester include an air cab, front paddle sweeps, and front vee sweeps.
The operator seat is positioned in the center of the 8500 to provide safety and comfort, with the turbo-charged John Deere engine placed up front behind the operator, which provides a cleaner environment and easy access for service. In fact, growers have reported they have up to 50% less dust generated and 65% less fan wear when they use the harvester. The 8500 is also robust, with the ability to continue harvesting in heavy, wet trash.
Visit www.floryindustries.com for more information.