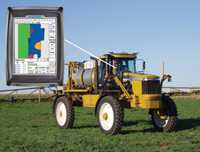 The FarmPRO GPS Steering and Application Control System from AutoFarm and Raven Industries is a new system that is the result of an on-going collaborative product development agreement between the two companies. Designed for growers and custom applicators, FarmPRO combines the Viper PRO state-of-the-art display and control system from Raven Industries with the sub-inch accurate RTK AutoSteer from AutoFarm. FarmPRO offers a feature-rich steering and application control system via a large screen display.
FarmPRO also features a number of automatic steering and application control functions, including:
• WAAS (Wide-Area Augmentation System) to RTK steering accuracy options
• Variable rate control of up to five products
• Automatic boom height control
• Automatic boom section control
• Windows XP operating system
• Shape file format for export to back office software, and much more.
For more information, contact Auto-farm at 650-644-1400; gpsfarm.com, or contact Raven at 605-336-2750; www.ravenind.com.