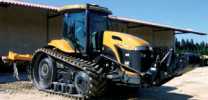 LaForge Systems Inc. is expanding its line of front-hitch systems for track tractors with the HDIT model for Challenger MT 700B series tractors. The HDIT is a Cat.3 system with 13,200 pounds lift capacity.
It has been developed in collaboration with Challenger engineers in Jackson, MN, and is approved by AGCO with-out restrictions. The design of the reinforcing frame for this hitch makes it suitable for demanding front applications, while protecting the integrity of the tractor design.
In addition to strength and durability aspects, the goal has been to integrate the system with the tractor, preserve access for service and maintenance, and maintain visibility from the cab.
The ease of operation and productivity of the Challenger 700B can be enhanced a bit further with Laforge's optional Automatic Control Systems for the HDIT front hitch, which includes:
• Basic electronic position and traction control, and
• DynaContour Ultima for front-and-rear implement combinations. This system is especially valuable for track tractors because it compensates for pitch changes of the vehicle.
For more information, contact Laforge Systems, Inc. at 925-827-2010; www.fronthitch.com.