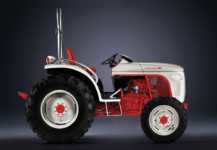 A staple on the farm is the tractor. Today, growers have more and more choices, with units offering everything from better design to emission reduction. What follows are a couple of the latest the industry has to offer.
Some of the features on the new tractor include a 50 horsepower engine with a 2,800 pound, three-point lift capacity; four-cylinder, naturally aspirated diesel engine with large cubic-inch displacement for added durability; and four-wheel drive axle, which increases traction and enhances maneuverability. The three-point hitch includes telescoping stabilizers and flexible link ends for easy attachment of implements.
A large operating platform allows plenty of leg room to stretch out and includes tilt, telescoping steering wheel, power steering, adjustable seats, and storage tray with cup holder.
For more information, go to www.newholland.com/na.
A line of AGCO tractors deliver reduced emissions and greater efficiency with new engine technology. According to the company, technology, control, and comfort are being put into the hands of the family farmer with the introduction of the DT Series tractors.
The series features four models with new, higher horsepower (hp) ratings, including: the DT205B with 205 PTO hp; DT225B with 225 PTO hp; DT250B with 250 PTO hp; and DT275B rated at 275 PTO hp with a maximum 350 ISO engine hp. The DT Series is introducing the e3 Selective Catalytic Reduction technology that is designed to significantly reduce emissions of nitrogen oxides and particulates.
For more information, go to www.agcoiron.com.