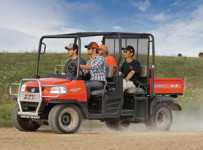 Autility vehicle that is a transformer, of sorts, is now available from Kubota Tractor Corporation. Model RTV1140CPX can be made into a four-passenger utility vehicle or into a unit that has room for additional cargo, thanks to its one-to-two-row seating option. The rail system is mounted on the roll-over protection structure to allow easy transitions when converting from one-to-two-row seating options.
"The RTV1140CPX provides exceptional comfort and safety accommodating four adults, as well as unmatched cargo configurations, capacity, and convenience," says Dan Muramoto, product manager for Kubota. "The RTV1140CPX is much anticipated and has exceptionally broad appeal, from ranchers and farmers to property owners, facility managers, and outdoorsmen. This new utility vehicle is a unique solution for a wide variety of applications."
Three-Step Conversion
Retractable seatbelts and a hydraulic lift bed, which is functional in both seating modes, is standard on the RTV1140CPX models. When additional cargo space is needed, operators follow a three-step conversion process:
– Unlatch cargo screen, slide forward, and secure;
– Flip up the rear seat and open front- quarter cargo box sides; and
– Unlatch the front wall of cargo box, flip it into place, and secure.
This four-wheel drive utility vehicle is powered by a three-cylinder Kubota diesel engine with 24.8-horsepower, four-wheel wet disc brakes, and hydraulic power steering. The RTV1140CPX also features a new VHT Plus transmission that is said to provide easy gear-shifting and smooth braking. Maximum cargo load is 1,102 pounds, with a towing capacity of 1,300 pounds. The unit is available in two models: Kubota Orange and Realtree Hardwoods Camouflage.
For more information, contact Kubota at 888-458-2682, Ext. 900, or visit www.kubota.com.