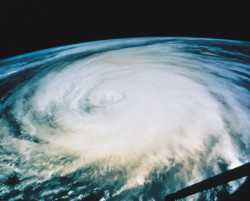 Dr. William Lamont Jr., professor in the Department of Plant Science at Penn State University, is singing a very different tune than many East Coast growers. "It wasn't as bad as I thought!" he stated, a tone of relief in his voice, "We got some wind, but I think here in central Pennsylvania the mountains really took care of us. Down in West Virginia and areas around there, though, they got a taste of an early winter," he says.
Many growers, like Tina Forry of Jonestown, PA, who commented in response to Growing Produce's Facebook post (www.facebook.com/growingproduce), went to backbreaking lengths to prepare for Sandy's wrath. "We put the equipment away, put anything under roof that we could, put everything from our retail cooler into our walk in, and we harvested the broccoli, cauliflower, and cabbage that was ready." She does state, however, that there was some produce left in the fields.
Depending on the amount of damage received, there are some post-Sandy cleanup tips that can be done to salvage what is left and move forward safely into the winter and following growing season. For that, Lamont is here to help.
1) Be Patient.
Lamont states that many growers will want to get right out into the fields as soon as the winds die down, but that can actually do more damage than good, he explains. "That really beats the soil up," he says, "Wait until it's dry."
2) Harvest What's Left, Carefully.
Lamont says depending on the extent of the damage, there could still be useful crops, but growers should be wary. Winter squash, for example, if it froze, could look fine when harvested, but then start to break down once it enters a more normal temperature. Potatoes, as well, can be damaged by moisture. "They have lenticels," he explains, "which, when moist, can open up and become a vector for disease."
3) Turn the soil and plant a cover crop.
After some wind and sun dry out the area, Lamont says growers should get the ground worked up and plant a cover crop like rye. "Rye is ideal," he explains, "because it gets up quick and has a green cover." Turning the field is important, he explains, as should vegetation be left in the fields to rot due to the moisture, flies and other pests could become an issue.
4) Store Produce Appropriately.
Assuming there is electricity for coolers, produce should be stored in a temperature controlled, dry environment, Lamont explains. "If produce was harvested quickly, and was put in there moist, growers run the risk of mold growth. To get the air moving, they could try to use a fan." Luckily, though, Lamont states that there is a benefit to the cool weather: "The coolers won't get warm if the electricity goes out."
5) Sell, Sell, Sell.
Although Lamont doesn't see the need for produce to be sold at a discounted price if it was harvested in time and no damage has occurred, he does express a sense of urgency for growers who harvested more than planned to get the fresh goods off their hands so it isn't stored too long. "Keep an eye on it for moisture damage, but move quickly," he states.
Apart from these tips, however, Lamont states that much of what growers need to do is no different than bringing any other growing season to a close. He suggests that should growers have any questions regarding post-hurricane cleanup or produce handling, they contact their local commodity organizations.