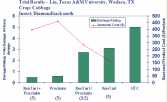 Effective, Affordable Control
:


New Research Shows Clear Bt Benefits

If you could see research showing that using Bt in your insect management program could a.) enhance the efficacy of other products you're using, b.) save you money, or c.) both, would you be interested?

Over the past several years, researchers in some of America's largest vegetable producing regions have cooperated in Lepidoptera control trials that combine Bt technology with other important products – many noted as new, softer chemistries. Fact is, in trial after trial, the research clearly showed that Bts can improve growers' Lepidoptera control programs by offering either better control, greater cost efficiency, or both. That's good news for anyone growing vegetables or fruit where caterpillar pests are of primary concern.
Trials conducted in California, Florida, Texas, South Carolina, among other states, included an untreated control, conventional chemistries as stand-alones, and integrated programs combining Bt with each of the respective chemistries. Products trialed included such mainstays as SpinTor (spinosad, Dow AgroSciences), Avaunt (indoxacarb, DuPont Crop Protection), Intrepid (methoxyfenozide, Dow AgroSciences), Warrior (lambda-Cyhalothrin, Syngenta), Proclaim (emamectin benzoate, Syngenta), and Coragen (Rynaxypyr, DuPont Crop Protection).
Success in each trial was defined simply. Trials were considered successful only if:
The program including Bt provided better control at less, equal, or slightly more cost;
The program including Bt provided equivalent control at lower cost;
The program provided the same level of control at the same cost.
If you're making a living growing produce, it's hard to argue with a program that provides better control for the same cost, the same control more affordably, or equivalent control for equivalent cost, with additional resistance management and to-market benefits.
Cost and performance benefits tend to be black and white, but it's also true that many products, Bts among them, deliver additional benefits beyond the basics of efficacy and cost. The value of those additional benefits varies from grower to grower and market to market. That's why researchers focused on the fundamentals in these trials, using Bt in rotation and tank mix combinations with some of today's most important chemistries. While the added benefits are important, the common factor among all end users is that products have to work and they have to be affordable.
Through the (Bio)Rational Approach program, we'll bring you evidence from researchers and growers showing how using Bts offer more benefits than ever before. We'll answer your questions and connect you with opportunities that may help you see Bts in a way you haven't before.
Questions about Bt, or something you'd like to have us cover in our program? Drop us a line at SoundScience[email protected].