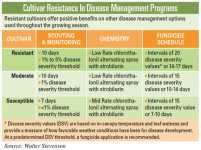 Carrot crops are prone to attack by plant pathogens, affecting yield, quality, and the cost of production. Diseases leading to the defoliation of the crop as well as the weakening of petioles can lead to substantial losses in crop value. Alternaria leaf blight and Cercospora leaf blight increase production risks, while management with multiple fungicide sprays increases the cost of production.
Careful management using the widest array of control options possible is a key ingredient for successful production. Components of a successful disease management program include crop rotation with non-susceptible crops, pest monitoring throughout the growing season, careful attention to plant nutrition and irrigation, use of disease forecasting and environmental monitoring tools, and the application of fungicides when weather and crop conditions dictate their use.
Disease management practices have changed over the past few years with new cultivars having improved resistance to several pathogens and new, more effective fungicidal chemistries now available for improved and safer disease management. These new effective controls have evolved slowly over the past decade so that growers now have a long menu of options from which to choose, depending on the disease to be controlled, the time of the season, and economic considerations.
By integrating some of these newer control methods into their season-long crop and pest management programs, growers are seeing improved disease control, higher yields, and better quality that help the economic bottom line.
Disease-Resistant Cultivars
Plant breeders are making progress in breeding new carrot varieties with greatly improved resistance to foliar diseases. Many new cultivars can be grown with fewer fungicide sprays, reducing grower inputs. Since 1992, our program has conducted disease-resistance screening trials.
We've been able to categorize some of the more popular cultivars by their relative susceptibility to foliar diseases. Included among the more disease-resistant cultivars are varieties such as Bolero, Carson, Cheyenne, Calgary, Goliath, Canterbury, Halfback, Commanche, and Siracco. Bolero is the most blight-resistant cultivar tested, while Fontana is the most blight-susceptible cultivar.
Selecting the most blight-resistant cultivar for specific processing purposes or sold for fresh market makes both economical and environmental sense. Additional research by University of Wisconsin colleagues focusing on resistance to the aster yellows phytoplasm has demonstrated that there are susceptibility differences between cultivars. Some of the cultivars, such as Enterprise with levels of resistance to foliar blights, also have levels of resistance to the aster yellows pathogen, further reducing production risks.
Weekly treatment of the most susceptible cultivars with fungicides provides a level of disease control similar to the disease progress observed on unsprayed blocks of the most disease-resistant cultivar. Treating disease-resistant cultivars with a minimal number of fungicide sprays improves disease control somewhat, but depending on environmental conditions, growers may see only marginal gains in disease control.
The use of cultivar resistance in a season-long disease management program allows the grower to scout his fields less often, use a somewhat higher disease severity threshold for initiating fungicide sprays, use lower rates of fungicide, and use a somewhat higher fungicide scheduling threshold for the timing of sprays throughout the season.