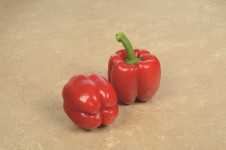 When choosing which greenhouse vegetable varieties to produce, growers must take several factors into consideration. Patricia Rorabaugh, a professor at the University of Arizona in the Controlled Environment Agriculture Center, offers some pointers on what to consider for your greenhouse.
1. The market. The first thing a grower needs to pay attention to is what his customers want, as that will play a huge role in what is produced.
2. Growing conditions. Choose a variety or varieties that work well in your area of the country. For example, Rorabaugh says if the crops are being produced in hot regions, then heat-tolerant varieties or maybe smaller fruited varieties should be considered.
3. Disease susceptibility. If specific diseases are prevalent in an area, then growers should choose varieties that are resistant to those diseases or use grafted plants with rootstocks that are resistant to various diseases. Rorabaugh says this is particularly important if greenhouse-grown plants are being produced in the soil.
American Vegetable Grower contacted some seed suppliers to find out about some of their latest greenhouse varieties. Here are some examples of offerings from De Ruiter, which is known as is Monsanto's heated protected-culture vegetable brand, and Syngenta.
A Variety Of Tomatoes
With disease resistance being a big draw for greenhouse growers, DeRuiter's Foronti has intermediate resistance to powdery mildew. This new, large, red, beef tomato can be grafted and has high vigor with good plant balance.
The company's Merlice, a red tomato on the vine, boasts high production and also has intermediate resistance to powdery mildew.
 
In the grape tomato department, Syngenta's Bambelo offers high yields with high fruit count per truss. It also provides growers with balanced plants with moderate vigor and excellent fruit quality throughout the growing season.
DeRuiter also has a new grape tomato that can be harvested loose. A red grape, 11-HE-CCT-0603, is said to offer great taste and has high yield potential.
Peppers And Cucumbers
A high-yielding cucumber from Syngenta features uniform ribbing and is a preferred greenhouse variety for summer because it is resistant to powdery mildew and viruses, said John Davis, Syngenta's active green house portfolio manager. Called Bomber, it produces medium-size fruit and boasts a dark-green color. According to Syngenta, it is a strong performer in both umbrella and high-wire cropping systems.
In the pepper department, if it is extra-large fruit that customers want, Syngenta offers Felicitas. This variety is produced on a strong plant that provides adequate leaf cover in the summer. In addition, Felicitas has resistance to powdery mildew and Mosaic race 2.
"Felicitas is quickly becoming a first choice of professional greenhouse growers due to its ability to deliver consistent quality and large fruit size," added Davis.